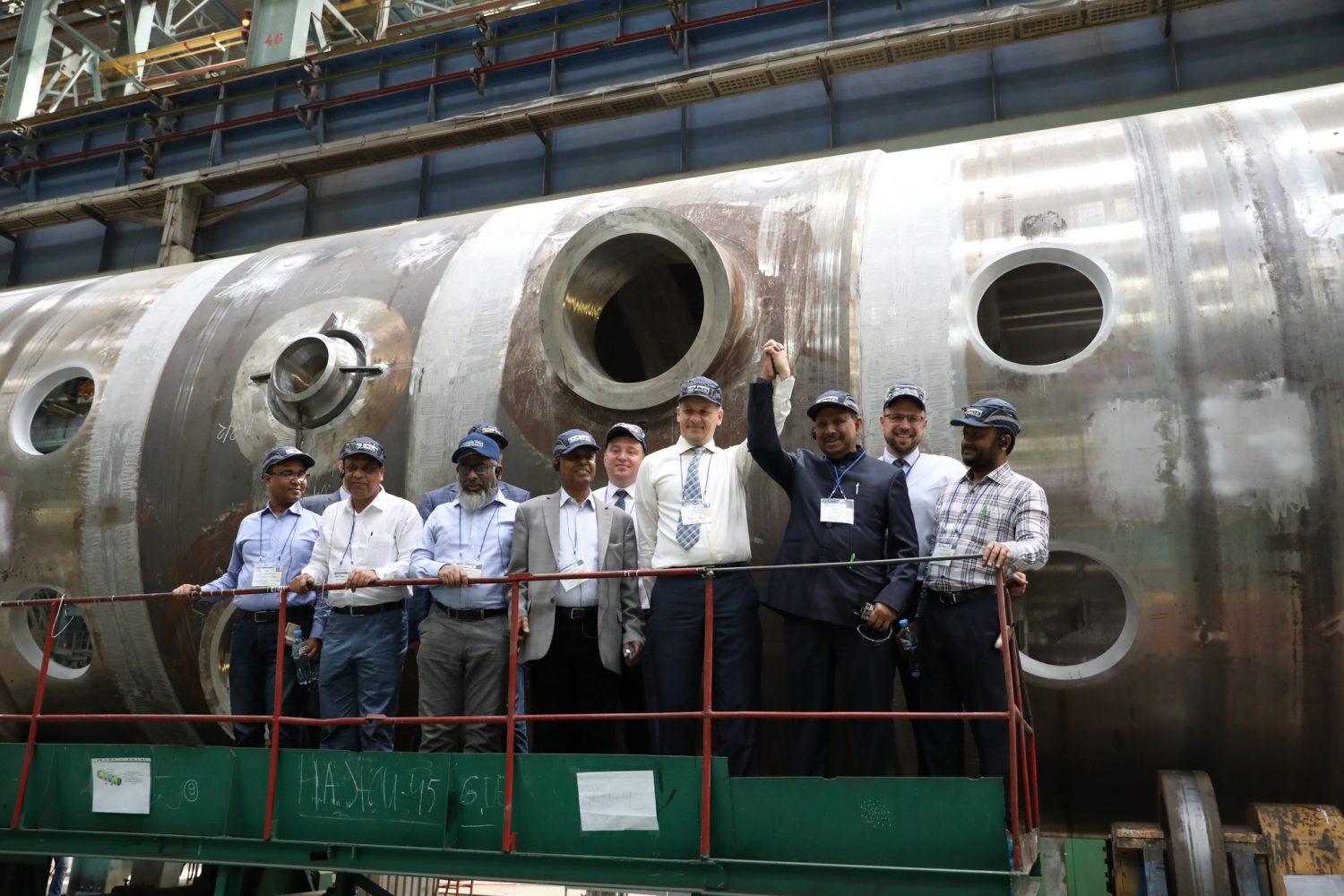 AEM Technologies (a part of Rosatom power engineering division) manufactured and assembled the upper part of the reactor vessel for Unit 1 of the Rooppur NPP, which is under construction in Bangladesh.
The structure consists of three components, two shells and a flange. The shells were first assembled together with the help of special equipment having a lifting capacity of 180 tons. Then the upper section of the vessel was installed on a welding unit for anti-corrosive overlaying of the area separating the rings and subsequent welding. The overlaying alone required a total of 300 kg of wire and 400 kg of flux.
According to the plans for 2020, the manufacturer will deliver an assembled reactor vessel and steam generators for Unit 1 and a steam generator for Unit 2 to the site. The reactor for Unit 2 will be shipped in 2021.
The Bangladesh delegation headed by Yafes Osman, Minister of Bangladesh for Science and Technology, paid a visit to AEM Technologies' site manufacturing machinery and equipment for Rooppur. Among the delegates were S. M. Saiful Hoque, Ambassador of Bangladesh to Russia, and highranking officials of the Bangladesh Ministry of Science and Technology and the Bangladesh Atomic Energy Commission (BAEC).
The delegates were demonstrated the process of making reactors and steam generators for Rooppur's two reactor units and explained the specifics of producing class 1 nuclear safety equipment. They were also showed how the steam generator was cooled in the clean assembly area.
Following the visit, Bangladesh Minister for Science and Technology Yafes Osman praised the professionalism of the company's team. "I am sure that the time assigned for the construction of Rooppur NPP is used in the most efficient way. There is no doubt that the work is done to the highest standards. I believe that Bangladesh will have a top class nuclear station."
For reference
Featuring two VVER-1200 reactors with a total capacity of 2,400 MW, the Rooppur Nuclear Power Plant is constructed 160 km away from Bangladesh's capital Dhaka under the general construction contract signed on December 25, 2015. The country's first nuclear station is designed by Russian engineers and will feature Generation III+ VVER-1200 reactors. Reactors of the same design are used at the Novovoronezh and Leningrad nuclear power plants in Russia.
The 'first concrete' ceremony at Unit 1 was officially held on November 30, 2017. First concrete for the foundation of Unit 2 was poured on July 14, 2018.
Each construction stage at Rooppur NPP is closely monitored by the International Atomic Energy Agency (IAEA) and the national nuclear regulator.