Russia assured Bangladesh that it would provide any assistance needed to deliver the Rooppur project on time. This was announced by Andrei Fursenko, an aide to the president of the Russian Federation, on May 26 at his meeting with Bangladesh ambassador to Russia Kamrul Ahsan.
Speaking on behalf of the Bangladesh government, Kamrul Ahsan expressed his gratitude to Russia for its extensive support for the construction of the Rooppur nuclear power plant and briefed Andrei Fursenko on the progress of the project.
During the meeting, the two officials discussed a wide range of matters of mutual interest. The parties also expressed hope that the relations between the countries would continue strengthening in the future.
The work is going full tilt both at and outside of the construction site. Russian companies continue to manufacture high-tech equipment for the plant. In late May, ZiO-Podolsk (part of Rosatom's power engineering division AtomEnergoMash) shipped a separation tank of the moisture separator reheater (MSR) for the second unit of Rooppur NPP.
The separation tank is designed to collect moisture separated in the MSR. It is a horizontal cylindrical vessel that consists of a body, a manhole, inlet and discharge pipes inside the device. An internal partition with shut-off devices maintains a specified level of moisture in the separator in different operating modes of the reactor unit. The equipment weighs 41 metric tons and has a 50‑year service life.
AtomEnergoMash (AEM) is the supplier of the reactor island equipment and produces a significant share of the equipment for the turbine island of the Rooppur NPP VVER‑1200 reactor units. AEM's subsidiaries manufacture reactors, steam generators, pumps and heat exchangers.
Construction of the nuclear power plant is not the only area of focus for Rosatom — ​the Russian nuclear corporation also plays a leading role in training the staff for the Bangladesh national nuclear industry.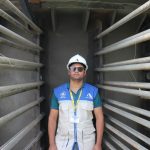 Since 2014, students and researchers from Bangladesh have been offered grants to study in Russia and internships in Russian nuclear technology companies. Many of them have an opportunity to study at the National Nuclear Research University (MEPhI), a leading Russian educational institution specializing, among other things, in nuclear physics. Having more than 75 years of expertise in nuclear engineering, MEPhI teaches more than 1,500 foreign students from 79 countries, including about 50 students from Bangladesh. The students majoring in nuclear energy learn how to operate a nuclear power plant and gain practical knowledge and skills by training on full-scale simulators and at operating nuclear power plants, so they become fully ready for work in real conditions.
As MEPhI graduate and an employee of Rosatom Bangladeshi Muhammad Hamidul Hak said in an interview to Bangladeshnew24.com, he was among the first Bangladesh students who completed the training program and received a diploma with honors. "The training program is complex and fulfilling, but you can complete it if you do everything on time and stay concentrated. Teachers and other academic staff are always ready to help you," Muhammad Hamidul Hak notes.
Today, 80 % of the staff employed at the NPP construction site are Bangladeshi nationals. Now they have an opportunity to improve their qualifications in a dedicated training center for construction and erection workers. Recently commissioned at the Rooppur NPP, the center has a floor area of 1,500 square meters.
"The citizens of the People's Republic of Bangladesh, who have been recruited by subcontractor organizations and successfully passed a probation period, who have demonstrated their potential and drive towards professional growth, will now have a unique opportunity to master a new profession or improve their skills," said Alexey Deriy, Director of the Rooppur NPP construction project.
Until recently, there was only a mobile center offering training in construction professions for the Rooppur construction project.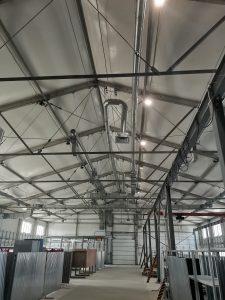 After commissioning of the new training center, local workers will be trained in specialized classes and production shops with the most up-to-date equipment. The production shops have areas to learn general construction trades, electrical welding, installation of process equipment and pipelines, air ducts and ventilation equipment and electrical installation.
Over 7,000 employees from Bangladesh will be able to undergo training and improve their skills during one calendar year.
The knowledge and skills obtained in the training center will go far beyond the Rooppur NPP construction site. After the work at the Rooppur site is completed, the highly qualified Bangladeshi employees, who have been trained in the center and received valuable practical experience in the project will be in high demand in any industry in Bangladesh, primarily in industrial and civil construction. Their professionalism will contribute to further growth of the national economy.
AtomEnergoMash (AEM) is Rosatom's power engineering division and one of Russia's largest power machinery producers providing comprehensive solutions in design, manufacture and supply of machinery and equipment for nuclear, thermal, petroleum, shipbuilding and steel-­making industries. Its production facilities are located in Russia, the Czech Republic, Hungary and other countries.