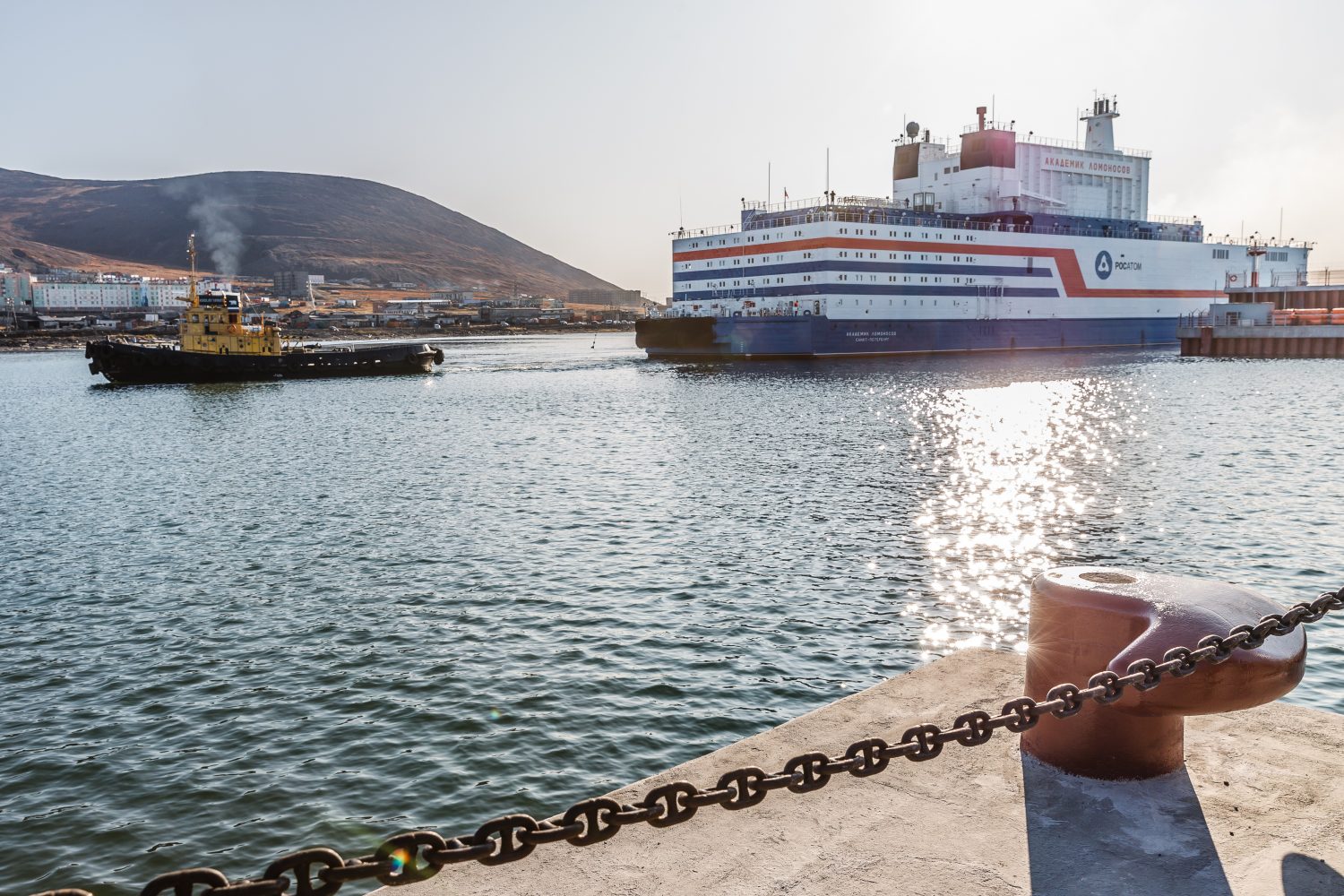 Akademik Lomonosov FNPP
The Akademik Lomonosov floating nuclear power plant (FNPP) was transported to Russia's northernmost city of Pevek. It is, perhaps, the most important international nuclear event of 2019.
In September, the FNPP made a record short 18-day journey from Murmansk to Pevek and was moored to a specially designed pier protecting Akademik Lomonosov from storms and other natural hazards.
The pier is also used to carry power cables and flexible pipes supplying electricity and heat to consumers. Having a capacity of 70 MWe and 146 Gcal/h, Akademik Lomonosov will replace the retiring coal-fired Chaun thermal power plant and later the Bilibino NPP. Replacing coal generation with nuclear will improve environmental conditions in Pevek and decrease energy tariffs 2.5-fold, from RUB 16 to RUB 6 per kilowatt-hour.
As the world's first floating power plant, Akademik Lomonosov will serve as a reference model for other similar facilities. While supplying electric power and heat to large local mining sites and utilities in Pevek and nearby and later in Bilibino, it will demonstrate capabilities, advantages and reliability of floating nuclear power plants. On December 19, it began delivering first power to the port of Pevek.
New plants
Another important event for the nuclear industry was the start of construction at Unit 2 of Kursk II. In April, the first concrete was poured for the foundation slab of the unit. Unit 1 and Unit 2 at Kursk II are pilot units of the VVER-TOI design (VVER-TOI stands for Water-Water Energy Reactor Universal Optimized Digital), which is based on the technology used in Generation III+ VVER-1200 reactors and upgraded to include a digital cost and construction management system. This system is designed to enable effective strategic and day-to-day budgeting and monitor construction progress in real time. Kursk II units feature better maneuverability and boast more efficient capacity utilization. Materials and systems intended for the VVER-TOI design enable safe operation of the nuclear power plant anywhere, from the tropics to the Arctic.
Novovoronezh NPP Unit 7 is another story of Rosatom's success in the construction and operation of nuclear power plants. The new reactor unit was commissioned on October 31, a month ahead of schedule. Its compliance with the project design, technical standards and statutory regulations, including power efficiency requirements, was certified by Russia's Federal Service for Environmental, Technological and Nuclear Supervision (Rostechnadzor). Since the unit was connected to the grid on May 1, it had generated 2.5 billion kWh.
The new unit is the third one featuring a Generation III+ VVER-1200 reactor. What makes them different from the previous generation of reactors is a one-of-a-kind combination of active and passive safety systems making the nuclear power plant resistant to internal and external shocks. These systems include, among other things, a core catcher intended to catch the molten core material of a nuclear reactor and a passive heat removal system that releases excessive heat from the reactor core into the atmosphere even if the plant is cut off from power supply.
Generation III+ units are also more cost efficient: they generate 20% more power than Generation III VVER-1000 reactors but need 30% to 40% less staff. Core components of the machinery and equipment have two times' longer design life, reaching 60 years and could be extended by 20 more years. "Now we have a two-unit nuclear power plant that can serve as a reference model for the nuclear facilities to be built abroad. We have accumulated extensive knowledge and experience in the construction, production, procurement, logistics, cost management and continuous performance improvement – everything we need to meet market challenges of today and solve ambitious tasks in nuclear construction," said Alexander Lokshin, First Deputy Director General for Operations Management at Rosatom.
Another milestone reached in 2019 was the connection of a new VVER-1200 reactor unit of the Leningrad NPP to the heating network of the neighboring town of Sosnovy Bor. The new unit replaced the capacity of a shutdown RBMK reactor.
Northern Sea Route
Atomflot, Rosatom's subsidiary in charge of the Russian nuclear fleet, celebrated its 60th anniversary in 2019. It was no ordinary celebration, though. In December 2018, Russian President Vladimir Putin signed a law appointing Rosatom as infrastructure operator of the Northern Sea Route (NSR). Russian nuclear corporation key tasks here are to maintain the year-round navigation and increase freight traffic to 80 million tons per year by 2024.
The first task could only be solved using icebreakers of different types and functions. In November, Atomflot acquired Ob, a diesel-electric powered icebreaker and the first non-nuclear vessel in Rosatom's fleet. Its function is to escort ships in the port of Sabetta.
Three Project 22220 series nuclear icebreakers are currently under construction. Two icebreakers of the same series – Ural and Sibir – are already afloat and expected to be commissioned in 2022. Arktika, the flagship Project 22220 icebreaker, is going through the first phase of sea trials that started on December 12. As of early December, Arktika was 93% ready and expected to be commissioned in May 2020. Negotiations are underway to obtain funding for two more nuclear-powered icebreakers. Construction costs are planned to reach RUB 100 million. The Government will provide RUB 45 million, with the remaining portion provided by Rosatom. One of the possible sources of finance is long-term (10-year rather than usual 5-year) contracts with mining companies for icebreaking services. Taymyr and Vaygach, two nuclear-powered icebreakers currently in operation, are expected to be decommissioned by 2030.
In February, Rosatom acquired a valuable asset from the Russian Transport Ministry – Hydrographic Survey Company. It provides recommendations on navigation routes and ship positioning systems and manages infrastructure construction projects along the NSR.
As the NSR operator, Rosatom is already ahead of schedule in increasing the freight traffic. As Rosatom's Director General Alexey Likhachev said at Atomflot's anniversary celebration in Murmansk, the target set for 2019 (26 million tons) had been achieved already by 15 November 2019. It is expected that the total freight transported on the NSR in 2019 will reach 30 million tons.
Rosatom established a special company, Rusatom Cargo, to increase traffic and get profit. Its primary function is to transport cargo for nuclear power plants constructed abroad and, what's more important, make money off providing cargo transportation services to third parties. The main advantage of the new route is a shorter traveling time and, consequently, lower costs of cargo transportation between the ports of Northern Europe and Asia. To fulfill this task, Rosatom made a deal to buy a share in Delo Group that had won the right to acquire a controlling stake in Russia's largest rail freight operator TransContainer.
Non-nuclear energy
In 2019, Rosatom started building a 210 MW wind farm in the Stavropol Krai (Russia). With 84 turbines with a capacity of 2.5 MW each, the farm is planned to generate 496.7 million kWh on the annual average. The estimated project costs exceed USD 350 million. Construction of the find farm is part of Rosatom's strategy to develop wind energy projects in the country.
Agreements and arrangements
Most of Rosatom's key agreements were made at large nuclear industry events and energy conferences. For instance, more than 40 agreements were signed at AtomExpo held in April 2019. More agreements were signed on the sidelines of the Eastern Economic Forum in September and at the Russian Energy Week. Some contracts, though, were signed at bilateral meetings, such as a contract for the supply of nuclear fuel to Chinese nuclear power plants.
Construction of power plants and NSTCs
Rosatom's engineering division ASE and subsidiaries of the China National Nuclear Corporation (CNNC) signed a construction contract for Units 7 and 8 of the Tianwan nuclear power plant and an engineering design contract for Xudabao Units 3 and 4.
Russia and Ethiopia signed a three-year roadmap that provides for developing designs of a nuclear power plant and a nuclear science and technology center (NSTC), training staff for the nuclear industry and raising public awareness of nuclear energy in the country.
Rosatom and the Republic of the Congo signed a two-year roadmap to look into the possibility of building an NSTC and staff training.
Rusatom Overseas and Russia's GHP Group signed a memorandum of understanding. The companies will team up to develop power supply solutions for the Suroyam iron ore deposit in the Chelyabinsk region (Russia) and explore the possibility of building a small-scale nuclear power plant based on a RITM-200 reactor.
Rosatom and the Government of Sakha Republic (Yakutia) signed an agreement of cooperation in the construction of small-scale nuclear power plants with RITM-200 reactors. The parties will jointly work on a feasibility study, conduct engineering surveys, develop a financial model and select a site for the power plant.
Fuel supply
In July, Rosatom's TVEL Fuel Company signed a contract with CNSP and CNEIC (both are CNNC subsidiaries) to supply nuclear fuel for Tianwan Units 7 and 8.
In November, TVEL signed a similar contract with CNEIC, CNSP and CNLNPC (also a subsidiary of CNNC) to supply nuclear fuel for yet-to-be-constructed Xudabo Units 3 and 4.
TVEL and the Egyptian Atomic Energy Authority signed a contract for the supply of uranium components to be used in low-enriched nuclear fuel for ETTR 2 research reactor.
New materials
TVEL made an agreement with Germany-based Hermith on the joint production and sales of titanium products. The parties plan to establish a joint venture to manufacture aircraft titanium tubing, special wire for additive manufacturing, sonotrodes, car suspension parts, medical implants and prosthetic devices.
Rusatom Additive Technologies (a Rosatom Group company) and Ural Works of Civil Aviation signed a strategic cooperation agreement to develop the EM 401 engine family, create a competency center for gas turbine manufacturing, and promote a broader industrial collaboration.
Rosatom and RusHydro signed an agreement to collaborate in the development of composite materials for core machinery, auxiliary equipment and structural elements of small hydro power plants, wind turbines and external reinforcement solutions.
Machinery and equipment
Rosatom's subsidiary AtomEnergoMash signed a memorandum of understanding with Egyptian Petrojet, a leading EPC company in the Middle East and Africa. The parties agreed to join their efforts in the production and supply of equipment for nuclear power plants, oil refining and petrochemical facilities.
Another subsidiary of Rosatom, Central Research Institute for Machine Building Technology, also made an agreement with Petrojet to certify materials, processes, equipment and laboratories, train staff and assess their performance in compliance with Russian national standards.
ZiO-Podolsk and Swiss-based Hitachi Zosen INOVA (a subsidiary of Japanese Hitachi Zosen Corp.) signed an agreement to set up a consortium that will develop design solutions and supply equipment for waste recycling plants in the Moscow Region.
Rusatom Healthcare (a Rosatom Group company), Research Institute of Technical Physics and Automation (NIITFA) and Slovenia's Cosylab signed a memorandum of cooperation in the development of integrated software for NIITFA's radiation therapy and diagnostics systems. Cosylab will be involved in the implementation of a quality management system and international certification of the software.
Titan-2 (a group of companies providing construction services and supplying equipment for Hanhikivi 1) and a consortium of French Framatome SAS and German Siemens AG signed a contract for the supply of main I&C systems.
Rosatom and Rosseti (a Russian power grid company) agreed to cooperate in the construction of grid facilities abroad and use Rosatom's expertise in predictive analytics and digital twin technology.
Education and public awareness
Rosatom and the Ministry of Science, Technology and Environment of Cuba signed a memorandum of cooperation on training staff for the nuclear industry.
Rusatom International Network (RIN) and Hungary's University of Dunaújváros made an agreement to hold joint lectures and seminars, publish learning materials, set up a student exchange program, and cooperate in other areas.
Rosatom's Technical Academy signed a nuclear workforce training agreement with Uzbekistan's Nuclear Energy Development Agency (Uzatom) and a memorandum of cooperation with the European Nuclear Education Network (ENEN).
Digitalization
Rosatom, the Ministry for Development of the Russian Far East and Arctic, the Ministry of Digital Development, Communications and Mass Media, and the Far Eastern Federal University signed an agreement to establish an international research and development center for nuclear technology on Russky Island in Vladivostok and jointly deliver digital projects.
Rosatom, Russia's largest bank Sberbank and the Federal Biomedical Agency signed a memorandum of cooperation in the development of best practices for affordable and user-friendly healthcare services. The parties will join their efforts in creating a dedicated digital ecosystem.
Rosatom and the Foundation for Reforms in the Utilities Sector made a cooperation agreement to upgrade the utilities infrastructure in cities and towns with the population of less than 500,000 people. Finance to be provided by the Foundation will be used by Rosatom to introduce advanced and innovative cost-efficient digital solutions.
Arctic
Rosatom and the Ministry of Natural Resources and Environment signed a cooperation agreement providing for joint delivery of federal programs and the Environment national project and developing proposals for implementation of the national policy in the Arctic region.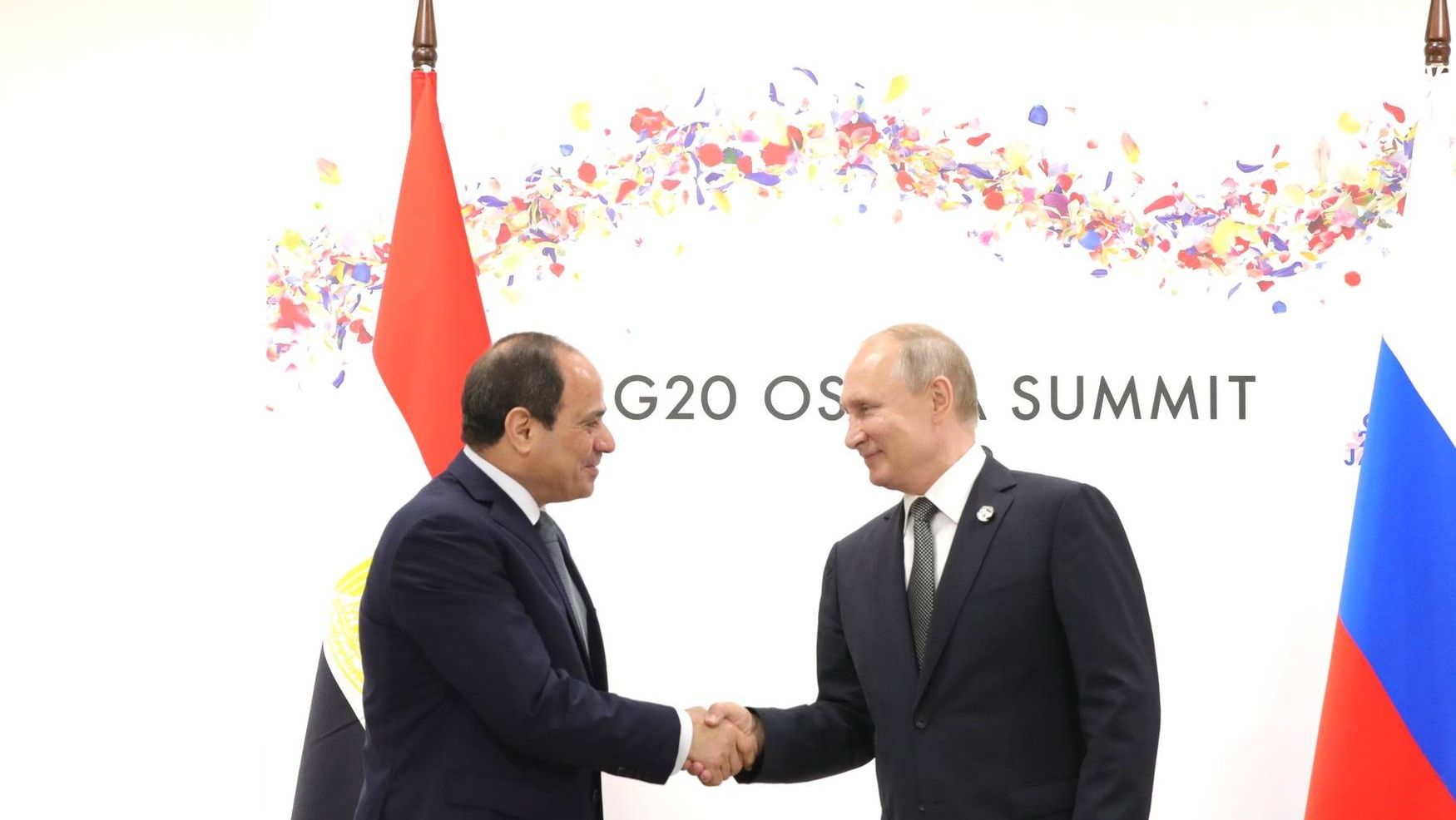 Russia and Egypt intend to strengthen their bilateral ties. In August, Russian President Vladimir Putin ratified a comprehensive strategic partnership agreement between Russia and Egypt. The document provides for extensive cooperation in trade, economy, defense and technology and focuses on mutual plans to carry out energy infrastructure projects, particularly those in the nuclear energy industry. At a meeting with Egyptian President Abdel Fattah al-Sisi on the sidelines of the G20 summit, Vladimir Putin praised the dynamic development of Russian-Egyptian relations.
The importance of strengthening bilateral ties between the two countries, particularly the construction of El Dabaa Nuclear Power Plant, was repeatedly stressed by President al-Sisi. Speaking on the sidelines of the G20 summit, he praised major Russian-Egyptian projects carried out in Egypt, including the El Dabaa NPP. In September, having a meeting with Prime Minister Mostafa Madbouly, Minister of Electricity Mohamed Shaker and Chairman of the Nuclear Power Plants Authority Amgad al-Wakeel, President al-Sisi said that the nuclear power plant should comply with the highest safety standards at every construction stage. The president also pointed out the importance of nuclear energy and the role it would play in the Egyptian power generation industry.
Egypt's participation in the Atomexpo 2019 International Forum held in Sochi (Russia) last April was also very productive. Atomenergomash, Rosatom's mechanical engineering division, and the Central Research Institute for Machine Building Technology signed a memorandum of understanding with Petroleum Projects and Technical Consultations Company (PETROJET). Rosatom's TVEL Fuel Company and the Egyptian Atomic Energy Authority (EAEA) signed a contract for the supply of uranium components for low-enriched nuclear fuel.
In order to demonstrate that nuclear energy is sustainable, Rosatom organized an international fishing tournament near Russia's Leningrad Nuclear Power Plant in August. Fishermen from Hungary, Egypt, India, Bangladesh and Turkey took part in the tournament. The catch was first tested for radioactive contamination, then cooked and eaten.
The Egyptian team won the international fishing tournament and were welcomed warmly as they returned home. The Governor of Matrouh organized a reception for the tournament winners.
In October, over 50 journalists from seven countries, with representatives of Egyptian mass media among them, visited a nuclear plant construction site in Belarus. Their special interest towards the Belarusian NPP is explained by the fact that its reactor units serve as a reference model for most Russian-designed power reactors under construction around the world and that its first unit is almost 100% ready.
On October 8–9, Rosatom and the Nuclear Power Plants Authority (NPPA) organized the second forum for nuclear industry suppliers within the framework of the Big Industrial Week. Speaking about the El Dabaa nuclear power plant constructed in Egypt, Kirill Komarov, Rosatom's Deputy Director General for Corporate Development and International Business, stressed Russia's proven record of accomplishment in operating nuclear technology, "El Dabaa plant will be the safest in the world, and Cairo has made the right decision to invest in nuclear." Mohamed Shaker, Minister of Electricity and Renewable Energy of Egypt, reminded that the construction contracts for El Dabaa provided for at least 20% of the total scope of work at Unit 1 to be done by local companies and that this percentage would grow with the construction of other units. Amgad Alwakeel, Head of Egypt's Nuclear Power Plants Authority, said that El Dabaa would create 3,000 new jobs in the nuclear industry and around 20,000 jobs in related industries.
With the support from the Russian nuclear corporation, Egypt establishes a framework to educate employees for the nuclear industry and set a pool of qualified professionals. Rosatom undertakes to train operational and maintenance staff for the El Dabaa nuclear power plant. It is planned to provide training for about 2,000 local employees. In addition, a nuclear school was opened in El Dabaa. According to Samir Al-Nili, First Deputy Minister of Education in the Matrouh Governorate, it has no rivals in the Middle East and the entire Arab world. Each academic year 75 students enroll the school. After five years of studies, school graduates receive diplomas equivalent to college or vocational school certificates. They have the right to enter a nuclear engineering department of a higher education institution or take a job at El Dabaa.
With a 4.8 GW design capacity, El Dabaa is expected to account for a substantial share of Egypt's energy mix and will help the country to cope with its growing demand for electricity.
Rosatom cooperates extensively with companies and organizations from the United Arab Emirates. On September 8–12, Rosatom took part in the World Energy Congress conference and exhibition in Abu Dhabi. The exposition of Russia's nuclear corporation was visited by a number of high-rank delegations; top managers of Rosatom participated in two plenary sessions.
On October 15, 2019, Rosatom and the Emirates Nuclear Energy Corporation (ENEC) updated a memorandum of understanding and cooperation in peaceful uses of nuclear energy.
Rosatom also expands its cooperation with Saudi Arabia. On November 27, the Russian nuclear corporation organized a seminar on Russian nuclear technology for the companies from Saudi Arabia's western region in the city of Jeddah. That was the third seminar in a series of similar events held by Rosatom recently to inform the Saudi businessmen of cooperation opportunities with Russian nuclear companies, and details of the Russian bid for the tender to construct a nuclear power plant in Saudi Arabia. Two other seminars were organized in Dammam in February 2019 and Riyadh in December 2018.
For now, Rosatom has passed two qualification stages of the tender to construct the first nuclear station in Saudi Arabia and will be invited to take part in the third stage. This was announced by Khalid bin Abdulaziz Al-Falih, Minister of Energy, Industry and Mineral Resources of Saudi Arabia, at a press conference organized on the sidelines of the 2019 Saint-Petersburg International Economic Forum in early June. The Minister added that the nuclear station was planned to have two power units.
Evgeny Pakermanov, President of Rusatom Overseas, stressed that the Russian-Saudi cooperation went far beyond the nuclear construction project. The countries keep discussing several partnership opportunities, including construction of small and medium-scale power stations, nuclear fuel management, staff training under the Saudi national nuclear program, and development of the country's nuclear infrastructure.
"We place special focus on working with Saudi industrial companies, research and development centers and educational institutions as Russia sees great potential for its involvement in the implementation of Saudi Arabia's nuclear energy program," Evgeny Pakermanov added.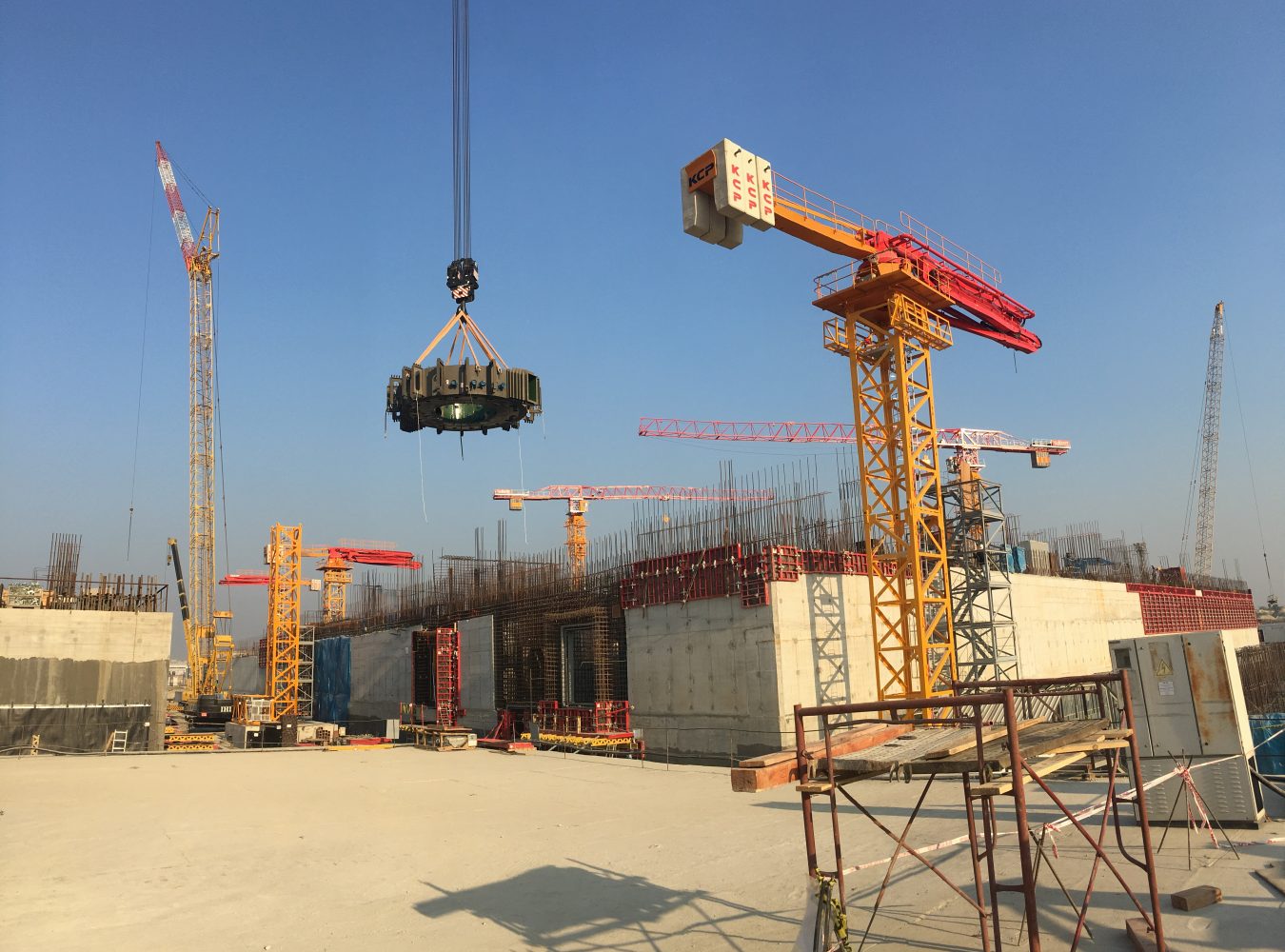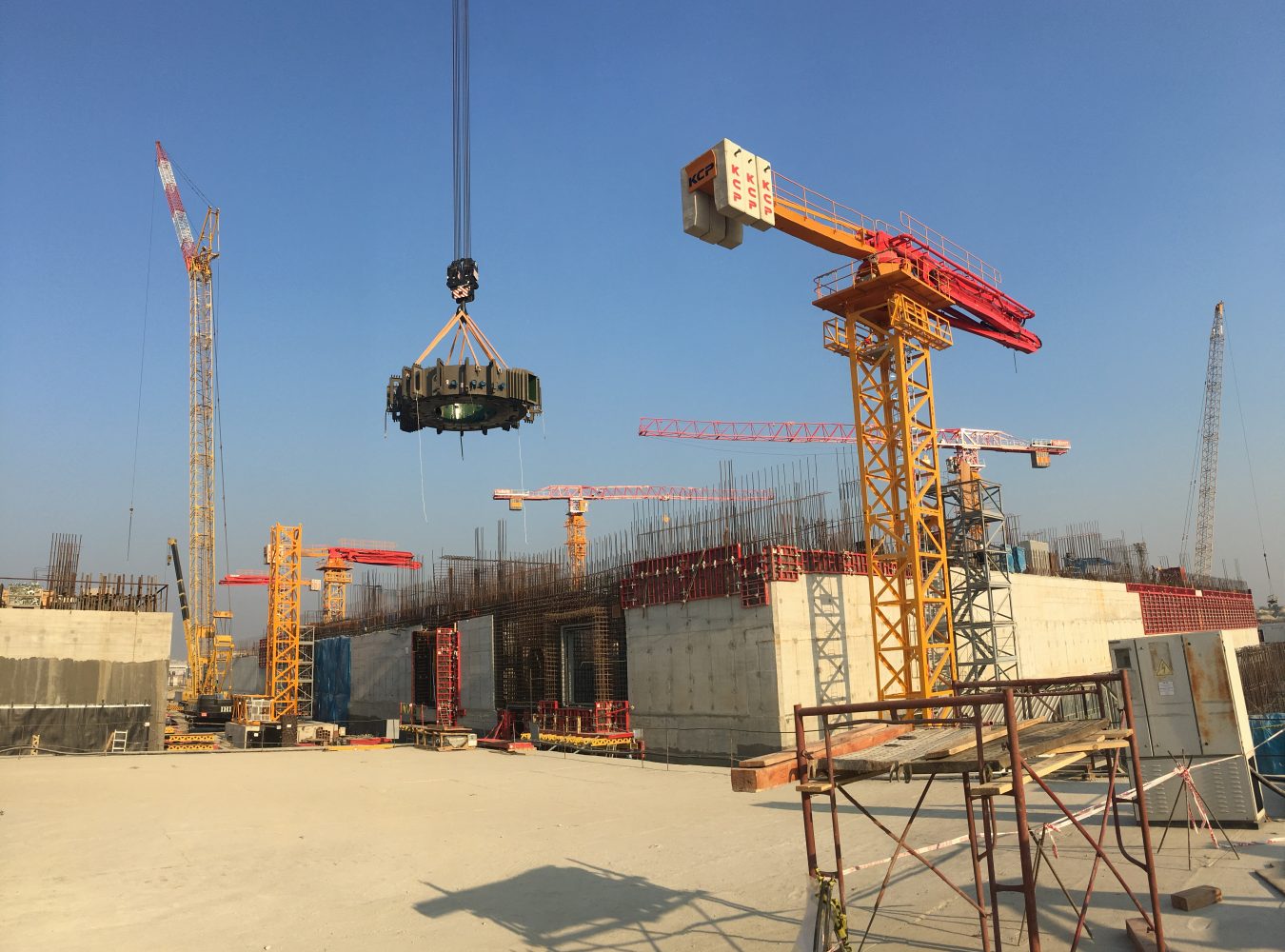 Construction at the Rooppur nuclear power plant is going full tilt. In late January, workers completed concreting of the foundation slab for the turbine island of Unit 1. In spring, the core catcher, a key component of the passive safety system, was installed at Unit 2. Installation of other components began a month ahead of schedule. Concreting of the foundation slab for the turbine island of Unit 2 was finished in early August. Builders used a total of 3,782 tons of reinforced steel and 23,550 cubic meters of concrete to make the slab. Another milestone was reached in late September when a supporting truss for the reactor was installed at Unit 1. The truss secures the reactor vessel in place and carries weight loads acting on it. "This part of installation work is far from being easy, but we finished it one day before the scheduled date thanks to concerted efforts of our engineers and on-site workers," Sergey Lastochkin, Vice President and Director of the Rooppur Construction Project said.
Nuclear industry companies all over Russia manufacture necessary assemblies and components for the nuclear power plant in Bangladesh. Atommash, a Volgodonsk-based production facility of the AEM Technologies (a subsidiary of Rosatom) is manufacturing eight steam generator shells for Rooppur, each at a different stage of completion. Upper and lower semi-vessels for Unit 1 were manufactured at the same production facility. Rosatom's subsidiary ZiO-Podolsk produced a set of parts for the suppression pool to be made at Rooppur Unit 2. The suppression pool is an important component of the reactor's pressurizer system. ZiO-Podolsk also manufactured and shipped a set of separators and superheaters for Rooppur's turbine island. Centrotech, a subsidiary of Rosatom's TVEL Fuel Company, completed electrochemical polishing of pipes for the Rooppur NPP. Electropolishing enhances corrosion resistance of pipes to be used in the VVER-1200 nuclear reactor.
According to the plans for 2020, the manufacturer will deliver an assembled reactor vessel and steam generators for Unit 1 and a steam generator for Unit 2 to the site. The reactor for Unit 2 will be shipped in 2021.
Rosatom will be supplying the Rooppur NPP with nuclear fuel throughout its service life. A ceremony to finalize this agreement was held in August in the capital of Bangladesh. TVEL is the only authorized nuclear fuel supplier for the both reactor units of the Rooppur NPP until the end of the plant's life. Rosatom will provide fuel for the first three reloads free of charge.
Two delegations from Bangladesh visited Novovoronezh NPP-2 operating a reactor that serves as a reference model for the reactors being constructed at Rooppur. The delegates had a chance to see that the plant was safe and got answers to all of their questions. In September, a delegation headed by Yafes Osman, Minister of Bangladesh for Science and Technology, visited AEM Technologies' production site manufacturing machinery and equipment for Rooppur. Following the visit, Yafes Osman praised professionalism of the company's team and said, "I believe that Bangladesh will have a top class nuclear station."
Bangladesh is rapidly expanding its power production capacities. In late May 2019, the Bangladesh Power Development Board (BPDB) registered a whopping 12,893 MW generation output, setting a new record for the country. In Bangladesh, the electrification coverage reached 93 percent while in 2009, just a decade ago, electricity was available in only 47 percent of households. The government has installed 195,000 kilometers of electricity lines since 2009.
As stated in the roadmap developed by the Awami League government led by Prime Minister Sheikh Hasina, each household will have access to electricity by 2021. To achieve this goal, the Bangladeshi government intends to increase generation to 24,000 MW by 2021 and to 40,000 MW by 2030.
Nuclear will make a sizable share of the country's energy mix. The under-construction Rooppur is planned to generate up to 9 percent of electric power in Bangladesh. Shawkat Akbar, Director of the Rooppur Project, said earlier that building a nuclear power plant was the only way to meet the country's growing demand for electricity and make it affordable for the people. The country's Ministry of Science and Technology estimates that the total cost of power generated by a nuclear plant will be 3,000 times lower than that of power from coal-fired thermal units.
Speaking at the international Non-Aligned Movement Summit in Baku in November, Abul Kalam Abdul Momen, Minister of Foreign Affairs of Bangladesh, said that Bangladesh would like to build the second nuclear power plant.
"We are open for the peaceful use of nuclear power. We started the nuclear plant construction to have more electric power as we are country that is short of energy resources. Nuclear energy is cheap, so we would like to have another nuclear power plant," the minister stressed.
For reference:
Featuring two VVER-1200 reactors with a total capacity of 2,400 MW, the Rooppur Nuclear Power Plant is constructed 160 km away from Bangladesh's capital Dhaka under the general construction contract signed on December 25, 2015. The 'first concrete' ceremony at Unit 1 was officially held on November 30, 2017. First concrete for the foundation of Unit 2 was poured on July 14, 2018. The Rooppur NPP is scheduled for commissioning in 2023.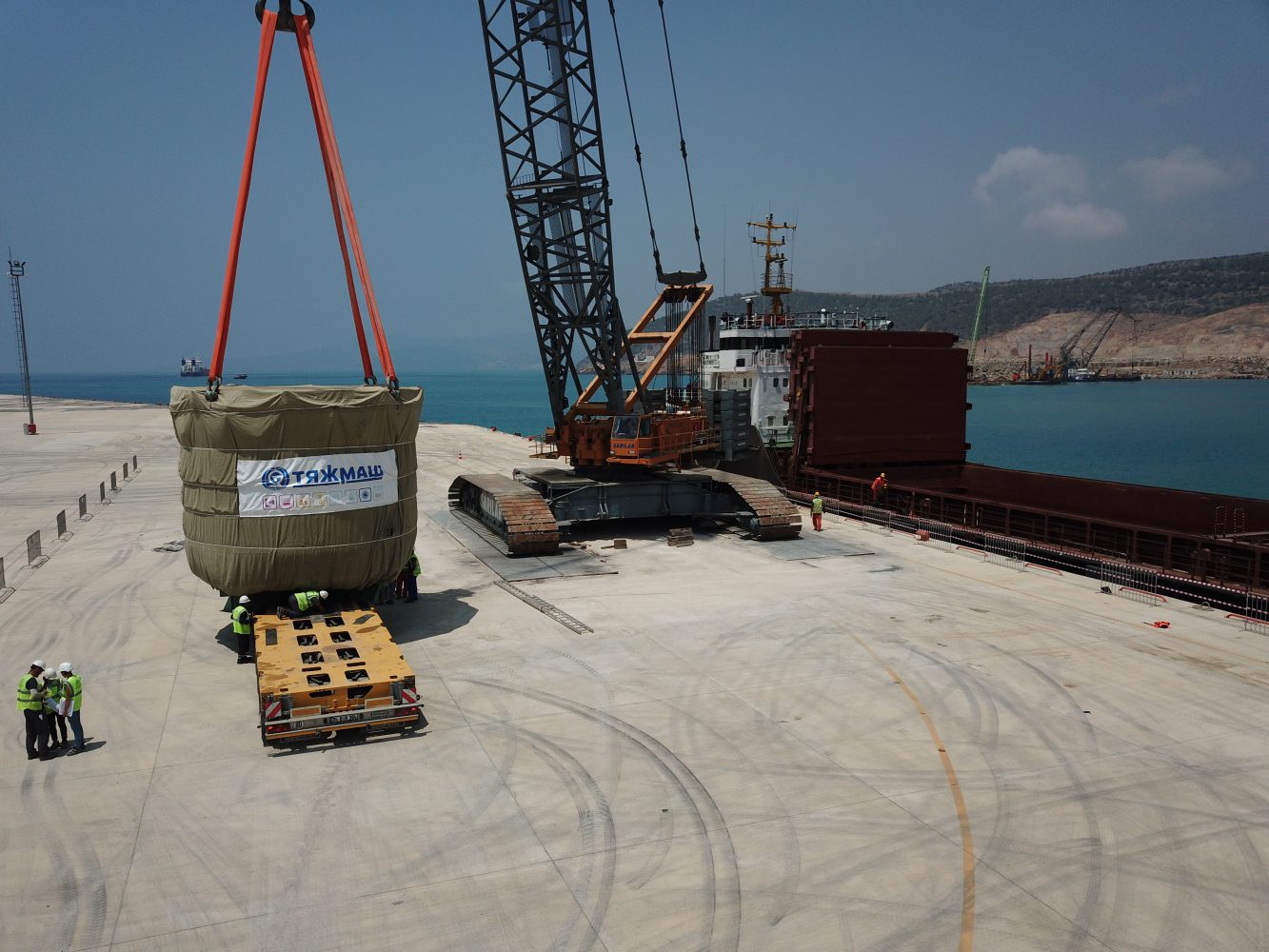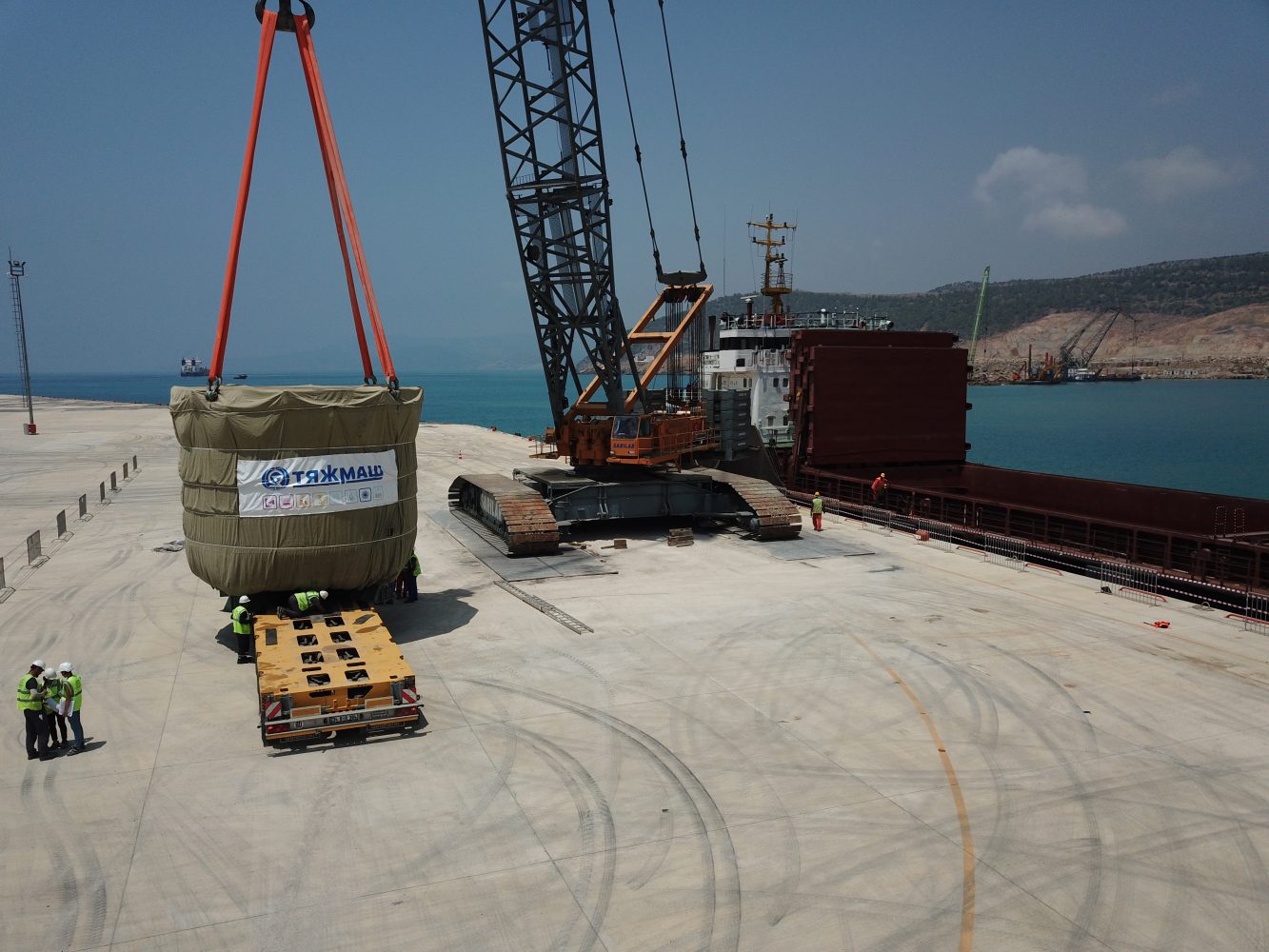 Construction is going full tilt at the site of Turkey's first nuclear power plant. One of the major milestones for Unit 1 – concreting of the foundation slab – was passed in early March. In early June, the first large-size cargo arrived at the site. It was a core melt trap, or core catcher, which is a 150-ton cone-shaped tank made of high temperature resistant steel. It will be installed under the reactor vessel. The core catcher is an essential component of passive safety systems for Generation III+ nuclear power plants. According to Anastasia Zoteeva, CEO of Akkuyu Nuclear, the Akkuyu design provides for a combination of active and passive safety systems ensuring safety of the plant regardless of external conditions. "Sticking to the nuclear safety principles from the very first day of the project and continuous safety monitoring are integral parts of the construction process. This essential approach holds true throughout the design life of the plant," Anastasia Zoteeva said.
Top-rank officials and top managers repeatedly noted the progress made in the construction of Akkuyu. Turkey's Minister of Energy and Natural Resources Fatih Dönmez stressed that the work was going in strict compliance with the operational safety principles and standards established by the IAEA. He also noted that the Turkish Nuclear Regulatory Authority was responsible for licensing and on-site inspections of the facility.
Russia and Turkey signed a number of key contracts and agreements over the year and participated in international events. In March, Rosatom and Akkuyu Nuclear organized a seminar for Akkuyu suppliers at the 6th International Nuclear Power Plants Summit (INPPS Expo) in Istanbul. It was attended by more than 220 people. Representatives of Rosatom Group companies told the audience about the Akkuyu project status, current and scheduled procurement tenders, Rosatom's procurement system, and a supplier training program.
At AtomExpo 2019, a strategic cooperation agreement was signed between AtomEnergoMash, SNIIP (both companies are Rosatom's subsidiaries), and Turkey's Elkon Elektrik.
An engineering, procurement and construction (EPC) contract for the Akkuyu Nuclear Power Plant was signed in the summer of 2019. According to the contract, Akkuyu Nuclear will act as a customer. A joint venture of Russian TITAN-2 and Turkish construction company IC Ictas Insaat Sanayi ve Ticaret A.S. will be the general contractor. The contract provides for the development of power plant design, procurement of machinery and equipment, and construction of most buildings and structures on the site.
In September, the Turkish government issued a construction license for Akkuyu Unit 2. Fatih Dönmez expressed hope that, with the licenses granted, "the construction of both units will gain momentum". According to him, Unit 1 is planned to be commissioned in 2023.
"What makes this project unique is the Build–Own–Operate approach. This is the world's first nuclear project in which our company is responsible for every stage of the plant's life, from design and construction to operation and decommissioning. For this reason, we consider the project to be our strategic investment and have already begun discussing matters related to the plant's operation and connection to Turkey's national power grid," Rosatom's Director General Alexey Likhachev said.
In December, Akkuyu Nuclear and the Turkish Electricity Transmission Company (TEIAS) signed an agreement for the connection of Akkuyu NPP to the Turkish national power grid.
The agreement provides for electric power generated at Akkuyu to be supplied from the power plant's switchyard over 400 kV transmission lines to six transformer substations belonging to the power grid of the Turkish Republic.
The total length of power transmission lines connecting the nuclear power plant with the grid will exceed 1,000 kilometers. The country's longest and most powerful distribution network will be constructed, operated and maintained by TEIAS.
Human resource development is another critical component of the country's evolving nuclear infrastructure. Rosatom pays much attention to this essential task at schools, universities and advanced training courses. On September 1, new school opened its doors to children of Akkuyu employees in the Turkish town of Silifke. It offers preschool curriculum and a comprehensive school program from Grade 1 to Grade 11. The school will teach children of Russian-speaking employees in their native language according to the Russian standards. For now, there are 50 students, but the school is capable of teaching up to 400 children.
Russian universities continue teaching Turkish students. Turkey ranks second by the number of its students enrolled with the National Research Nuclear University (MEPhI): 192 Turkish students, including nuclear physicists, are studying at the university and 60 students graduated from it in 2017 and 2018. In early June, Rosatom's Technical Academy launched training courses for Akkuyu personnel. Over 70 nuclear professionals from Turkey will spend six months studying in the Academy. More than 50 MEPhI graduates of the Akkuyu staff training course have taken on jobs at Akkuyu Nuclear.
Rosatom pays much attention to communications with, and providing support to local communities and works to raise public awareness of nuclear energy.
In October, over 50 journalists from seven countries, with representatives of Turkish mass media among them, visited a nuclear plant construction site in Belarus. Their special interest towards the Belarusian NPP is explained by the fact that its reactor units serve as a reference model for most Russian-designed power reactors under construction around the world and that its first unit is almost 100% ready.
Last June, Wild Edens: Turkey, a documentary initiated by Rosatom, was shown in the cities of Gülnar and Mersin in the same-name Turkish province. The documentary tells a story of pristine lands noted for exceptional natural beauty and threats of global warming. It stresses that nuclear energy is a 'green' energy with a minimal impact on the environment.
In September, Mersin welcomed the Sails of Spirit, an inclusive expedition supported by Rosatom. The Sails of Spirit team organizes inclusive events, such as sailing expeditions and regattas and social events in destination ports, to create a positive environment for the challenged. In Mersin, workshops and meetings with public organizations were held in the Akkuyu Public Information Center. Besides, everyone had a chance to have a short sea cruise on a sail and motor catamaran together with the team and see how they live when at sea.
In December, Mersin hosted a chess tournament for children. Living chess legend, seven-time world champion and grand master (GM) Anatoly Karpov attended the event to meet with chess lovers. On December 7, GM Karpov played simultaneous exhibition games and gave a seminar to chess players and coaches.
The meeting of Anatoly Karpov with the Turkish chess community was organized in the run-up to the 1st FIDE Confederation Cup for Disabled People 2019 that was held on December 8–14 with the support from Rosatom.
For reference:
Akkuyu NPP will have four units with Russian-designed Generation III+ VVER-1200 reactors fully compliant with post-Fukushima safety standards. Their total capacity will be 4.8 GW.  The first unit is planned to be commissioned in 2023, followed by one unit every subsequent year.