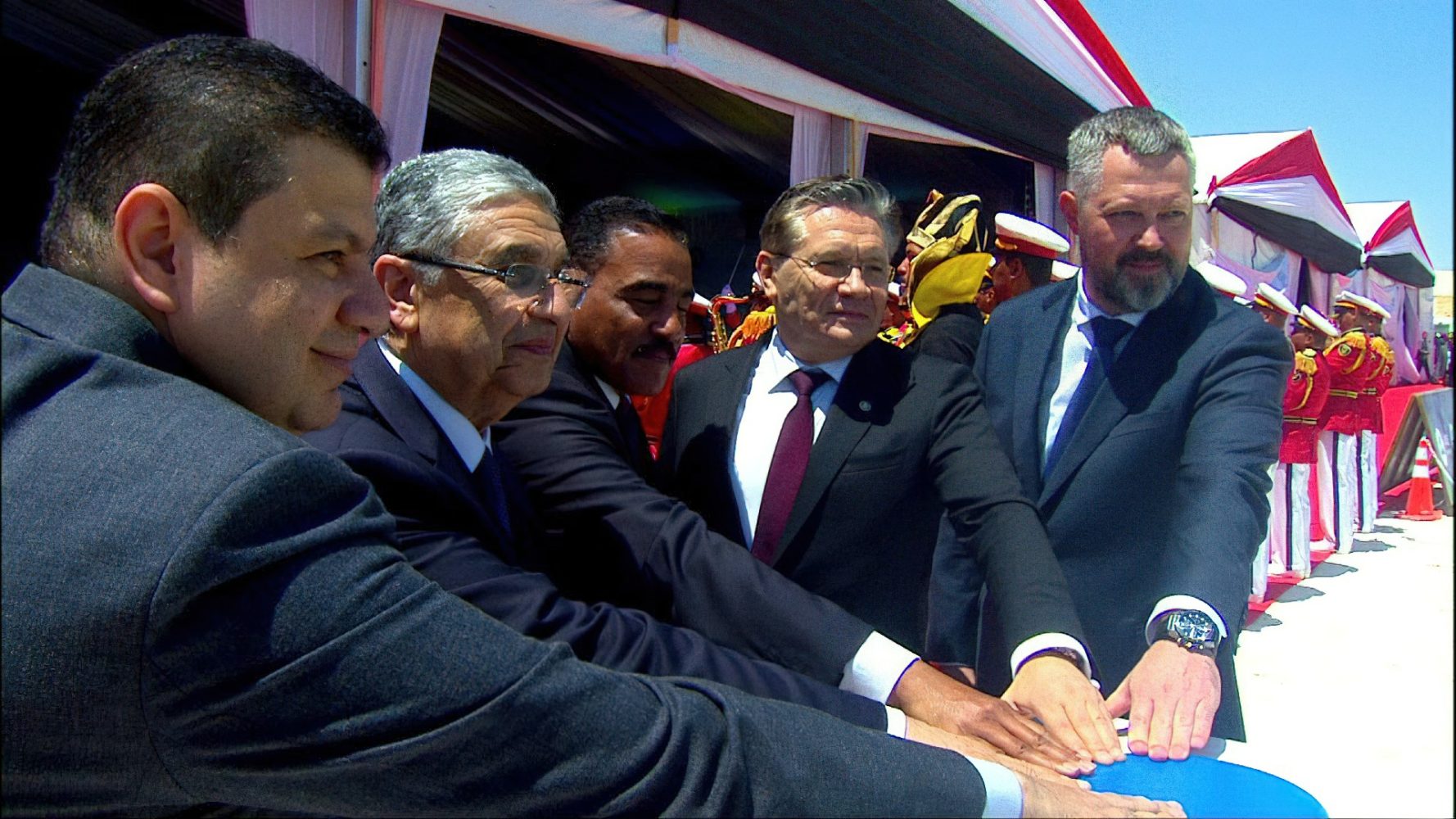 The first concrete was poured for Unit 1 of the El-Dabaa NPP in Egypt in the second half of July. Earlier, the Egyptian Nuclear and Radiological Regulatory Authority (ENRRA) made a landmark decision for the El-Dabaa NPP project in late June, having issued a construction permit for Unit 1. However, Rosatom's business in the country goes beyond the construction of Egypt's first nuclear power plant.
Rosatom Director General Alexey Likhachev and Egyptian Minister of Electricity and Renewable Energy Mohamed Shaker gave a green light to the concreting of the foundation slab of the El-­Dabaa NPP Unit 1 during their visit to the construction site.
Earlier, on June 29, the Egyptian Nuclear and Radiological Regulatory Authority issued a permit for the construction of the first power unit of the El-­Dabaa NPP, allowing concrete pouring to commence. "Construction of the nuclear power plant will allow Egypt to reach a new level of technology, industry and education development. The plant will be the largest project of the Russian-Egyptian cooperation since the Aswan High Dam. Having its own nuclear energy industry has been a dream for the Egyptian people for more than half-a-century, and it is a great honor for Rosatom to make this dream come true," Alexey Likhachev noted emphasizing the significance of the event.
Mohamed Shaker also stated: "The ceremony commemorating the pouring of the first concrete for Unit 1 is a great delight for us. The commencement of full-scale construction of Unit 1 is a historic event for Egypt. The political leadership and the Egyptian-Russian cooperation contributed to the implementation of this ambitious project despite the challenges presented by the Covid-19 pandemic, which did not have a negative impact on the project."
The nuclear power plant will have four 1,200 MW power units with Generation III+ VVER‑1200 pressurized water reactors. This is the latest generation technology already deployed and in use in Russia.
Apart from the nuclear plant construction, Rosatom works on other radiation technology applications in Egypt. In late June, Izotop (part of Rosatom) and Egyptian provider of non-destructive testing services EGIT signed a cooperation expansion agreement covering supplies of commercial isotopes to the country. The document provides for regular shipments of iridium‑192 and non-destructive testing equipment, such as Russian-made gamma-ray flaw detectors, to Egypt.
"We hope that the partnership with EGIT will allow the both parties to strengthen their competencies and create additional business development opportunities to contribute to the safety and reliability of industrial facilities," said Anton Shargin, Deputy Director General for Commercial Affairs at Rosatom.
Rosatom is the world's largest producer of iridium‑192, a radioactive isotope used in radiation sources for non-destructive testing systems. They are employed to detect microscopic defects in the urban and industrial engineering infrastructure, for example, to check the quality of welds and integrity of structures.
"This agreement is a big achievement for us and it will enhance the market growth of Russian-made isotopes in our region especially with beginning of El-Dabaa nuclear plant that is under construction by Rosatom in Egypt and also the big booming of oil and gas projects in MENA," commented Mohamed El-­Sawy, CEO of EGIT.
Rosatom companies fabricate isotopes not only for industrial applications, but also for medical purposes. The Russian nuclear corporation boasts a wide range of products for nuclear medicine. Its products and solutions were demonstrated at the first Pan-­African exhibition Africa Health ExCon 2022 held in Cairo in June under the auspices of President of Egypt Abdel Fattah al-­Sisi. Dedicated to healthcare and pharmacology, Africa Health ExCon 2022 brought together delegates from over 100 countries.
According to Anton Abramov, Director of Strategy, Integration and International Business at Rusatom Healthcare (part of Rosatom), the Russian nuclear corporation considers the African continent and Egypt in particular as its flagship economy to be strategic markets for the company.
"Rosatom offers extensive opportunities in the field of nuclear medicine. Today, Rosatom is a Top‑5 global supplier of isotope products. We also produce radiopharmaceuticals, including isotopes of iodine, samarium and strontium, technetium‑99m generators and many more," Anton Abramov explains.
According to him, Russia is building a radiopharmaceuticals production facility that will be one of the world's largest factories in terms of output and the largest facility in terms of the product range worldwide. The factory will be certified to the globally recognized GMP standards.
"We plan to supply radiopharmaceuticals for the needs of Egyptian doctors and patients and join our efforts in developing new drugs," Anton Abramov said.
He also noted that Rosatom had a solid expertise in the development and production of nuclear medical equipment, such as cyclotrons, beam therapy machines and brachytherapy devices. MRI scanners are currently under development. "We are ready to supply our equipment to Egypt and develop new models together to ensure that Egyptians receive high-quality, effective medical treatment," Anton Abramov concluded.
Rusatom Healthcare and Pharco Pharmaceuticals, a leading Egyptian pharmaceutical company, signed a memorandum of cooperation at the conference. In particular, the parties agreed to work together in the development of new radiopharmaceuticals, conducting pre-clinical and clinical trials, registration and commercialization of new products in Egypt and other countries.