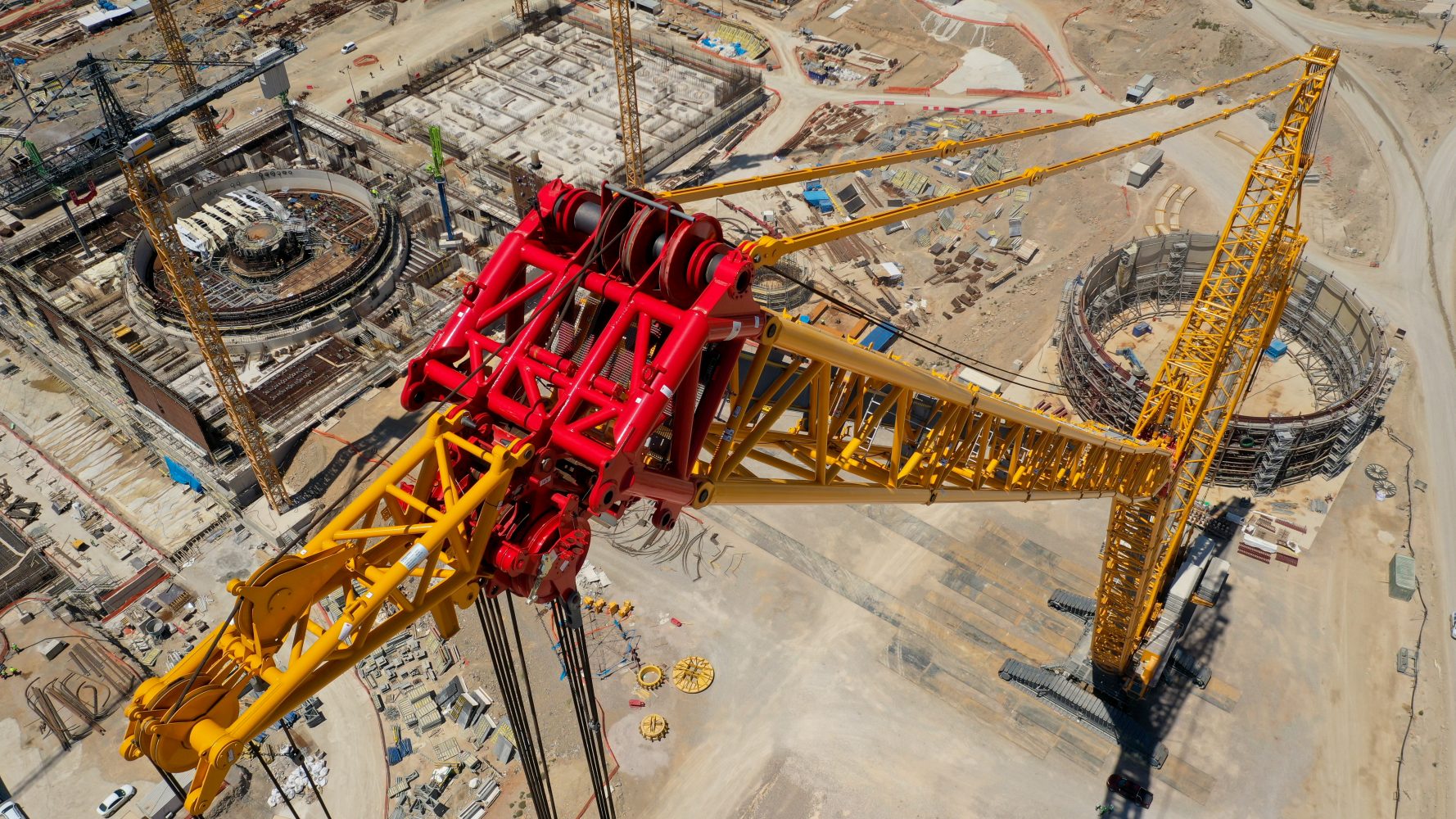 Concreting of the basemat for the second unit started at Akkuyu. "We expect Unit 2 to be commissioned a year after the first unit is put into operation," Fatih Dönmez, the Minister of Energy and Natural Resources, said during his visit to the construction site.
He stressed that Akkuyu would be one of the most powerful and safe plants in the world. The minister reminded that construction works were under close supervision of the Turkish Nuclear Regulatory Authority (NDK) and other independent supervisory bodies.
Fatih Dönmez also mentioned the importance of involving local companies in the construction of the country's first nuclear power plant, "We have agreed with the project owner over local content share and use of locally sourced materials. Of course, it is very important to define quality standards and have the materials certified to such standards. The Turkish Standards Institution (TSE) has made an agreement with Russia to test and certify Turkish-made materials in TSE laboratories. This will make a contribution to the development of our national standards," the minister said.
According to Fatih Dönmez, much attention is paid to employee health and safety during the coronavirus pandemic. The work at the construction site is organized in accordance with the guidelines developed by Turkey's Ministry of Health, he added. "Fortunately, there have been no severe cases of the disease. We keep working and ensuring a safe environment for our employees. Employees and managers of both the project owner and contractor companies feel responsible for maintaining health and safety at the construction site," the minister said. He stressed that safety had been a top priority at every stage of the project. "We have always had a zero-tolerance attitude towards unsafe behavior," Fatih Dönmez concluded.
He also added that about 6,700 people worked on the construction site. "Almost 90% of on-site workers are Turkish nationals, including engineers. Engineers from Russia and other countries are also present – they do the most critical part of work that requires special qualifications. When all the four reactors will be constructed simultaneously, there will be 15,000-16,000 workers on the site at a time. After the power plant is put into operation, the number of employees will be around 3,000. This number will include engineers and medium-qualified workers, particularly technical staff," Dönmez said.
According to the minister, the Turkish government is preparing to train technical staff locally, in Turkish vocational schools and colleges, "Regulations have been developed for that purpose in association with the Ministry of National Education. It was decided that vocational schools in the Mersin Province, particularly the district of Gülnar, will offer curricula in nuclear-related fields."
The minister reminded that Turkish students had been sent to Russia to study, "Out of them, 143 students have already graduated from Russian universities, received diplomas and taken jobs at Akkuyu. We are waiting for another 102 students, who will graduate in a year or in the next two years, to join the on-site team. In addition, 22 more students from Turkey continue their Master's program in Russia. This year, we plan to send 25 students to Russia to underake the Master's course."
Earlier, a Turkish student, who studied in Russia for 6.5 years told Hürriyet, a major Turkish newspaper, about education in Russian universities. "I joined the Russian education program in 2012. It was quite difficult at first. We had internships at operating nuclear power plants. We were trained by the best teachers in their fields. One of the most important things we learned is to take personal responsibility for what we do and not to make mistakes. There are rules for everything," Atahan Kisecik explained.
In early June, the second group of Akkuyu employees started a training course at Rosatom's Technical Academy. The course is taught online because of the coronavirus pandemic. A spacious room in one of the office buildings at the construction site was allocated for online lectures, which are held via video link by lecturers of Rosatom's Technical Academy from Obninsk and Novovoronezh. According to project lead Natalia Shulepova, e-learning enables them to continue training the staff for the Akkuyu nuclear power plant to be put into operation on schedule. She said, "We are accomplishing our task in a challenging environment. As we keep achieving our goals in new conditions, we develop new teaching methods and educational technology."
Despite the coronavirus pandemic, construction of the plant goes as scheduled. In late June, Atommash, a Volgodonsk-based production facility of AEM Technologies (part of Rosatom's engineering division Atomenergomash) completed the manufacture of steam generators for Akkuyu Unit 1.
Steam generators belong to the core equipment of a nuclear island. As the name implies, they are intended to generate steam that rotates the turbine generator. Steam generators are part of the nuclear reactor. Measuring 15 meters in length and over 4 meters in diameter, each steam generator weighs 340 metric tons. One reactor unit has four steam generators.
Meanwhile, Petrozavodsk-based production facility of AEM Technologies (part of Rosatom's Atomenergomash) completed the machining of components for the pressurizer to be installed at the first unit of the nuclear power plant. The pressurizer is a key piece of heavy machinery for the nuclear island and is designed to build and maintain pressure in the primary loop. At present, PetrozavodskMash is manufacturing pressurizers for two units of the Akkuyu nuclear power plant.