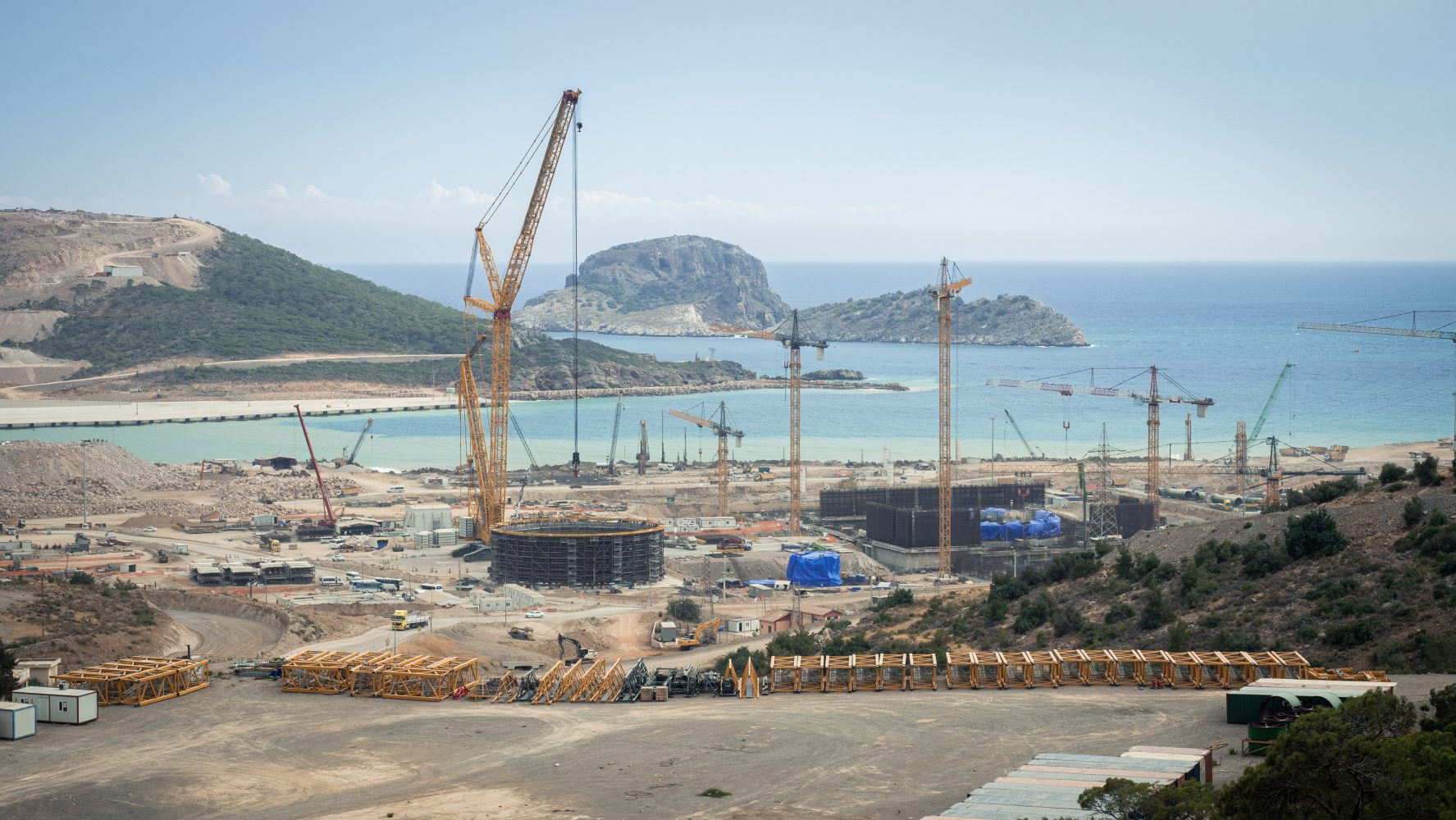 In mid-March, the Volgodonsk-based production facility of AEM Technologies (an AEM subsidiary) began to manufacture a reactor pressure vessel for the third unit of the Akkuyu nuclear power plant.
Workpieces for the RPV passed incoming quality inspection, including measurements with a 3D scanner. Nozzle shells and a flange are now being machined to prepare them for anti-corrosion cladding. Nozzles for the emergency core cooling system are also in the process of production. These operations will be followed by inspection, cladding and welding of the nozzles.
"Equipment for Turkey's first nuclear power plant Akkuyu is a priority in our order pipeline. Every production step is closely monitored by Turkey's Nuclear Regulatory Authority. We have a long and effective track record of international cooperation and are open to dialog on the most complex technological and organizational matters. Equipment for the first unit has been already manufactured and delivered to the construction site," Igor Kotov, CEO of AEM Technologies, pointed out.
The same plant started to manufacture accumulation tanks for the passive core impoundment system to be installed at Akkuyu Unit 1. It belongs to Stage 2 passive safety systems of a nuclear power plant. The system consists of eight tanks with a capacity of 120 cubic meters each. When the nuclear plant is in operation, the tanks contain an aqueous boric acid solution warmed up to 60°C. When pressure in the primary loop decreases below a pre-set level, the solution is injected automatically into the reactor core and cools it down.
OKB Gidropress, another AEM subsidiary, shipped more than 2,000 expanded graphite gaskets for the first unit of the plant in mid-March. The gaskets are designed to seal off joints of the reactor equipment. They will be used in the reactor vessel head.
Construction of the first nuclear power plant in Turkey is supervised by independent auditors, such as the Turkish Nuclear Regulatory Authority (NDK) and French company Assystem. As Kerem Sadiklar, Assystem Country Managing Director for Turkey and Uzbekistan, said in an interview to the Turkish daily Sabah, the VVER-1200 technology used at Akkuyu and four other units already operating in the world was very reliable thanks to multi-level safety systems, a combination of active and passive systems, and their independence from one another.
"Reliability and safety of a complex nuclear facility depend on the quality of equipment, construction and installation. Safe technology, appropriate construction, effective quality control and independent audit will jointly contribute to ensuring safety of the Akkuyu nuclear power plant," Kerem Sadiklar said.
Construction is not the only thing Rosatom does in the region– the Russian nuclear corporation also carries out educational and social projects. On the International Women's Day, AKKUYU NUKLEAR organized a meeting of women working in leading media in Mersin province and women involved in Turkey's first nuclear power plant construction project. Amid the COVID-19 pandemic restrictions, the meeting was held in compliance with epidemiological safety and social distancing rules. During the meeting, employees of AKKUYU NUKLEAR and the representative of the Ministry of Energy and Natural Resources of Turkey spoke about their experiences in the nuclear industry and shared inspiring success stories.
Natalia Konovalova, Head of AKKUYU NUKLEAR CEO Administration, who has over 20 years of experience in the industry, talked about the role of women in the nuclear power industry: "In my opinion, women contribute as much as men to the development of the industry. The fact that our CEO is a woman is a vivid example of this. This is her energy and commitment that drive the construction of our unique facility, Akkuyu NPP, the first nuclear power plant in the Republic of Turkey."
Emine Tellioğlu, a graduate of National Research Nuclear University MEPhI and participant of the target training program for operating personnel at Akkuyu NPP, said: "I am very proud to be part of this project, especially because I am a female engineer. I think it's time to dispel a myth that women have difficulties in mastering technical trades. The common objective of our team, whether you are a woman or a man, is to work hard and contribute to the development of the project. Gender doesn't matter. The Akkuyu NPP project provides a high level of employment for people living in the region and stimulates development in many spheres: we can build roads, open schools, hospitals and restaurants."
As part of the discussion, the speakers talked with journalists and answered their questions. The session ended with taking photos and giving flowers to all women present in the hall on the occasion of International Women's Day.
For reference
AtomEnergoMash (AEM) is Rosatom's power engineering division and one of Russia's largest power machinery producers providing comprehensive solutions in design, manufacture and supply of machinery and equipment for the nuclear, thermal, petroleum, shipbuilding and steel-making industries. Its production facilities are located in Russia, Czech Republic, Hungary and others.