Uzbekistan works consistently to expand its nuclear infrastructure and enhance cooperation with Russia in this field. In late July, President of Uzbekistan Shavkat Mirziyoyev ordered to double the output of uranium at local mines and processing facilities by 2030.
With 3,526 tons of uranium produced in 2021, Uzbekistan targets 7,100 tons to be mined in 2030. If the intended output is achieved, this may put Uzbekistan second only to Kazakhstan on the global scale of the largest uranium producers.
The target requires the state-­owned uranium exploration and mining company Navoiyuran to increase its uranium reserves by 100,000 tons. For this purpose, the company plans to launch prospecting and exploration activities on over 50 sites and begin pilot production at a number of new blocks now prepared for development. The presidential order also requires increased uranium recovery at the existing production sites.
Uzbekistan's head of state ordered Navoiyuran to conduct research into uranium processing technologies and study global best practices in this field. The company itself will be restructured.
As preparations are in full swing for the construction of a nuclear power plant with two VVER‑1200 reactors in Uzbekistan, the country is working to expand its nuclear infrastructure. This work is centered on the enhancement of the legal framework, development of nuclear science, and training of skilled employees for the nuclear power plant of tomorrow. In mid-­July, Uzbekistan's Nuclear Energy Development Agency (Uzatom), RosEnergoAtom (part of Rosatom), and Rosatom Technical Academy signed a memorandum of understanding.
The parties agreed to focus on a training program for Uzbekistan teachers, technical tours to Russian nuclear power plants, and internships at Russian nuclear training centers, including visits to full-scale control room simulators and laboratories. The memorandum also provides for the involvement of Uzbekistan nuclear engineers in joint projects between Rosatom Technical Academy and the IAEA.
This cooperation will enable Uzbekistan to receive expert support from Rosatom Technical Academy in workforce training for every stage of its national nuclear program. One of the upcoming events that will be attended by nuclear professionals from Uzbekistan is the IAEA School of Nuclear Knowledge Management, a training course on research reactors to be held in Saint Petersburg in August.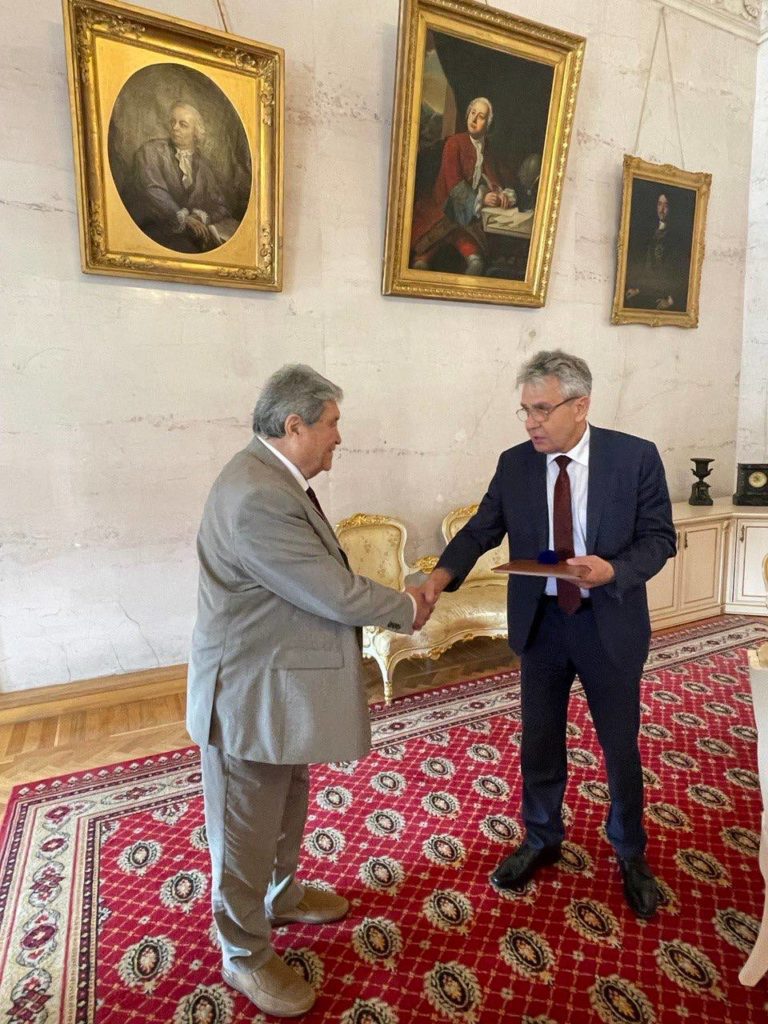 Nuclear researchers from Russia and Uzbekistan maintain close cooperation. In late July, President of the Russian Academy of Sciences Alexander Sergeyev held a meeting with Bekhzod Yuldashev, President of the Academy of Sciences of Uzbekistan and the authorized representative of the Uzbekistan Government in the Joint Institute for Nuclear Research. During the meeting, they discussed the current status of mutual cooperation in advanced technologies and innovations, and agreed to support young researchers from the two countries. That same day, Alexander Sergeyev awarded Bekhzod Yuldashev a foreign membership certificate and a lapel pin of the Russian Academy of Sciences.