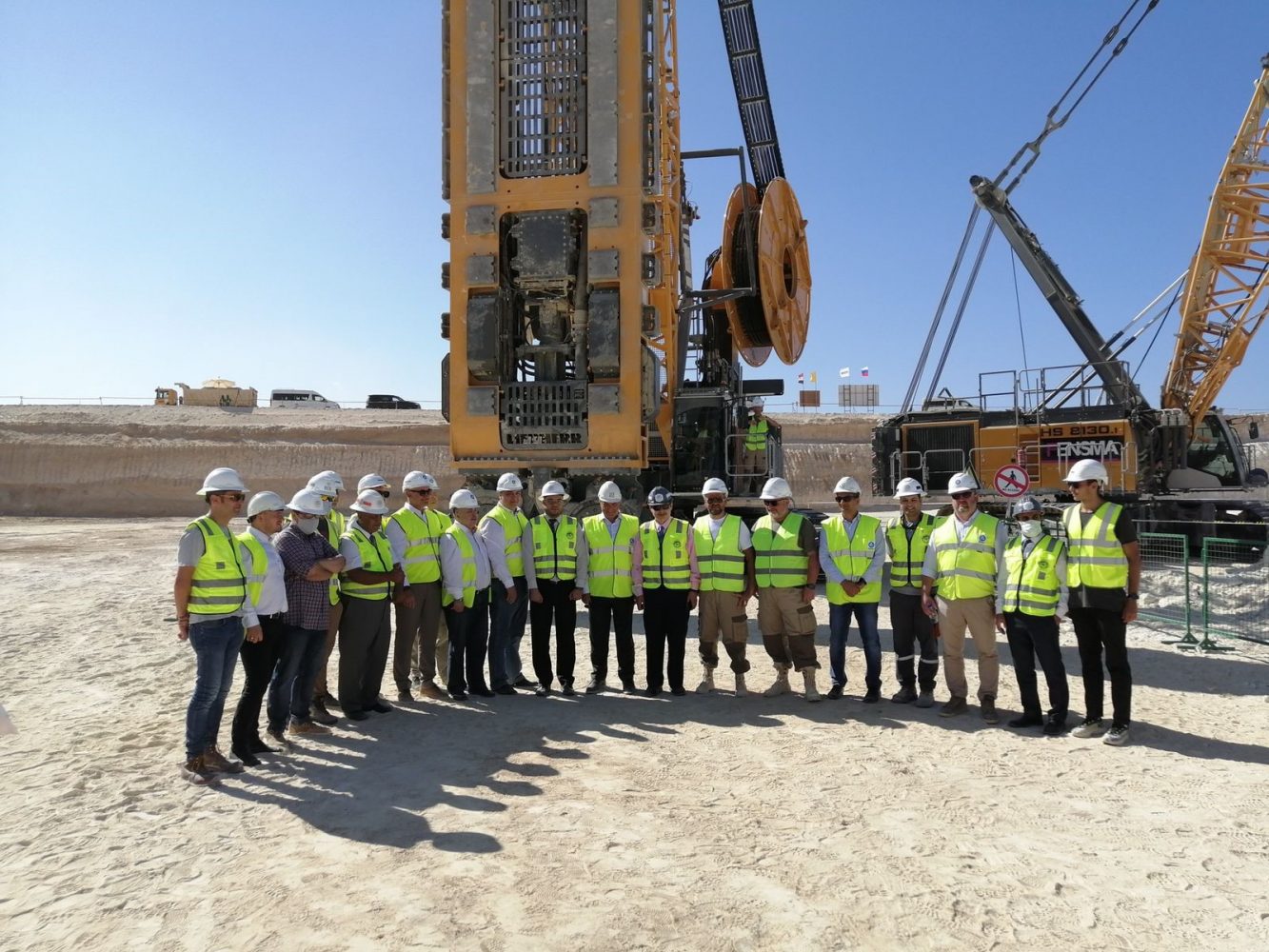 Gennady Sakharov, Director for Capital Investment, Construction Supervision and Regulatory Audit at Rosatom, gave the go-ahead to a new stage of the nuclear construction project at the official kick-off ceremony. During his inspection visit to the site, he was accompanied by Vice President of ASE (El Dabaa general contractor) and Director of El Dabaa Project Grigoriy Sosnin, Deputy Director for International Project Supervision at Rosatom Center of Expertise for Major Construction Projects Vyacheslav Makhonin and, on the Egyptian part, Head of El Dabaa Project at the Nuclear Power Plants Authority (NPPA) Mohamed Dowidar.
The Dabaa project is implemented in three stages. During the current first stage, the site is prepared for subsequent construction works. In particular, a system of barriers will be installed in the construction pit to prevent the ingress of water. The second stage will begin after the construction license is obtained — ​this is when all construction works will be carried out. During the third stage, the nuclear power plant will pass through a series of hot functional tests and the reactors will be brought to criticality.
The package of contracts for El Dabaa project provides, among other things, for the training of Egyptian employees. In early September, the first groups of El Dabaa employees started a training program at the Saint Petersburg branch of Rosatom Technical Academy.
The program begins with a six-month Russian language course. It has to be passed by 465 Egyptian students. After that, they will take theoretical classes based on the materials about Leningrad II (a reference nuclear power plant) and then proceed to practical training classes and do an internship at the plant. All in all, Rosatom will train around 1,700 employees by 2028. Training programs will be held at Rosatom Technical Academy in Russia and El Dabaa training center in Egypt.
"We are thankful to Rosatom for its end-to-end offer for the deployment of nuclear technology in our country. We have ambitious plans in this field. And we understand that substantial resources are needed to train highly qualified employees for four units to be built in El Dabaa and organize an internship at the operating reference plant. A step towards this cooperation was made more than ten years ago when the first group of Egyptian employees came to Russia to study at Rosatom Technical Academy (then the Central Institute for Continuing Education and Training). That was an important moment for the both parties as it symbolized a positive development of our cooperation," said Mohamed Ramadan, NPPA Deputy Chairman for Operation and Maintenance and El Dabaa Project Supervisor, at the official ceremony dedicated to the beginning of the training program.
According to Yuri Seleznyov, Rector of Rosatom Technical Academy, the Saint Petersburg branch of the Academy installed additional equipment in its classrooms and upgraded the IT infrastructure to improve the quality of staff training. The training program will be conducted by a team that includes experienced operators who have spent years working at nuclear power plants, and young professionals who have passed an extended training course, completed an internship at a nuclear plant and speak English fluently. By the end of the year, the Saint Petersburg branch of the Technical Academy plans to put in operation an analytical simulator. In addition, Rosatom Technical Academy will improve living conditions for the students, taking into account the cultural specifics of the Arab country.
Vladimir Artisyuk, an advisor to the Director General of Rosatom, pointed out that Egypt was a developed country in terms of technology and could become a continent leader by solving major energy tasks in partnership with Russia. "There are many young people here who strive to have a good job in the future, and the national government works actively on the global scale to provide them with this opportunity. Since 2017, Egypt has organized annual Global Youth Forums, inviting UN top officials to participate. IAEA top-rank officials have taken part in the forums since 2019. This is where Egypt's national projects, including nuclear energy, are rooted in. The country has a good chance to become an energy producer for the entire African continent," Vladimir Artisyuk said.
AtomStroyExport (ASE) is Rosatom's engineering division, which is a global leader constructing most of the nuclear power plants abroad and having the world's largest portfolio of nuclear construction contracts. The division is active in Europe, Middle East, North Africa, and Asia Pacific.