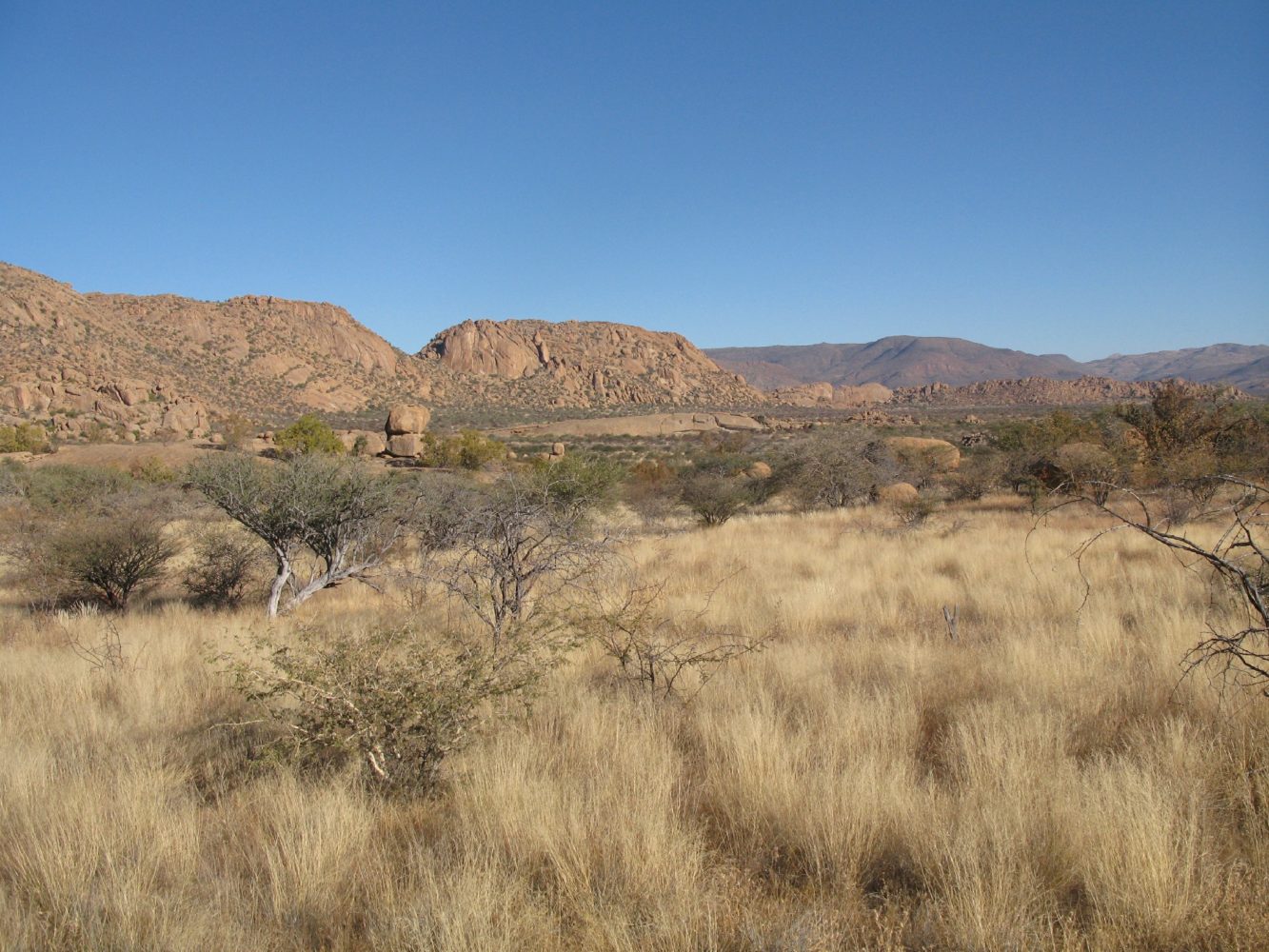 For several years now, Rosatom has been operating in Namibia, running a uranium exploration project called Wings. According to expert estimates, the deposit discovered there might be one of the country's largest uranium reserves. Project managers Kirill Egorov-­Kirillov and Anton Korobkin speak about the mine and its benefits for the local communities and the region in general.
Could you please tell us about Namibia's potential in uranium mining?
Kirill Egorov-­Kirillov (KEK): Namibia is one of the world's leading countries in uranium deposits (7 % of global reserves) and uranium production. The World Nuclear Association named it a Top 3 country in 2021. Namibia is also home to major uranium mines, Husab and Rössing (both owned by CNNC, China), accounting for 100 % of the country's production. It should be noted that those mines can only be developed with conventional methods, that is, by open pit mining.
What are the results of geological surveys conducted by Uranium One in the Omaheke Region?
Anton Korobkin (AK): Uranium One (part of Rosatom) has been operating in Namibia through its subsidiary Headspring Investments Ltd since 2010. The goal of its Project Wings is to discover prospective uranium deposits in the country.
Right after the project was launched, the government declared a moratorium on uranium exploration activities, so it was suspended until 2018.
After the moratorium was lifted, the project entered an active phase. In 2018–2021, we conducted extensive geological surveys in the licensed areas. As a result, we discovered a large sandstone-type uranium deposit that is believed for now to be suitable for in-situ leaching (ISL). Building a uranium mill there is on the plan. We expect production volumes at the new deposit to be comparable with those of major uranium mining sites.
Why is ISL considered to be the most advanced extraction method?
KEK: ISL is the most effective and sustainable uranium mining method. The in-situ leaching technology is almost waste-free because the leaching solution is continuously circulated, being injected into the deposit and then pumped back to the surface. Unlike conventional (underground and open-pit) mining methods, in-situ leaching of uranium does not produce tailings (no dumps or tailings ponds are needed) or cause aquifers to dry out. Proper planning provided, operation and mine closure in line with the best practice, environmental impacts of the in-situ leaching process are much less than those of conventional mining methods. And so are ISL costs due to much lower capital investments and operating expenses.
AK: The ISL technology is used all over the world. In 2021, 66 % of uranium worldwide was produced by in-situ leaching, according to the World Nuclear Association. This technology has never been employed in Africa before, so it is very important to thoroughly study this possibility.
What is the expected duration of Project Wings?
KEK: In the mining industry, the life of a project relies heavily on mineral resources and annual production. Bearing in mind the current status of the project, we expect it to last for 15 to 25 years. The exact duration might change if its resource potential is re-evaluated.
What phase is the project in?
AK: It is currently going through the exploration and prospecting phase. We carry out exploration activities at the flanks of the deposit and prepare its central section for pilot production by in-situ leaching. When we collect necessary geological data, we will have answers to all the questions about technology, environmental impact and costs and will be able to proceed to the next phase.
How do you communicate with local communities?
KEK: Uranium One and Headspring Investments pay great attention to raising awareness of local communities and building trust. It is extremely important for us to make the project meet the needs and expectations of all the parties involved and, above all, local communities. For this purpose, we follow the stakeholder communication procedures established in Namibia and rely on our past experience. Namibia is truly an extraordinary case, though. There are a large number of ethnic groups with their own views, interests and expectations. This is why we use many different communication formats. For example, we organized a road show in August and, together with experts, traveled all over the country to give public lectures on Rosatom, uranium mining methods, and Project Wings. The lectures were attended by very different people, including women with children, tribal elders and teenagers. We answered all kinds of questions asked.
AK: Before we start drilling at a farm, we always meet with the land owner. We explain to him that our work is safe and what benefits it will bring to every resident and their region in general. If the farmer gives his consent, we sign an agreement on compensation for the access to the farm.
Many farm owners know a lot about mining; some of them have even worked at a mine. Such people support our project right away. Others need more information to understand. We do our best to put every aspect of the ISL technology as simple as possible, showing schematic drawings and models and giving examples of similar operations in other countries.
What benefits will the project bring to the region?
KEK: Over USD 50 million has been invested in the Namibian economy since the launch of Project Wings. If exploration and prospecting results are positive and the use of ISL is justified, more than USD 300 million may be invested in a uranium mill. This will make a sizable contribution to the national budget and create 500 jobs for the locals. Even now, while exploration activities are still underway, our contractors hire local professionals. Last year, over 150 local residents worked for the project.
We are also interested in educating and developing local talents. A group of Namibian students have been enrolled in Rosatom's core universities and the Peoples' Friendship University of Russia. After they receive their degrees, they will be employed in the project.
AK: Social work is an important aspect of our activity. We provide regular food aid to a school for about 600 children in Leonardville. We are going to redesign and repair the school canteen and have signed an agreement to this effect with an architectural studio. We are considering buying an ambulance for a local hospital. This will help doctors visit and treat patients in remote areas of the region. We also consider offering vocational courses to local residents to train them in the skills needed in our project.
What are your impressions of Namibia?
KEK: Namibia is a very picturesque country but sparsely populated. You can drive hundreds of kilometers and not see a single car. People there are very open-hearted, friendly and responsive. They always greet you with a smile and a kind word and are ready to learn something new.
AK: Namibia is a fascinating country. Its nature is amazing like no other. What I remember most is the Kalahari Desert with its red sands and Martian-like landscapes. My first visit to Namibia was five years ago, and I cannot stop admiring the country since then. I was surprised to know that not only are summers hot in Namibia, but also winters are quite cool — ​up to minus 2 °C.
What was the main project challenge for you?
KEK: As I have already said, the type of the deposit and the mining method are new to Namibia. We are very scrupulous about recruiting and employing local workers. Quite often we have to provide training and tell our employees about the nuances and specifics of our work. We are building our project team in bits and pieces. For example, one of our team members is Aldo Hingari, a young professional who graduated from St. Petersburg University with a degree in geology. Aldo speaks five languages fluently, including Russian. He was one of the first to join us and now he knows all the ins and outs in our processes.
The fact is that cross-­cultural and multilingual projects are interesting and captivating on the one hand and not the least easy to deliver on the other as they require coordination of many elements, from placement of drilling rigs to building relations with government authorities and local communities. It is not always a simple task but, as you know, the airplane takes off against the wind.
AK: Each day presents us with new challenges, and each new task is far from being ordinary. We have to reach compromises, make bargains, and find extraordinary solutions. This can only be learned by practice, and never by theory. And this is a great responsibility. Of course, we all make mistakes, but when you make them, you gain an invaluable experience. You should remember that one who makes no mistakes makes nothing All in all, this project is a challenge for me in a good sense. I like my job.
Uranium One is an international group of companies. Uranium One is responsible for Rosatom's uranium production outside the Russian Federation and is the world's third-largest uranium producer with a diverse portfolio of assets worldwide, including in Kazakhstan, Tanzania, Namibia, etc.
Kirill Egorov-­Kirillov, Head of AURA Investment Program (includes Project Wings), Director of Mining Projects at Uranium One

My responsibilities include setting goals and assigning tasks to managers of the projects covered by the AURA program, monitoring their progress, defining development strategies for the projects and the program, holding negotiations at the level of ministries and other public authorities, supporting projects in the host countries, and meeting with key project stakeholders.

Anton Korobkin, Project Wings Manager, Head of the Production and Technology Department at Uranium One

I am responsible for organizing, supervising and conducting geological surveys, construction and installation works, and mining operations. I lead the project team and ensure that our goals are achieved. I also work on improving public acceptance of the project. In other words, I manage project deadlines, quality and budget.