Armenia has long been Rosatom's reliable partner in the region. Their successful collaboration extends beyond the Armenian Nuclear Power Plant encompassing medicine and environmental protection, and may potentially include the construction of new power reactors. Rosatom Director General Alexey Likhachev and Armenian Prime Minister Nikol Pashinyan discussed these matters at a meeting in May.
Another extension of the service life of the sole operating reactor at the Armenian NPP was named a priority during the talks. Alexey Likhachev and Nikol Pashinyan agreed on specific steps to have this work started by the end of the year.
The parties also addressed the issue of legacy waste management and remediation of the Nairit industrial site. Alexey Likhachev told his counterpart about Rosatom's expertise in bringing complex industrial facilities to a safe state, citing the ongoing remediation program at the UsolyeKhimprom chemical plant in Usolye-­Sibirskoye (Irkutsk Region, Russia) as an example. This work is progressing ahead of schedule with hazard class II, III and IV wastes already removed from the site and sent for disposal. Rosatom сhief emphasized that the Russian nuclear corporation possesses the capability to manage hazardous wastes on the Nairit site.
The development of nuclear medicine in Armenia was another point addressed during the meeting. The parties also raised the subject of new construction. Alexey Likhachev stated that Rosatom was ready to offer a Russian-­designed nuclear power plant with VVER reactors known for their enhanced safety and cost-effectiveness.
Nuclear power is included in the 2024–2050 Energy Sector Development Program, Director of Energy Strategy Center Vahan Sargsyan said in an interview for Voice of Armenia. "The program was developed at the request of the Armenian Government. I am glad that the analysts who worked on the program came to the conclusion that nuclear power is almost the only option for Armenia and is a prerequisite for its development," Vahan Sargsyan pointed out.
Rosatom is waiting for an official decision on the construction of new reactors, Nikolai Spasskiy, Rosatom's Deputy Director General for International Relations said. "Rosatom is certainly involved in this project. However, while the final decision has not been taken, we are doing some preparatory work with our Armenian colleagues, primarily with the Ministry of Territorial Administration and Infrastructure," he stressed.
Nikolai Spasskiy also noted that Rosatom had provided its Armenian colleagues with a 2,000‑page feasibility study for the new nuclear power plant. According to him, the Armenian government will have to take critical decisions regarding the number of reactors, their capacity, financial and economic model for the nuclear power plant, and so on. Nikolai Spasskiy also said that Rosatom would hire as many Armenian contractors as possible. "They will be involved in the construction and installation works, as well as in the production of equipment. Armenia boasts excellent production facilities, extensive expertise, and strong logistical capabilities, making it more cost-effective, convenient and easier to manufacture equipment in Armenia. At the next stage of our joint project, we will conduct a technical audit of local mechanical engineering companies to get an understanding of what can be produced here and to what extent," Nikolai Spasskiy said.
Apart from nuclear generation, Rosatom intends to expand cooperation with Armenia in nuclear medicine. In May, the Minister of Health, Anahit Avanesyan, met with Igor Obrubov, the CEO of Rusatom Healthcare (part of Rosatom), to discuss strategic areas of cooperation in healthcare, including the development of medical infrastructure, the deployment of high-tech medical equipment, and new radiopharmaceuticals for diagnostics and treatment.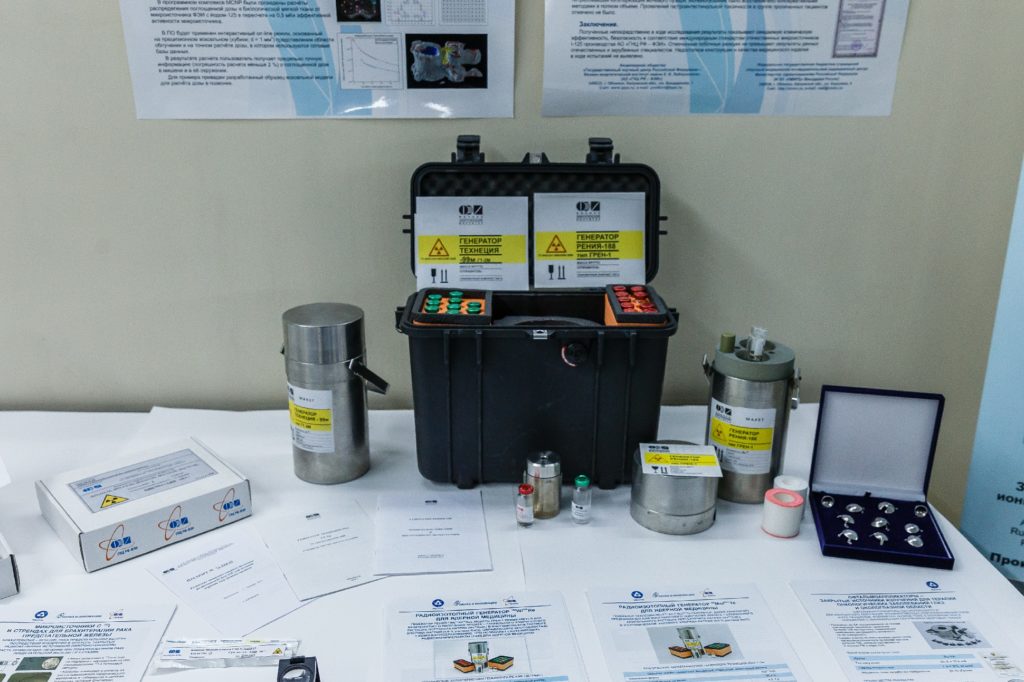 "We see great potential for our strategic partnership with Armenia in the development and deployment of nuclear medicine technologies. Our common goal is to make effective high-tech solutions available to a large number of physicians and patients in our countries, aiming to increase the life expectancy and improve the quality of life," Igor Obrubov commented.
Following the meeting, the parties confirmed their readiness to further maintain a win-win collaboration in nuclear medicine, particularly in iodine‑131 therapy and palliative therapy with Samarium‑153 Oxabifor produced in Russia.
Rosatom delivers technetium‑99m generators and generation kits to six medical institutions in Armenia on a weekly basis. The generators can be used to produce radiopharmaceuticals for single-­photon emission computed tomography (SPECT) to diagnose cancerous, cardiovascular, neuroendocrine, and other diseases. Technetium‑99m is the most sought-­after medical isotope, used in over 80 % of diagnostic procedures.