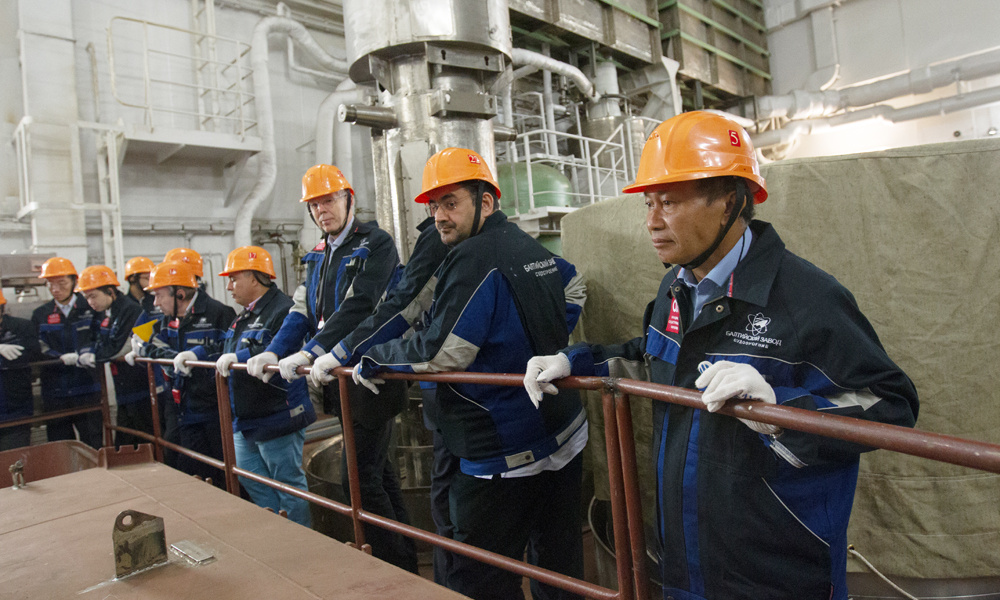 Since 2013 Russia as an IAEA member and a member of the IAEA Board of Governors has organized annual visits of permanent reps to the United Nations in Vienna to Russian nuclear facilities. The goal is to present the latest nuclear technology developed in Russia.
The visits have long become regular, but this time, the fifth since 2013, the event attracted a record number of 42 high-profile visitors. Experts from Austria, Brazil, Hungary, Jordan, China, Panama, Peru, Singapore, Sudan, Thailand, Switzerland, South Africa and other countries were eager to see Rosatom's advanced technology. The diplomats praised the Russian openness and readiness to demonstrate reliability of the nuclear energy industry. This approach increased public awareness and trust to nuclear energy, the permanent representatives said.
The ambassadors visited the Baltic Shipyard where they inspected the Akademik Lomonosov floating power unit designed to supply power to the port of Pevek and industrial facilities on the Chukotka Peninsula, and a new generation nuclear icebreaker. They also visited the operating Leningrad Nuclear Power Plant and Leningrad NPP II (under construction in the town of Sosnovy Bor near Saint Petersburg) featuring the world's second Generation 3+ reactor VVER-1200 to be brought online soon. The reactor complies with all post-Fukushima safety requirements.
Russian NPP are the world's safest
According to Vladimir Voronkov, Russia's Permanent Representative in Vienna, the most important issue on the agenda of the visit was nuclear energy and its impact on the environment. "The Leningrad NPP is located in a pristine area near Saint Petersburg and clearly demonstrates that nuclear is a green energy. Our guests received exhaustive answers to their questions about safety and understand that Russian nuclear plants are arguably the safest in the world," he said.
The Leningrad Nuclear Power Plant demonstrates a high level of safety, believes Paulina Maria Francesco Navarro, Permanent Representative of Panama to the international organizations in Vienna. "We were shown how a nuclear plant operates and what investments are made in it. Based on what we have seen, I can confidently say that this nuclear plant is very safe, which is very important. I would also like to mention efforts to inform local communities and stakeholders. I think it important that Rosatom has embarked on the strategy of making the nuclear plant operation clear for the local community, for everyone who lives nearby," she said.
According to Karoly Dan, Hungary's Permanent Representative in Vienna, his attention during the visit was drawn mostly to the new VVER-1200 reactor constructed at Leningrad II. "We had an opportunity to see two different reactor types, and one of them is the same Hungary is going to build in the coming years. This is why I was particularly interested in VVER-1200, which is now under construction at Leningrad II," the ambassador said.  
Benefits for the environment
It was the third visit of Jordan's ambassador Hussam al-Husseini to the nuclear facilities operated by Rosatom. "Each visit is packed with impressions from technology and new solutions we are shown. Safety and relevant technical aspects were a centerpiece of this year's visit. Information provided to us convinced us that nuclear is safe in general and solutions offered by Rosatom are safe in particular." According to him, nuclear safety data received from Russian colleagues will be useful for public awareness programs in Jordan. "It will enable us to explain that nuclear technology can be beneficial for the environment," he added.
One-off project
A strong impression on the ambassadors was made by Akademik Lomonosov, the world's first floating nuclear power plant. "It is a one-off project, the first ever floating plant. We are closely watching the project and want to see Russia's progress. It is a very interesting innovative project which will probably solve energy security issues in the future," said Tebogo Seokolo, South Africa's Permanent Representative to the IAEA and Chairman of the IAEA Board of Governors.
Floating nuclear plants are interesting for Brazil, said Marcel Biato, Permanent Representative of that country in Vienna. According to him, Brazil faces difficulties in supplying power to the country's remote areas. "We pay much attention to the construction of the first floating nuclear plant; we are particularly interested in economic aspects of the project," he said. The project has "solved nuclear safety and security issues", he noted.
Newcomers impressed
Russian expertise and advanced nuclear technologies are very impressive, says Fernando Rojas, Ambassador of Peru to Vienna. "The visit was very informative and interesting. Since Peru is considering the prospects of developing a national nuclear power program, it is an excellent opportunity to learn as much as possible about peaceful uses of nuclear energy, nuclear power plants and safety systems. I am very much impressed with Russian expertise and technology."
The Philippines also expresses interest to Rosatom's technologies. Maria Zeneida Angara Collinson, the country's Ambassador to the IAEA, noted that the Philippines were looking into the possibility of including nuclear power in the national energy program. "We have a nuclear power plant in Bataan. Its construction was completed, but the plant has never been commissioned. Our growing economy needs more energy, and we study the use of nuclear in different countries, including Russia. Russia has the right technology and high safety standards."
"Rosatom's technology is one of the most reliable in the world. It has proved to be reliable, trustworthy and safe, especially in recent years. I think that friendship between Jordan and Russia has always been an example of trust, and we can rely on it," the Jordan Ambassador noted.