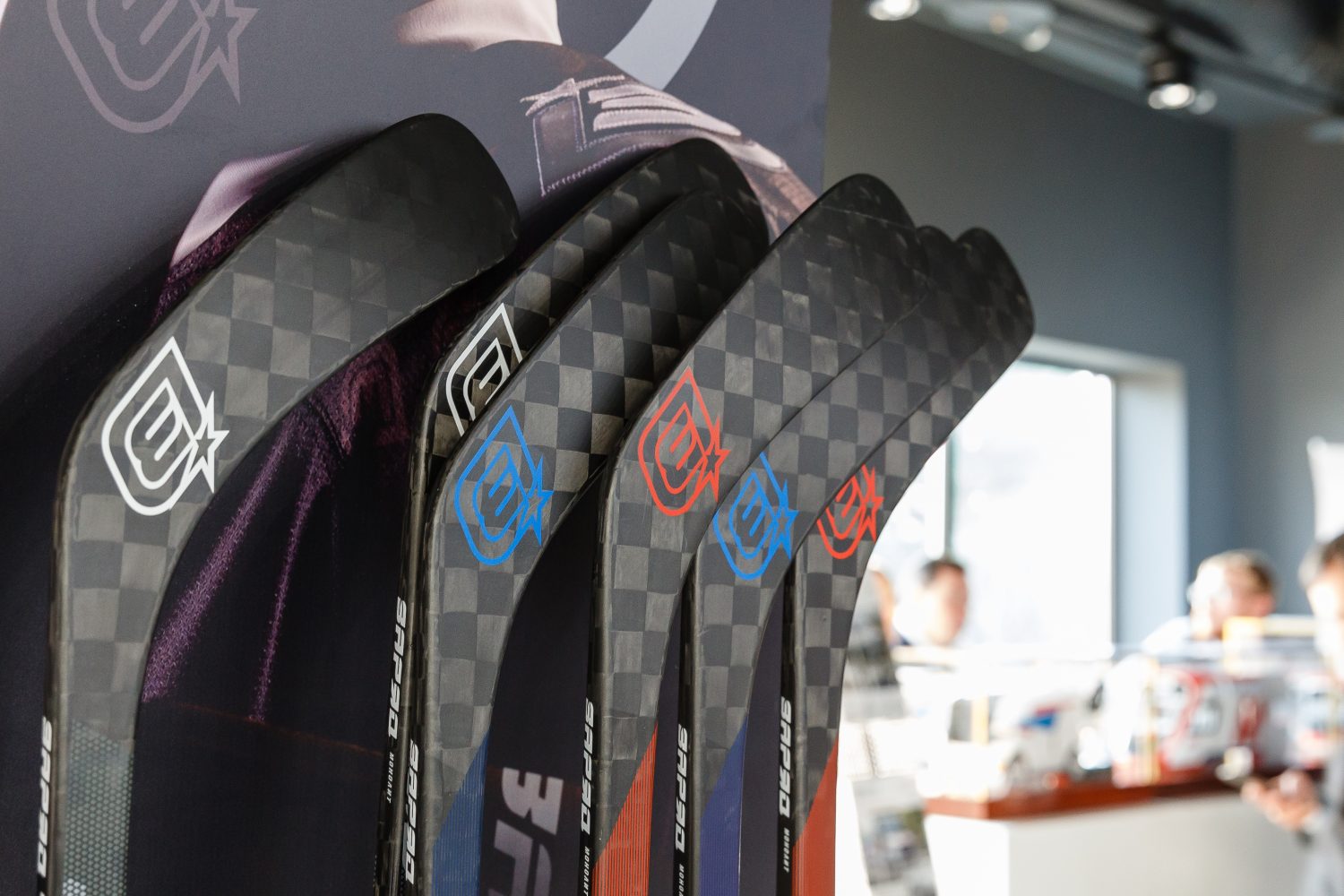 Umatex is Rosatom's division and an umbrella brand for a number of R&D institutes, production facilities and trading companies dealing with carbon composites, from feedstock to end products. For the history of the group, see the Umatex-Branded Assets below.
Umatex-branded export products include carbon-fiber fabrics and prepregs. Apart from composite materials, the company also exports products made of them, such as hockey sticks and vehicle body kits. "In 2019, we exported RUB 99 million of carbon fibers and RUB 92 million of fabrics and prepregs. We also export composite sticks for professional hockey players, selling 3,000 pieces per annum for RUB 15–20 million. This is 10% of what we sell in the Russian market," an Umatex representative said. The group believes that these results are only the beginning and plans to increase exports both in physical and financial terms.
Prepregs are 'pre-impregnated' composite materials consisting of a woven or non-woven fabric impregnated with a thermoset polymer matrix.
Construction and repair
Umatex products and materials for construction applications, such as pontoons, temporary road surfaces, reinforcement bars, shapes and external reinforcement systems, are popular on the Russian market.
FibArm carbon tapes were used to reinforce steel pipes at the Ezmi Hydropower Plant (a subsidiary of Russian hydroelectricity company RusHydro). Some of the water pipes were damaged by corrosion; the thickness of walls decreased, and there was a risk of leakages and ruptures. In order to prevent accidents and increase the wall thickness, the pipes were wrapped with carbon-fiber tapes pre-impregnated with an epoxy matrix. Then a coating was applied to protect them against UV radiation and fire. The result is a safe and reliable operation and an extended maintenance interval.
Russian power distribution company Rosseti used Umatex materials to reinforce transmission towers in the Urals. Their concrete pylons and foundations had been damaged with time: reinforcement bars inside the structures were corroded, so the actual area of reinforcement shrank. The pylons were repaired with the use of FibArm external reinforcement system. The repair process took little time and did not require putting the towers out of operation. What is more, the use of composite materials reduced repair costs as compared to conventional technology.
"Conventional methods of reinforcement using concrete and steel are relatively expensive and labor-intensive and often require putting the structures out of use. Composite materials solve these problems," Nikolay Kravchenko, CEO of Kompozit (Ural company, Rosatom's partner) said.
Power engineering
In power engineering, Umatex targets three major areas: nuclear generation, wind generation, and power grids. The group supplies nacelles for Rosatom's wind turbines. A nacelle is a cover that is installed on top of the tower and housing all of the generating components in a wind turbine. By now, Umatex has supplied 150 out 388 nacelles provided for in the contracts with all Rosatom wind farms. Some of the wind turbines with Umatex-made nacelles are already in operation: Rosatom's wind farm in Adygeya fed its first kilowatts into the power grid in early March.
Umatex also produces a new generation of gas centrifuges for the companies fabricating nuclear fuel. Another product for the power engineering segment – composite core conductors – can be used in power grids.
Sport victories
Toprak Razgatlıoğlu from Kawasaki Puccetti Racing won the WorldSBK race in September aboard a bike in a carbon fiber reinforced plastic body kit. The kit was made at the Umatex R&D Center.
High rigidity and low weight of the carbon fiber reinforced plastic body kit enabled the rider to accelerate the motorbike to above 300 km/h and corner more precisely. Bikes with composite body kits vibrate less and are more stable on the track.
"An advanced aerodynamic design of the body kit had a positive effect on the bike's speed, having increased it by 3–4 kilometers per hour," Umatex CEO Alexander Tyunin said.
Visitors to JEC World, which is now scheduled to take place on May 12–14 in Paris, will have an opportunity to make selfies with the 'victorious' motorbike.
The Umatex team has also decided to bring ZaryaD hockey sticks to the show in France and play hockey right there. "Sticks will be the main prize of the tournament," they promised.
Umatex-branded assets
Argon is one of the oldest plants of Rosatom's composites division. Commissioned in 1976, the plant has been producing carbon fiber for the nuclear industry since the 1980s. At present, Argon manufactures acrylic and carbon fiber and related products (tapes, textiles, etc.).
In 2009, one of Rosatom's subsidiaries acquired Chelyabinsk-based Carbon and Composite Materials Plant, which manufactures high-modulus carbon fibers, carbon-based heat insulating material, discrete carbon fibers, 3D reinforced carbon-carbon structural materials and carbon-fiber reinforced graphite composites.
In 2011, Rosatom received control over KhimPromEngineering, which is now a holding company of the composites division.
In May 2015, Alabuga-Volokno plant built on commission from Rosatom produced the first batch of carbon fibers under the UMT trademark. It is planned to install four more production lines here to increase the output from the current 1,400 tons to 10,000 tons of fibers per annum.
In 2013, Umatex established a Research and Development Center at Technopolis Moscow. The R&D Center synthesizes polyacrylonitrile-based compounds and develops prepregs, PAN precursors (feedstock for more complex PAN-based compounds), carbon fibers, polymer matrices and new technology for the production of carbon-fiber structural elements, and studies new treatment methods for carbon-fiber surfaces.
In 2018, Rosatom acquired a 100% share in Prepreg-SKM. Prepreg-SKM is Russia's only mass producer of carbon-fiber fabrics and prepregs. The company also manufactures fabrics and prepregs based on glass and aramid fibers, which are used in marine, aircraft, construction and other applications.
The most recent acquisition in the carbon-fiber composite segment is a 50% stake in ZaryaD, a hockey stick manufacturer, purchased in July 2019.
Umatex Group also includes trading companies in Europe (Prague) and Asia (Shanghai).