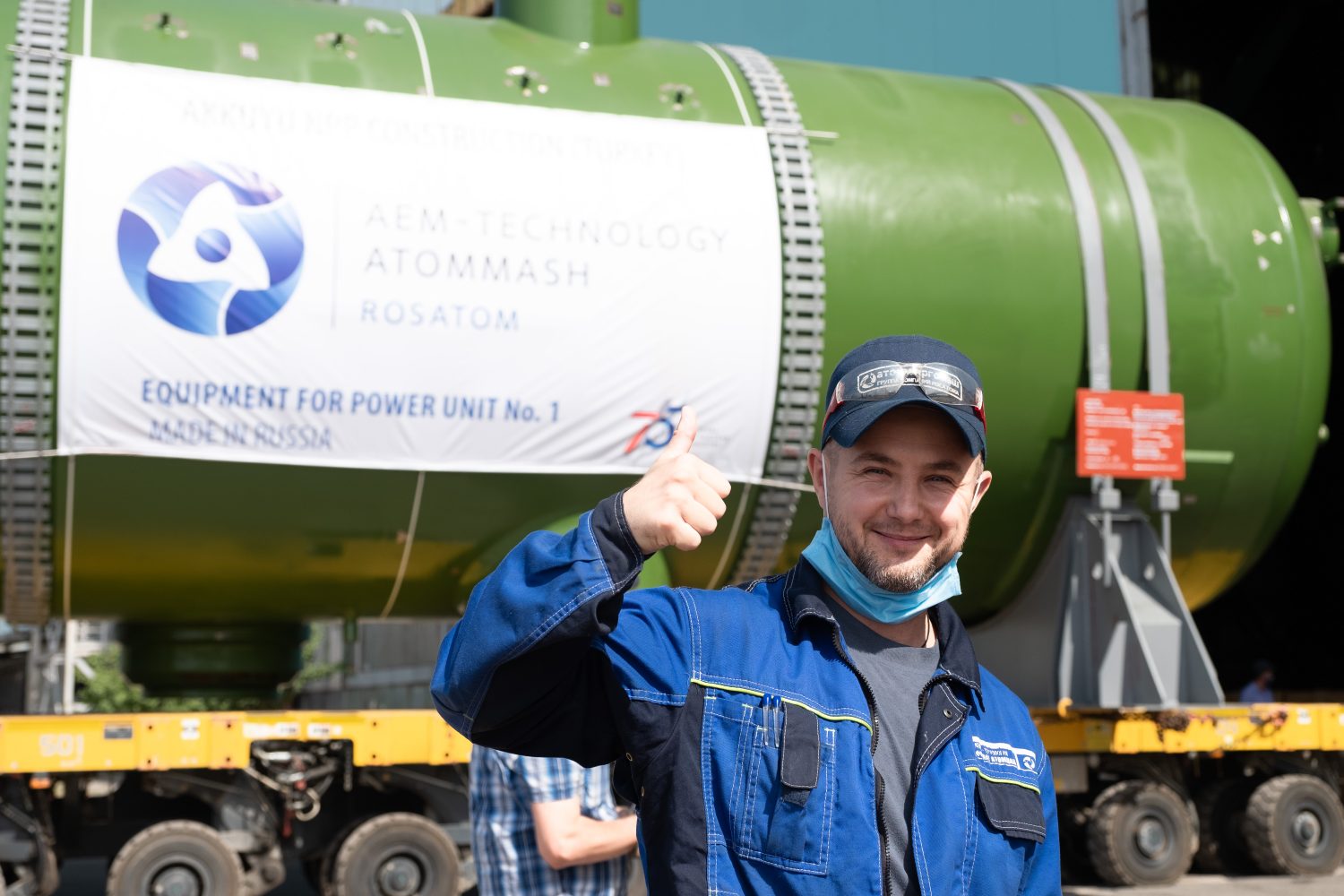 On August 26, Unit 2 of the Akkuyu Nuclear Power Plant received a core catcher, the most important component of the passive safety system. This is a 169-tonne steel cone that in case of emergency is capable of holding corium during an unlimited period, preventing radioactive materials from escaping. This safety device is installed under every Generation III+ reactor. The core catcher has enhanced hydrodynamic properties and a higher resistance to stress and earthquakes. Its installation will begin in November.
In mid-September, a dry shield was installed at Akkuyu Unit 1. This is another component of the passive safety system ensuring reliable operation of the reactor in emergencies (including magnitude 9.0 earthquakes), and ion chambers that serve to control reactor power. The dry shield consists of two halves tightly welded together. This cylinder-shaped steel structure surrounds the reactor pressure vessel and is filled with serpentinite concrete capable of withstanding high temperatures (up to 500 °C).
Recently the concrete pouring of the reactor and turbine buildings foundation slabs at Unit 2 of Akkuyu NPP has been completed. Concrete mix pouring of the foundation slab is thoroughly controlled. The quality of concrete mix is assessed in the laboratory. Then, a concrete sample is taken from the ready-mix truck at the laboratory outpost within the NPP site, with its temperature, cone slump and density being checked. Next, the decision to perform the concrete pouring is made.
Speaking about forthcoming milestones of the Akkuyu construction project, Anastasia Zoteeva, CEO of Akkuyu Nükleer, said, "Most work is going on at Unit 1. We plan to erect internal walls up to Level +26.0 this year. This is a floor level of the central hall. If done, early next year we will be able to begin installation of the reactor pressure vessel and perform welding on the primary coolant loop, that is, working at the heart of the nuclear station. The core catcher for Unit 2, which has recently arrived, will be installed this autumn. Simultaneously, we are building auxiliary facilities, such as construction yards, fuel storages and tunnels."
Volgodonsk-based Atommash has manufactured four steam generators for Akkuyu Unit 1 and shipped them to the construction site. The steam generators weighing 355 tones each will travel 3,000 kilometers by water.
Steam generators are important components of the primary coolant loop and belong to Safety Class 1 products. Shells of steam generators are horizontal cylinder-shaped vessels with two elliptical bottoms. Coolant inlets and outlets are located in the middle of the cylinder. The upper section of the shell accumulates steam, while the lower section contains heat exchangers.
"Equipment of this type takes about three years from drafting technical documents to production. So, shipping it to the customer is an exciting event for us," Atomenergomash CEO Andrei Nikipelov said at the shipping ceremony.
Atommash is a major Russian manufacturer of nuclear machinery and equipment. The year 2020 is record-setting for the company. It has to complete three reactors and 17 steam generators and ship them to customers in Russia, India, Bangladesh and Turkey.
For the time being, construction works are underway at three units of the Akkuyu nuclear power plant. Every construction stage is closely monitored by independent supervising organizations, Turkey's Nuclear Regulatory Authority (NDK) and experts the international engineering group Assystem.
The construction project has created nearly 6,000 new jobs, with over 80 % of new employees being Turkish citizens. Core equipment, which is necessary for safety of nuclear reactors, is manufactured in Russia, while Turkish companies are engaged in construction operations, supply construction materials and take part in the production of machinery and equipment that is not used to ensure safety of the nuclear plant. Turkish companies supply, among other things, support structures and cooling devices for the turbine island, pumps, pressure vessels, valves and cables.
Having become nuclear suppliers, Turkish vendors will be able to take part in nuclear construction projects in other countries, says Korcan Kayrin, a board member of the Nuclear Engineers Association, in an interview to Sabah. "The experience gained from this project will open the doors for Turkish manufacturers to enter national and international markets. Nuclear projects are large-scale and require high-quality equipment and materials. This project lays a foundation for the nuclear industry, inexistent before, to develop in Turkey. Many Turkish companies participate in the Akkuyu construction project, which has been going full tilt recently. The number of procurement contracts has increased, and Turkish manufacturers has begun to make investments in this sector."
The Akkuyu Nuclear Power Plant will have four units with Russian-designed Generation 3+ VVER‑1200 reactors, each having a capacity of 1,200 MW. The plant will generate 35 billion kWh of electricity per annum and meet around 10 % of the country's demand for electric power.