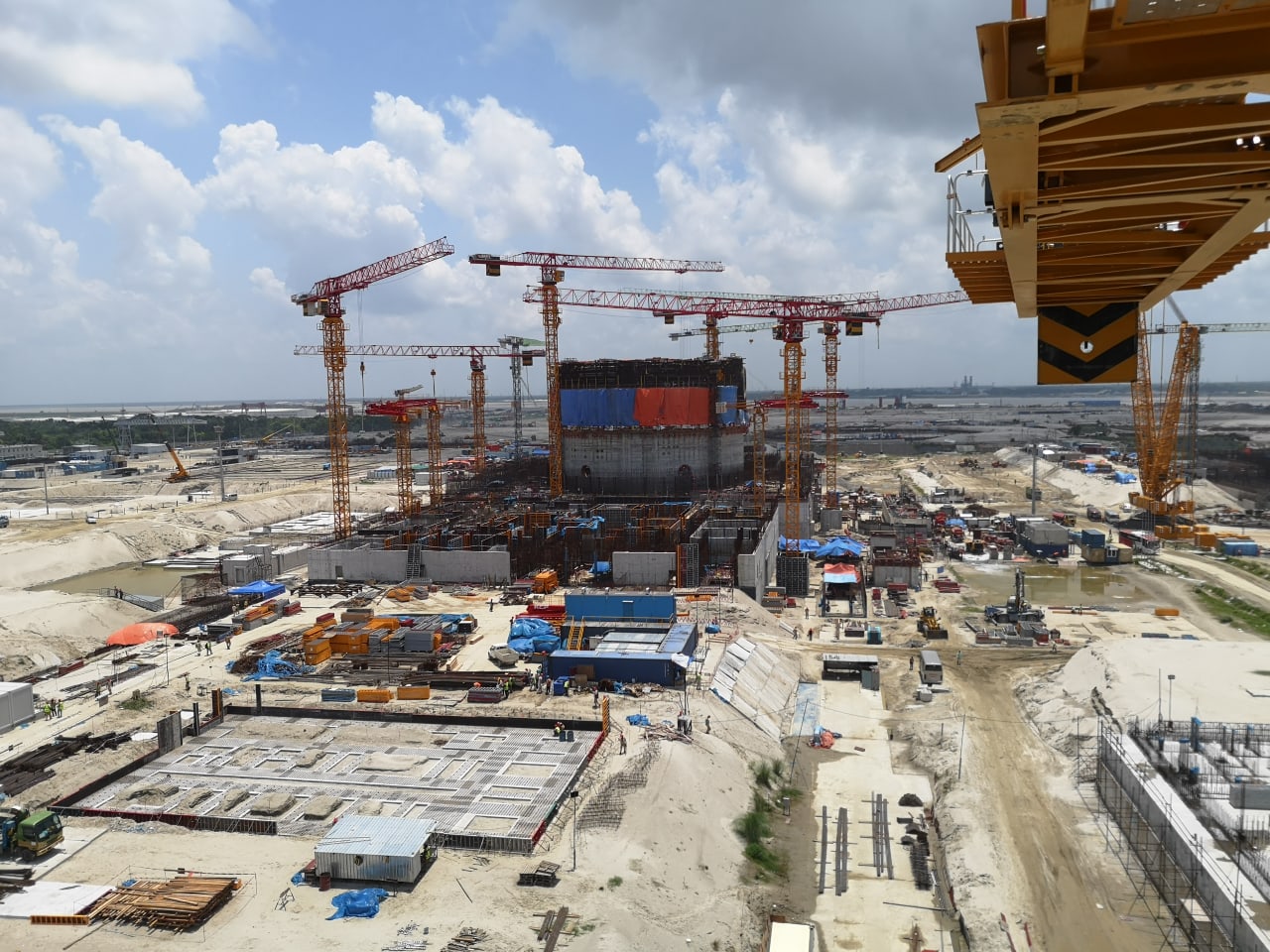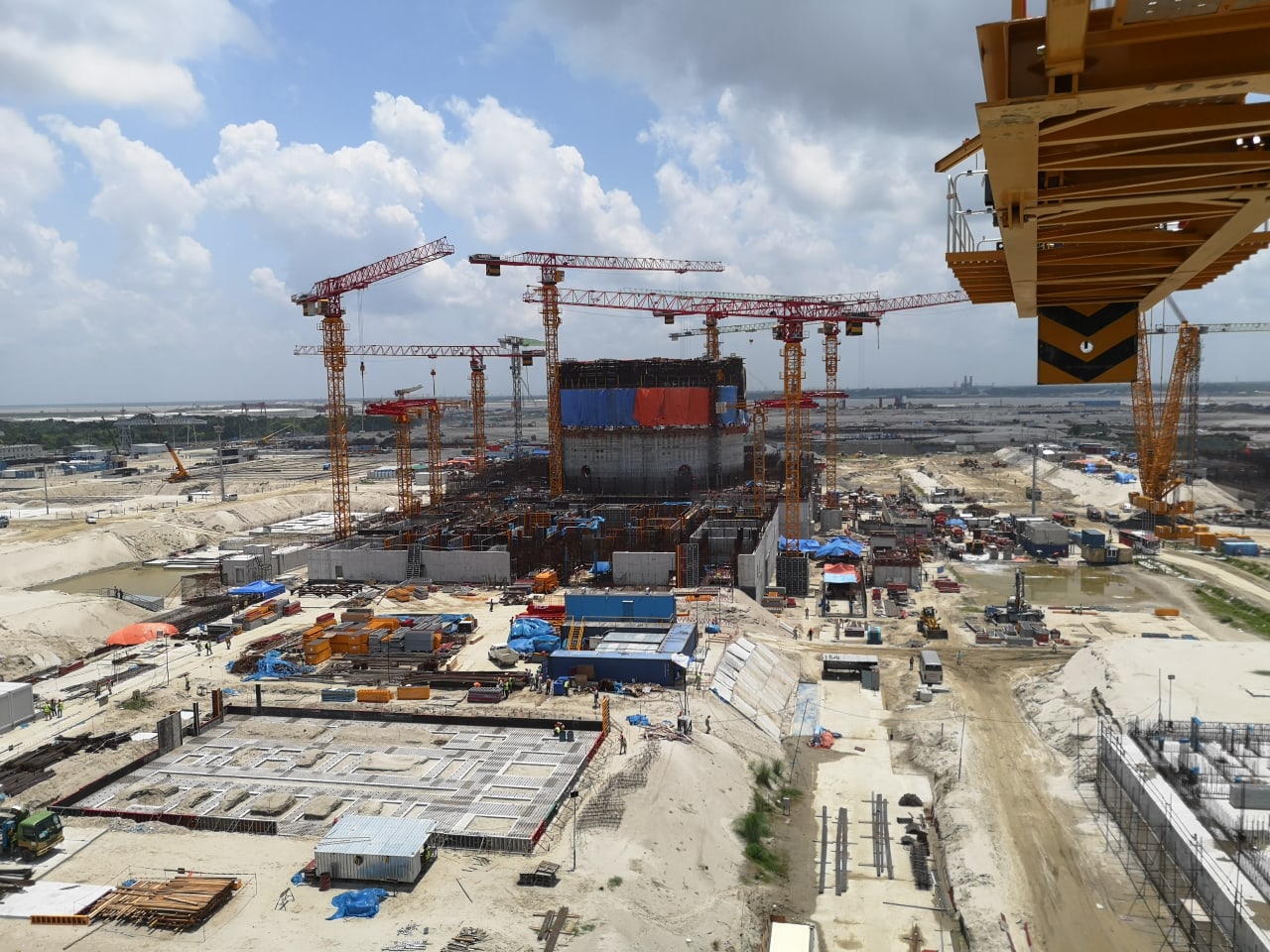 The coronavirus pandemic has not affected the construction of Bangladesh's first nuclear power plant — ​all the work is either on or ahead of schedule. In late June, workers finished concreting the third ring of the internal containment structure at Rooppur Unit 1. It took only 34 hours to do the job instead of 40 hours as set out in the project schedule. The height of the reactor building reached 34.5 meters. The concreting was supervised by representatives of Atomstroyexport (part of Rosatom) and the Bangladesh Atomic Energy Commission (BAEC) to confirm compliance with the design documents and the highest quality of building materials used.
The lockdown caused by the coronavirus pandemic has not suspended the construction of the Rooppur nuclear power plant. All the necessary preventive measures are taken at the site; employee health is monitored on a regular basis. Every worker is examined daily at a medical station installed at the entrance to the construction site. Permission to enter the site is given only after the examination. Each new worker is required to have a negative coronavirus test before being admitted to the site. Around 800 people have been tested for COVID‑19 by now.
Rosatom companies continue manufacturing machinery and equipment for the Rooppur nuclear power plant. Volgodonsk-based Atommash, a subsidiary of AEM Technologies (part of Rosatom's engineering division Atomenergomash), has produced an upper halve of the reactor pressure vessel for Rooppur Unit 2.
First, two shell rings and a flange were fixed together. Then the upper RPV was placed onto a welding stand to weld two ring seams, each being heated to 150–300 °C during the welding. All in all, the welding process took 25 days. It also took 4,027 kilograms of flux and 3,057 kilograms of 4 mm wire to do the welding.
After it was finished, the upper semi-vessel was heated to 270 °C. With a large portal crane, it was placed into a furnace for the four-day thermal treatment. The next step in the nuclear reactor production is the welding of shell rings and a bottom of the lower RPV halve.


Meanwhile, Petrozavodsk-based production facility of AEM Technologies (part of Rosatom's engineering division Atomenergomash) has completed the weld cladding of internal surfaces of the shell rings for the pressurizer, which will be installed at the second reactor unit of the nuclear power plant. The pressurizer is a key piece of heavy machinery for the nuclear island and is designed to build and maintain pressure in the primary loop. The cylinder-shaped pressurizer body consists of four thick-wall rings and two flanges. Since the pressurizer has to withstand an impact of a very aggressive environment (primary loop coolant, a mixture of water and steam heated to more than 300 °C at the pressure of nearly 160 atm), its internal surfaces are coated with a corrosion-resistant layer.