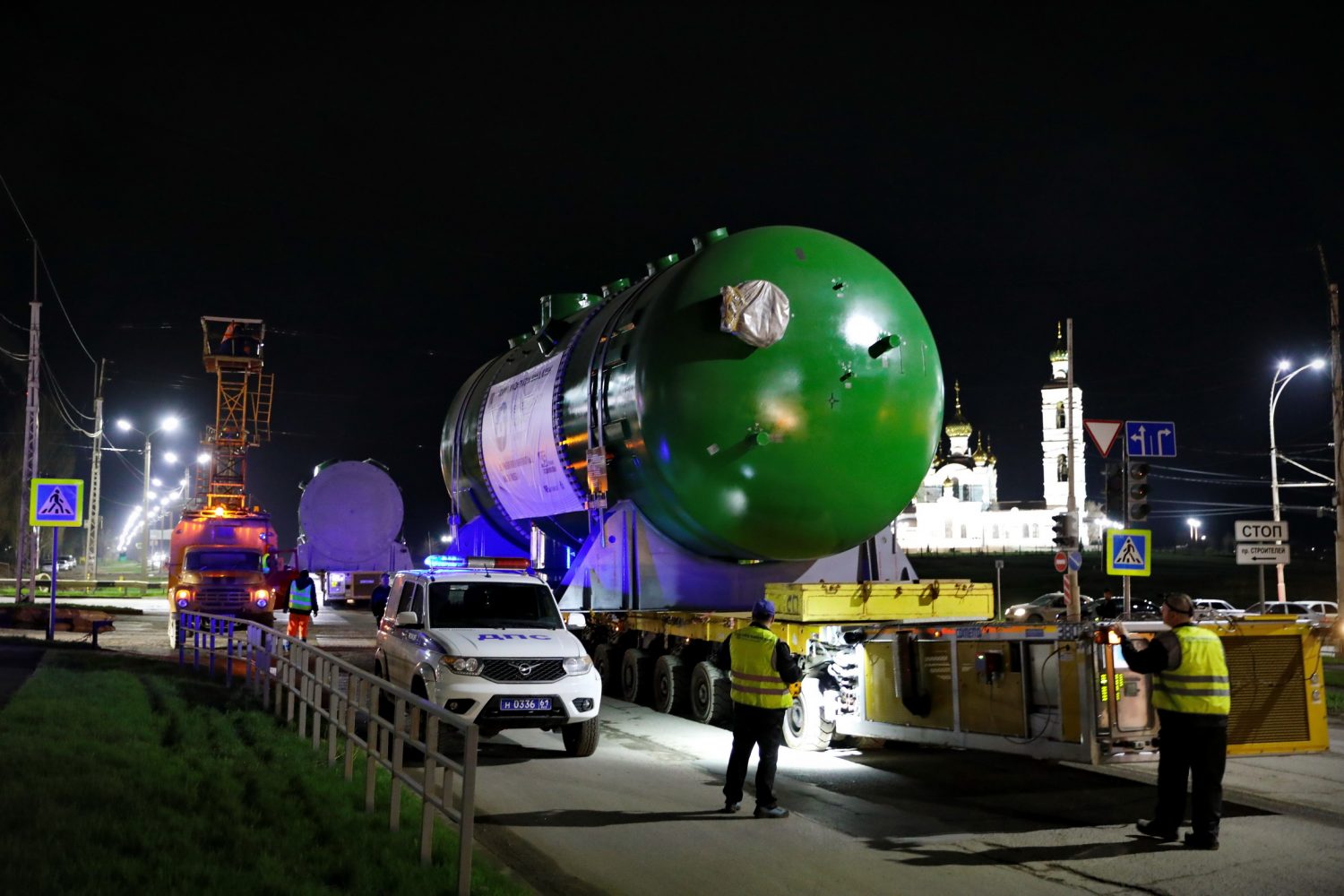 The 320-ton reactor pressure vessel and two 340-ton steam generators for the second power unit of the Rooppur nuclear power plant will make a long journey — ​the sea route alone is about 14,000 kilometers.
"This is the last shipment of that size to Bangladesh, but I am sure that our cooperation with the emerging nuclear country will continue in one way or another," Igor Kotov, CEO of AEM Technologies (part of Rosatom's power engineering division), said at the shipping ceremony.
All the components for the last reactor were manufactured even faster than for the previous one. It took 5 days less to make the steam generators, and 10 days less for the RPV. These timesavings are attributable to the unparalleled Rosatom Production System that helps optimize business processes. With a total of 570 days to produce the reactor, the company performed 768 different operations. For instance, the reactor pressure vessel was tested at 24.5 MPa, which is 1.5 times higher than its operating pressure.
Bangladeshis were present at all acceptance tests. Atommash provided them with all the things needed, including professional translation assistance. "It is the first nuclear power plant in Bangladesh, so acceptance of equipment for Rooppur Unit 1 was far from fast: the customer needed more time to gain insight into details of the production process. But we established a constructive dialogue, so acceptance of equipment for the second unit went much easier," Atommash Director Rovshan Abbasov said.
Overall, Rosatom will manufacture 50 different kinds of machinery and equipment for the Rooppur nuclear power plant, including reactor pressure vessels, RPV heads, core barrels, core baffles, protective tube units, steam generators, primary coolant piping and pumps. The total weight of the equipment to be shipped exceeds 4,000 tons.
The Rooppur nuclear power plant is constructed to the Russian design. Its reference power unit is Russia's Novovoronezh NPP Unit 6. In late April, Kamrul Ahsan, Bangladeshi Ambassador to Russia visited Novovoronezh NPP. Its director Vladimir Povarov and other employees told the guest about the current status of Generation III+ VVER‑1200 reactor units and specifics of their operation.
The ambassador visited the control room, turbine island, central control board and indoor switchgear units of Novovoronezh Unit 6.
Kamrul inspected a training center where local experts train Rooppur employees in accordance with the bilateral contract. More than 1,500 nuclear industry specialists will complete training and an internship at the Novovoronezh NPP by the end of 2022.
The delegation also visited a hands-on training class on water treatment for Bangladeshi engineers under the supervision of instructors from Rosatom's Technical Academy.
"Novovoronezh is the first nuclear power plant I have visited. It is a wealth of experience for me because the Rooppur NPP in Bangladesh is built to the same design. Now I have a full picture of what the nuclear power plant in my country will look like. We sent our best employees to Novovoronezh, and I am absolutely sure that they will gain invaluable experience and fundamental knowledge here," Kamrul Ahsan noted.
The Rooppur NPP will have two power units with VVER‑1200 reactors. Their design life is 60 years, extendable by 20 more years. Despite the pandemic, work is going full tilt on the construction site. "We decided to continue working to commission Rooppur Unit 1 by 2023 and Unit 2 by 2024 in full compliance with the project schedule," said Shawkat Akbar, Director of the Rooppur project.
Another day – another cool video about Rosatom supplying equipment to nuclear power plants overseas. This time, it is equipment for Rooppur NPP Unit 2 about to be shipped away from Russia all the way to Bangladesh. pic.twitter.com/1LhZARuv8s

— Rosatom Global (@RosatomGlobal) June 3, 2021
AtomEnergoMash (AEM) is Rosatom's power engineering division and one of Russia's largest power machinery producers providing comprehensive solutions in design, manufacture and supply of machinery and equipment for nuclear, thermal, petroleum, shipbuilding and steel-making industries. Its production facilities are located in Russia, the Czech Republic, Hungary and other countries.