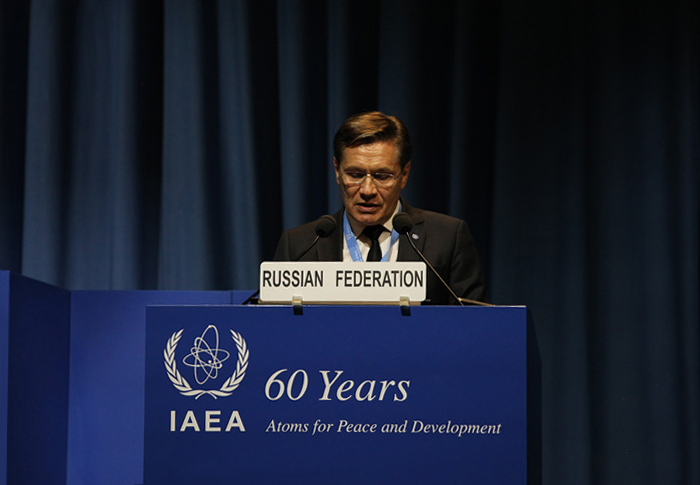 "We are convinced that the future of nuclear energy cannot be separated from fast neutron reactors and closed nuclear fuel cycle. Today Russia is a leader in this field. We are building a multi-purpose fast breeder reactor in Dimitrovgrad. In Seversk, we are running the Breakthrough Project, an ambitious pilot center comprising fast neutron reactors and facilities for MOX fuel fabrication and spent fuel reprocessing," Rosatom's CEO said.
Russia has long been in the forefront of fast neutron technologies. As you remember, a BN-800 fast neutron reactor was launched last year at the Beloyarsk nuclear power plant to mark a new milestone for the industry. With BN-600 and BN-800 online, Russia is the world's only country operating commercial fast neutron reactors. A more powerful BN-1200 reactor has been designed, and experts are now looking into economic aspects of the project.
Challenges to nuclear
Speaking at the conference, Alexei Likhachev mentioned current strategic challenges faced by the global nuclear industry, among them energy poverty, global inequality in access to power and the planet's ecosystem at risk of irreversible collapse. "We can only address these challenges by expanding and simultaneously changing the global energy mix," Mr.Likhachev stressed. "We need to cut down on hydrocarbons as much as possible. This is our responsibility towards generations to come."
Biocapacity of global forests
According to Alexei Likhachev, the nuclear industry makes a large contribution to the Earth's ecosystem. "If all operating nuclear stations with a total capacity of 392 GW were coal or gas fired, they would add some 2 billion tons of CO2 to global emissions. All forests in the world absorb 2.5 billion tons of carbon dioxide yearly. In other words, nuclear plants are comparable to the biocapacity of all forests on the Earth in terms of positive environmental effects!" Mr. Likhachev said.
He pointed out that the future belonged to green energy. "Solar, wind, water and nuclear supplement and strengthen each other. They should be those four pillars that will support the future non-carbon energy mix," Likhachev explained.
Citing the IAEA forecast, he said that the share of green energy would exceed 80% of total power generation by 2050. With this goal in the plan, the installed capacity of nuclear power plants should reach to 930 GW globally. This means that in just ten years we will have to commission over 20 GW of new and replacement capacity every year.
"This goal is ambitious, yet attainable. It depends entirely on us – the countries that have opted for nuclear – whether it is achieved. We are not competitors with other non-carbon sources of power as all green energies are part of the solution to the world's climate change problem. But we need to reach a new level of cooperation within the international nuclear community," Alexei Likhachev stressed.
Putting safety on top
According to Alexei Likhachev, Russia supports the IAEA Secretariat's policy of tightening regulations on nuclear safety. "We are ready to back up the policy with our competencies and resources," said Mr. Likhachev. Safety improvement principles are embedded in Generation 3+ reactor designs, he said, with inherently safe reactors of the fourth generation to appear in the future.
Improving attitude towards nuclear power
Improvement of the public attitude towards nuclear power is another area of cooperation with the IAEA, Likhachev said. "We respect any decision of every country on whether to embark on nuclear. It is important that the decision is based on scientific knowledge, not a phobia. We need to convince the public, politicians, scientists and experts that nuclear is clean, safe and efficient," Rosatom's CEO explained. According to him, Russia and other countries where Rosatom is building reactors strive to continuously improve public acceptance of nuclear energy. "We are ready to share our experience in this field. The joint approach needs to be formalized at the upcoming IAEA Ministerial Conference in Abu Dhabi," Likhachev stressed.
"The global nuclear industry can and should unlock the technological leadership potential and become a major participant in the fourth industrial revolution," he said.
IAEA to strengthen ties with Russia
The International Atomic Energy Agency intends to strengthen its ties with Russia in the field of nuclear energy, said IAEA Director General Yukiya Amano when visiting Rosatom's exhibition stand in the Vienna International Centre. According to Mr. Amano, Russia is a very important partner of the IAEA, an active member of the nuclear community, and a recognized leader in fast neutron technologies. "The IAEA will continue its partnership with Russia by expanding it into new fields of nuclear energy," said Yukiya Amano after visiting Rosatom's exhibition where Russia presented its most innovative solutions within the framework of the 61st IAEA General Conference.