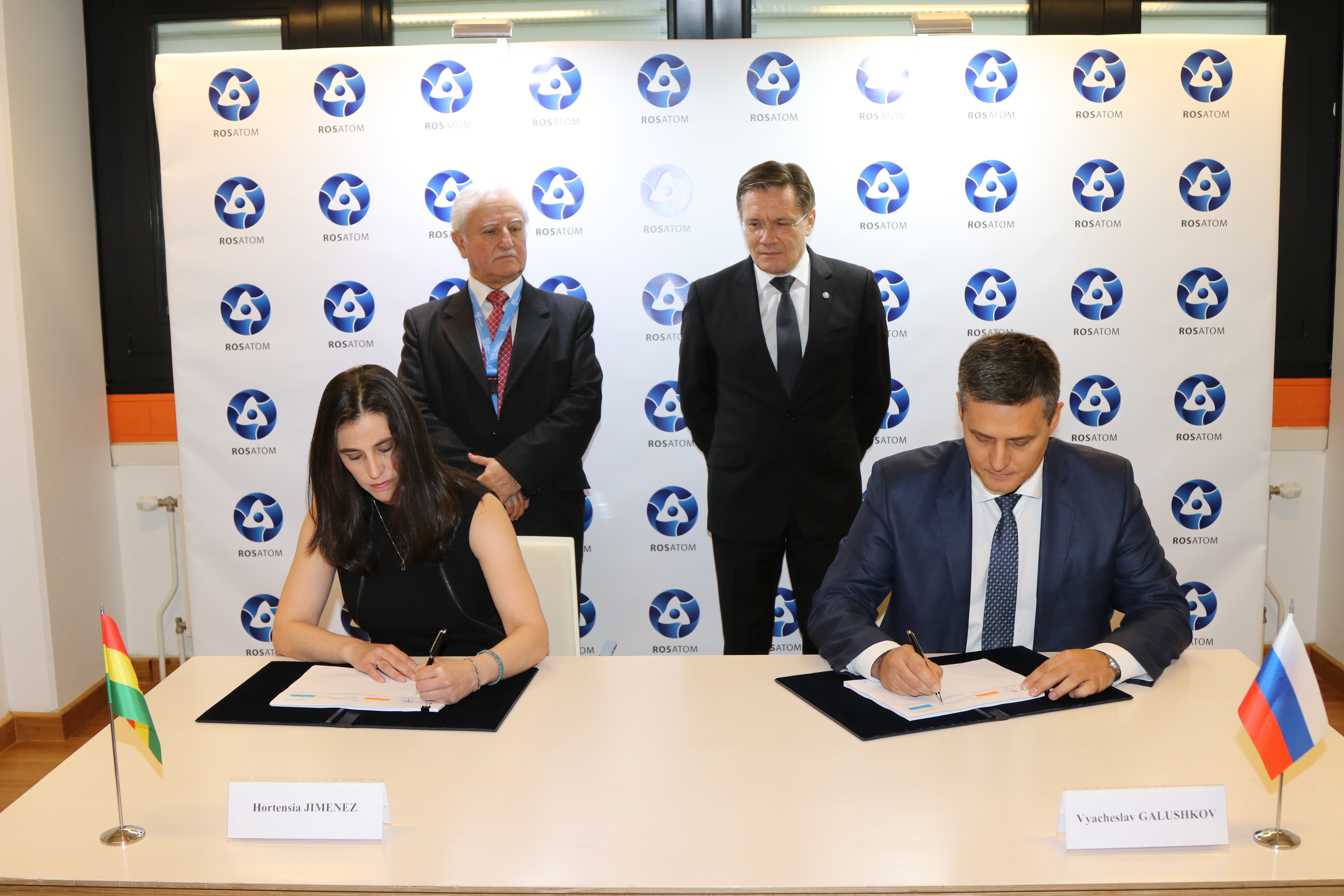 The signed contract strengthens Rosatom's position on the global non-energy nuclear market, which has been exhibiting fast-paced growth recently. The contract was made between the Bolivian Atomic Energy Agency and the State Institute of Engineering Design (a Rosatom Group company). Signatories to the contract were Vyacheslav Galushkov, CEO of SIED, and Hortensia Jiménez Rivera, CEO of ABEN. The contract was signed in the presence of Rosatom's CEO Alexei Likhachev and Bolivia's Deputy Energy Minister Luis Alberto Echazú.
The project has no precedent in the global nuclear industry as the site selected by Bolivia for the nuclear center is the highest ever (4,000 meters above the sea level) to build a nuclear facility. The center will have a pressurized water reactor with the rated capacity of 200 kW, a multi-purpose gamma irradiation unit, a cyclotron for nuclear pharmacy purposes, an engineering department, and several research laboratories. With over 300 million US dollars to be invested, the center will facilitate the use of radiation technologies in agriculture, medicine, industry and other areas.
Integrated offering
Some of the center's facilities will be commissioned already in 2019. Its design life is 50 years, but can be extended when this limit is approached. Apart from constructing the center, Rosatom's integrated offering comprises research and engineering staff training, infrastructure development and maintenance services for the entire project life of the nuclear center. The Russian nuclear corporation will also support Bolivia in scientific research. "Construction of this highest altitude nuclear research facility is not the only thing we offer Bolivia. Our partners always receive the latest technology. The project will make Bolivia a local leader in nuclear research. Earlier we concluded a contract for preliminary site surveys. The results we have obtained prove that the site is fully suitable for the construction. On-site work will begin very soon in cooperation with our Bolivian colleagues," said Alexei Likhachev, CEO of Rosatom.
FOR REFERENCE

Operating in more than 50 countries worldwide, research reactors have been contributing to the development of innovations and education for over 50 years. At present, there are 245 operational research reactors in the world, including 58 units in Russia. Rosatom has built over 120 research reactors both in and outside Russia.