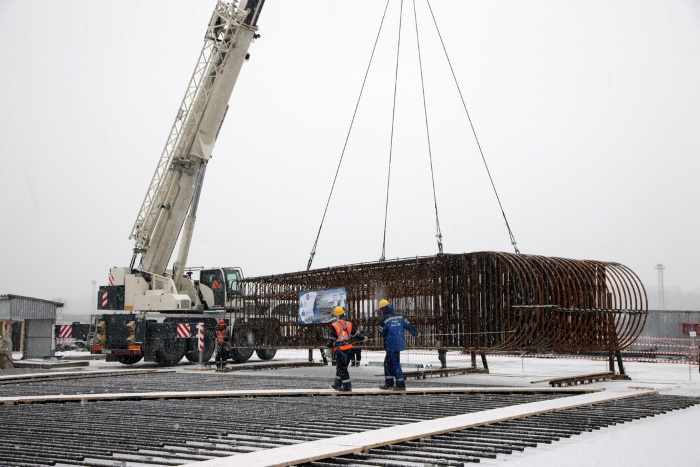 On 21 December, the first 16-ton reinforced concrete block was installed on the rebar of the lower foundation belt. According to the project design, the foundation comprises 105 reinforced concrete blocks with a total weight of 1,600 tons. This will enable the construction team to start concreting the foundation slab of the reactor building in the first half of 2018.
Prior to putting the first concrete block, a rebar coupler engraved with the words "The future is shaped today. The first coupling sleeve of the innovative VVER-TOI power unit" was ceremonially installed into the foundation reinforcement.
VVER-TOI (which means 'a standard optimized and automated power unit based on VVER technology') reactors meet Russian and global safety requirements and have a longer service life and higher installed capacity than existing reactors of the Kursk Nuclear Power Plant.
Alexander Mikhailov, Governor of the Kursk Region, noted that it was an honor for the region to build and commission one of the world's first nuclear plants with advanced VVER-TOI reactors. "Construction of Kursk II designed to meet the latest global standards offers our region development prospects for the entire 21st century. Just a few Russian regions have such opportunities," he stressed.
Vyacheslav Fedyukin, Director of Kursk NPP, noted it was symbolic that the event happened on the 25th anniversary of RosEnergoAtom and 10 years after the foundation of Rosatom, the companies that shaped the newest history of Russia's nuclear industry. "Construction of Russia's first VVER-TOI-based power unit proves that the national nuclear power industry is always at the cutting edge of science and engineering. The new generation VVER-TOI units are state-of-the-art facilities made to the best of Russia's nuclear engineering knowledge," he added.
At the moment, other operations are also underway at the construction site of Kursk II. Among them is excavation of 1.2 million cub m of soil to be completed in 2017, with over 800,000 cub m of sand, gravel and aggregate already put in the foundation of Kursk II buildings and structures. Construction of a 330/10 kV substation and preparation of technical documents for its commissioning are also drawing to a close.
For reference:

Kursk II is designed to replace the existing Kursk Nuclear Power Plant that will be taken out of operation in the years to come. Its first two units with VVER-TOI, a new-type reactor, will be commissioned simultaneously with decommissioning of Units 1 and 2 of the existing nuclear station. According to the master schedule of Kursk II, Unit 1 will be commissioned in late 2023 to be followed by Unit 2 in late 2024.