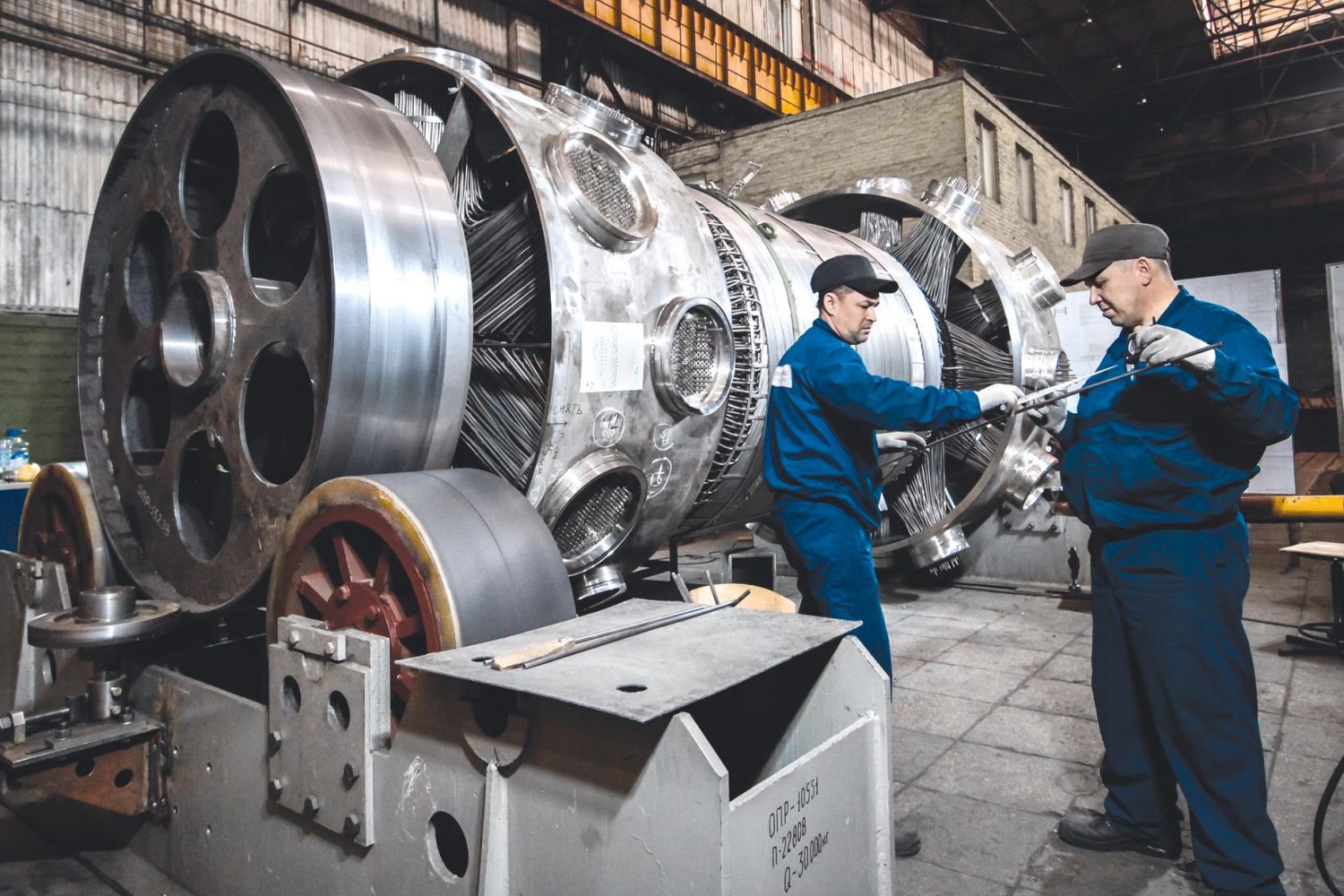 One might ask, how could a nuclear industry company be a hundred years old when the entire nuclear industry is 75 years of age?
A century-old manufacturer
For one hundred years, ZiO-Podolsk manufactured a variety of machinery and equipment for thermal and nuclear power plants and oil refineries, but initially it was a steam locomotive maintenance depot. Opened on May 2, 1919, the plant repaired locomotives until 1930.
Why is it called ZiO-Podolsk? ZiO is an acronym of the Russian phrase 'Plant named after Ordzhonikidze'. It was named after Sergo Ordzhonikidze, then the Soviet minister of heavy industry, and ZiO has become its trademark since then. Podolsk is a small city in the Moscow Region where the plant is located.
In 1931, ZiO-Podolsk was converted to manufacture cracking units, narrow-gage locomotives for industrial facilities, and other railroad equipment. Its name was changed to Cracking and Electric Locomotive Plant.
During World War II, the plant and some of its employees were evacuated to the Urals. The machinery and equipment that remained in Podolsk was used to make grenade shells, repair tanks and guns, and install armor on IL‑2 strike fighters. In 1942, Taganrog Boiler Plant was relocated from Southern Russia to Podolsk. As a result, ZiO-Podolsk acquired expertise in the maintenance and repairs of steam boilers and began their production in 1946. For 70 years, the plant produced over 700 different boilers for 152 Russian and foreign power plants with a total capacity of 66 million kilowatts.
In 1952, the plant began manufacturing thermal and mechanical equipment for nuclear power plants. Since 2007, ZiO-Podolsk has been part of Atomenergomash, Rosatom's power engineering division.
The energetic present
The machinery and equipment produced at Podolsk are installed at every nuclear power plant constructed in the former Soviet Union. They are also used at nuclear power plants with VVER‑440 and VVER‑1000 reactors operating outside Russia. Over the last years, the plant has been manufacturing equipment for power plants with VVER‑1200 reactors. Reactor pressure vessels, steam generators, separators, superheaters, high and low pressure heaters for STP regeneration systems, water preheaters, various heat exchangers, ion exchange filters, trap filters, removable insulation and evaporators are just a few of the products for nuclear power plants manufactured at ZiO-Podolsk.
A recent example is a separation tank developed and produced for the Rooppur nuclear power plant in Bangladesh. The separation tank is designed to collect moisture from the separator. Similar devices have been manufactured for new reactor units at Novovoronezh II, Leningrad II and two reactors of the Belarusian nuclear power plant.
ZiO-Podolsk has also produced machinery and equipment for BN‑350, BN‑600 and BN‑800 fast neutron reactors.
Thermal equipment is another group of items manufactured at the plant. It has many years of experience in the production of boilers for power units. Along with manufacturing, ZiO-Podolsk provides boiler design, retrofitting, installation supervision, adjustment and commissioning services. Similar services are provided for boiler islands produced and installed by other vendors at power plants outside Russia.
ZiO-Podolsk also manufactures machinery and equipment for waste incineration plants. Two shipments are scheduled for this March. The first one includes a set of boiler equipment for Russia's first waste-to-energy plant in the Moscow Region. The second shipment includes superheaters for steam boilers of the Riverside energy-from-waste plant in the UK. In April, the first batch of equipment was delivered to the country. Russian-made superheaters will replace similar devices during a major plant upgrade.
The third group of ZiO-Podolsk's products is machinery and equipment for the oil and gas industry. This group includes columns, reactors, adsorbtion, absorbtion and desorbtion units, tanks, receivers, shell and tube heat exchangers, tube furnaces and coil tubing for them. The equipment is used at new production facilities and for the upgrade of operating ones. Some oil refineries have been purchasing ZiO-Podolsk equipment for more than half a century. New projects are underway as well. In 2019, the plant manufactured an ethane evaporator and an LNG pump for the Yamal LNG project. The ethane evaporator will be installed at the LNG plant in the Port of Sabetta in Russia's north. The plant will have a capacity of one million tons of LNG per annum.