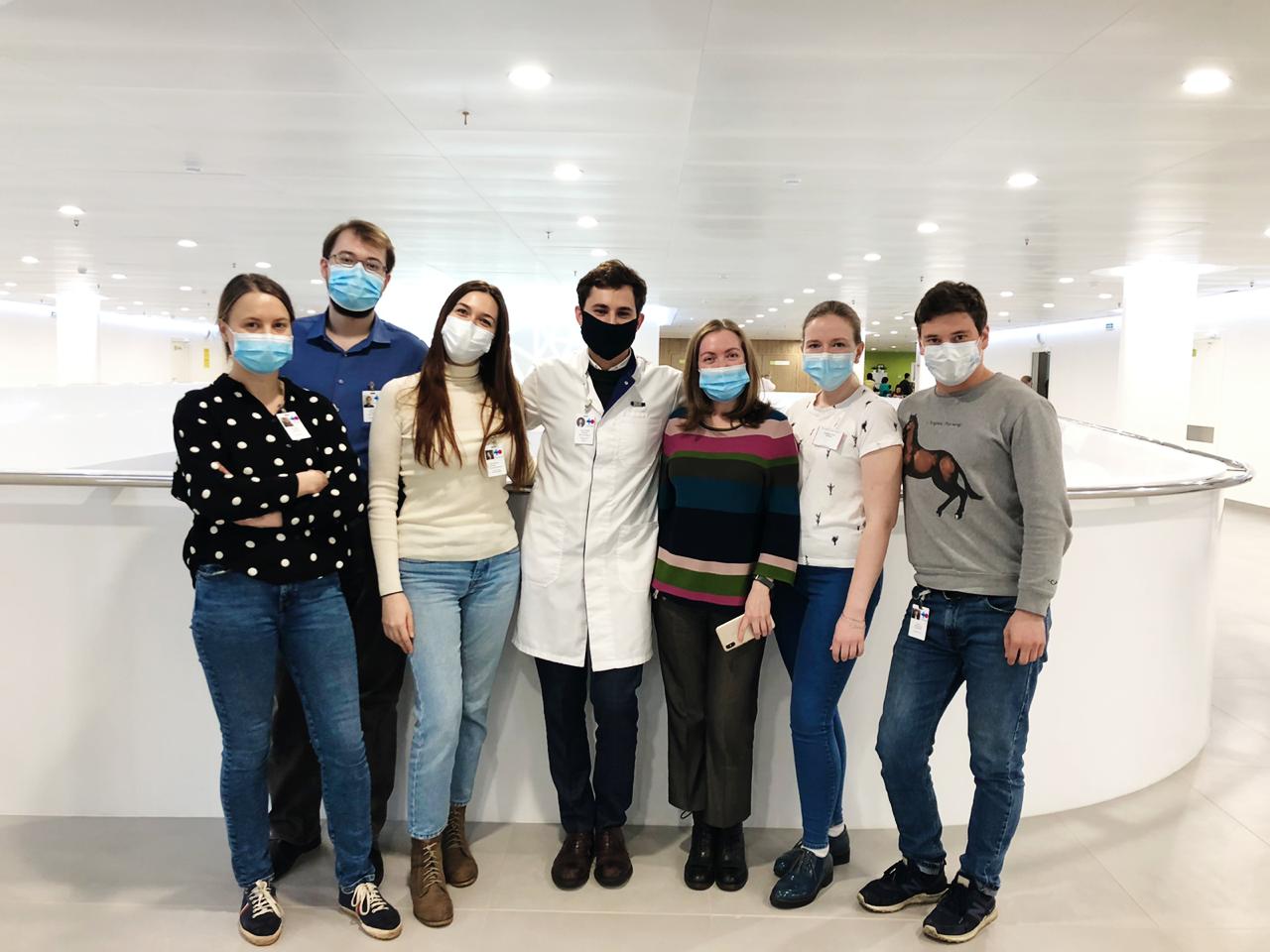 Volunteers
Vladislav Shchukin, a senior manager at sales department at Scientific Research Institute for Instruments has demonstrated one of the most vivid examples of dedication and self-sacrifice working as a volunteer in largest COVID-hospital in Moscow. This is where people with severe coronavirus symptoms were brought at the peak of the epidemic. It was Vladislav's own decision to work in the most dangerous place in Moscow at a time. He became a doctor's assistant in the Epidemic Investigation Department with a task of collecting and recording information about patients, their contacts and movements. Patients are usually interviewed over the phone, but sometimes Vladislav puts on an overall and goes to see some of the patients personally. He works seven days a week, while his wife and a child are in Zelenograd, a town near Moscow. "When there is a flood, neighbors come to help; when there is a fire, everyone takes a bucket and fights the fire. It's the same now — ​we have to help," Vladislav explained.
Volunteers help Rosatom employees, too. For example, Gennady Komarov, Director General at the Instrumentation Plant in Tryokhgorny (Chelyabinsk Region), had to self-isolate after the treatment. His colleague, one of the plant's volunteers, brought him everything he needed.
Rosatom employees abroad also make their contribution to solving COVID-related problems. For example, employees of the Central European office of Rusatom International Network (RAIN) in the Czech Republic learned that the country was critically short of seasonal construction workers. RAIN representatives asked the authorities of Třebíč, a town in Czechia, how they could help and were given a task to renovate a fence around the central bus station. "The volunteer team consisting of our colleagues was briefed on safety and started working. They removed old paint first and then covered the fence with new paint," Oleg Spoyalov of RAIN Central Europe said.
Miloš Hrůza, Deputy Mayor of Třebíč, and the volunteers had a short talk. "We came to the opinion that we need to expand our cooperation. Then local media visited the site," Oleg Spoyalov explained.
A total of 689 nuclear industry employees joined the ranks of volunteers during the epidemic. For the last few weeks alone, they helped nearly 1,500 people, who could not buy food or drugs because of the quarantine.
Know-how
The last issue of Rosatom Newsletter covered a few instances of cooperation between Rosatom Group companies and hospitals. There are a plenty of other examples as well. Personal contacts between doctors and engineers contribute to the development of new devices that make patient care much safer.
Viktor Mishukov, Director of the Federal Biomedical Agency's Clinic No. 91, asked his friend Maksim Dergachov of Elektrokhimpribor (Lesnoy, Sverdlovsk Region) to develop an isolation bed for safe patient handling. It took him a week to create a new modification of the isolation bed with six hand openings so that three doctors can have access to a patient simultaneously. Each opening has a protective silicone trimming to prevent hand gloves from tearing. Many parts, including fixtures, pins, shields and air filter adapters, were 3D-printed. The adapters were used to connect air filters to a full-face diving mask to turn it into a filtration system. A set of filters increase air flow and allow doctors to work longer while meeting all required safety regulations.
Financial aid
New rules and requirements for hospitals during the pandemic mean a huge increase in expenditures on personal protective equipment, which needs to be purchased urgently. Akkuyu Nükleer, the owner of the Akkuyu NPP project, provided funds to the state hospital in Silifke and the family health center in Büyükeceli. Silifke and Büyükeceli are two towns in the vicinity of the nuclear power plant construction site. Each hospital received 70,000 liras (more than $10,000) to be spent on improvement of the infrastructure.
The pandemic made some businesses shut down, leaving people without income. In order to support Büyükeceli families, Akkuyu Nükleer gave locals food gift baskets for Eid al-Fitr. In previous years, Akkuyu Nükleer organized a feast (iftar) for all the people of Büyükeceli, who gathered at the common table. The pandemic dictated its rules this year — ​no gatherings were allowed, and Akkuyu Nükleer employees delivered the presents to family homes while maintaining safety rules, wearing masks and gloves and leaving the presents at the door.
In April, more than 200 top managers of Rosatom joined the national #WeTogether campaign and donated their one-month salaries to the campaign fund. The initiative was also supported by employees of Rosatom Group companies. The donations will be spent on food and essentials for seniors and physically challenged people, antiseptics and personal protective equipment for volunteers, aid to medical workers, and support of local volunteer teams.
PHOTO: Rosatom volunteers: Vladislav Shchukin and his team
A hospital close to Akkuyu NPP site receives financial aid from Rosatom