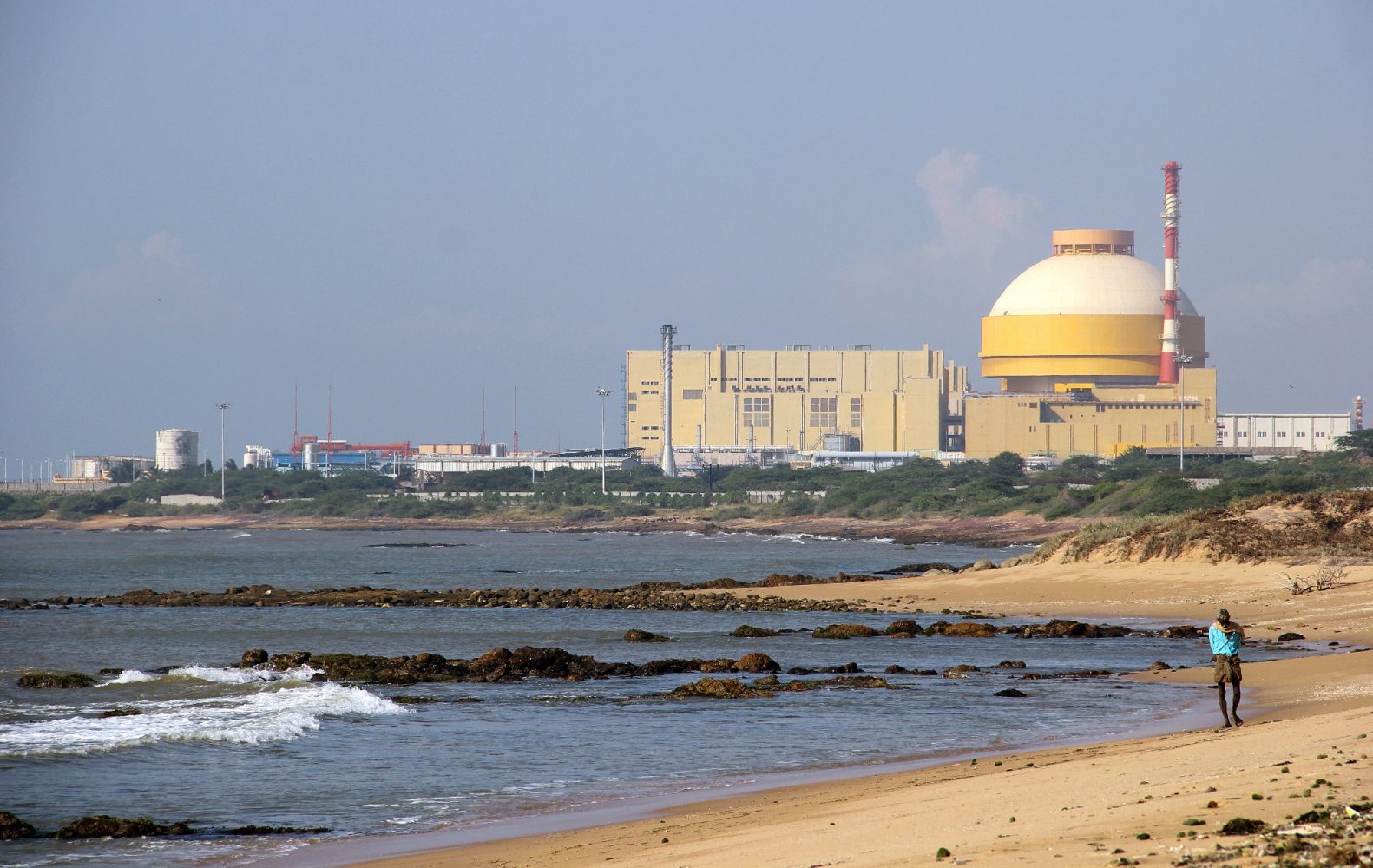 Construction of Kudankulam Unit 5 has been officially kicked off. This is the third stage of the Indian nuclear project carried out by Rosatom.
The ceremony of pouring the first concrete for the basemat of Kudankulam Unit 5 located in the same-name town in the Indian state of Tamil Nadu was held on June 29.
"The nuclear construction project in Kudankulam has been a symbol of close collaboration between Russia and India for many years. But it is not the time to rest — ​Rosatom possesses all the most advanced nuclear energy technologies. In a partnership with our Indian colleagues, we are prepared to launch mass construction of Russian-­designed power units with the state-of-the-art Generation III+ reactors at other sites in India. This possibility is stipulated in our existing agreements," Director General of Rosatom Alexey Likhachev said at the ceremony.
Kudankulam profile
The fifth power unit is constructed within the framework of a Russian-­Indian treaty signed in November 1988 and amended in June 1998. Since then, Rosatom has constructed and put in operation two power units of the Kudankulam Nuclear Power Plant. The first of them was connected to the Indian national power grid in October 2013, followed by the other in August 2016. The two units have VVER‑1000 reactors, the most powerful in India.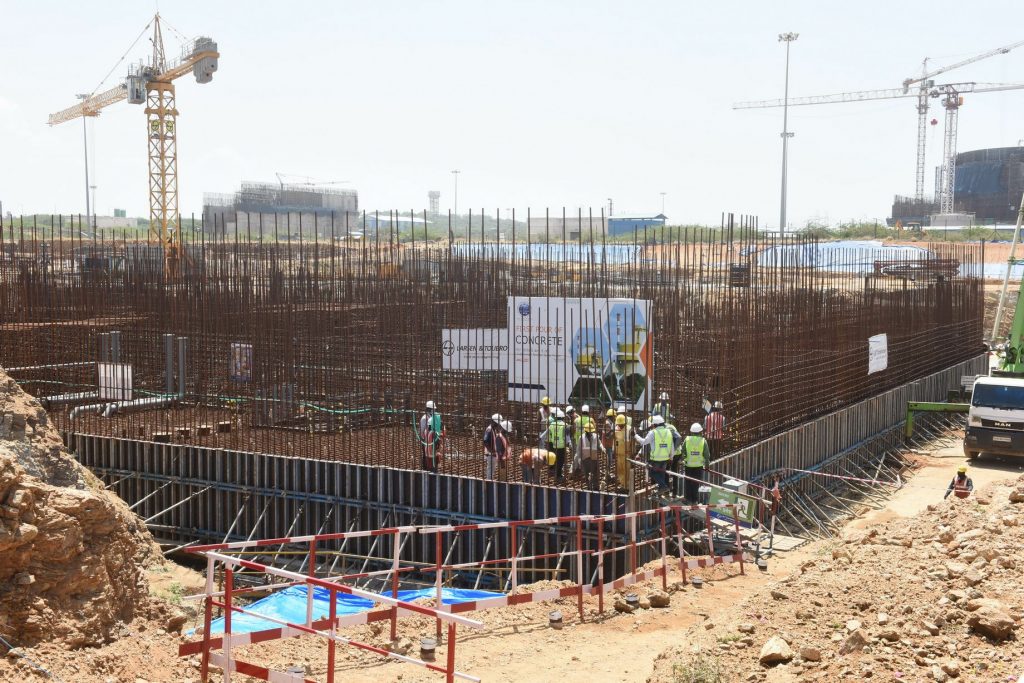 Rosatom continues to construct Units 3 and 4 (Stage 2) of the Kudankulam project. The framework agreement for Stage 2 was signed in April 2014. Documents enabling the start of construction were signed in December of the same year. First concrete for Unit 3 and Unit 4 was poured in June and October 2017, respectively.
The framework agreement for Stage 3 (Units 5 and 6) of the Kudankulam project was signed in June 2017. As soon as July 2017, AtomStroyExport (Rosatom's engineering division) and the Nuclear Power Corporation of India Limited signed contracts for initial planning, design engineering and core equipment procurement.
Working space
Before the concrete pouring for Unit 5, Rosatom team and local contractor did much earthwork on the site — ​they excavated a construction pit and installed waterproofing, steel reinforcement, embedments, etc. The bedding was prepared for foundations of the reactor building, auxiliary building, control room, turbine island, as well as for normal operation power supply, emergency power supply and controlling safety systems.
Unit 5 is provided with construction documents for the next two years of work. Meanwhile, plants in Russia manufacture equipment for priority installations, reactor island and turbine island.
This May, Atommash, a Volgodonsk-­based production facility of AtomEnergoMash (Rosatom's power engineering division) started stamping workpieces for pipe elbows to be used in primary coolant pumps of Kudankulam Units 5 and 6. Atommash will produce a total of eight pipe elbows. The function of primary coolant pumps is to ensure coolant circulation in the primary loop going through the reactor and steam generators.
Atommash will also manufacture a set of four steam generators for Unit 5. Each of them is more than 4 meters in diameter and about 15 meters in length. Altogether, they weigh 340 tons. The steam generator is an elliptical-­bottom cylindrical vessel placed horizontally, with inlet and outlet coolant collectors in its middle part. The upper part of the vessel contains a steam compartment, while its lower part houses 11,000 stainless steel pipes forming a heat exchange surface. The pipes are 16 mm in diameter and 10 to 14 meters long.
In early July 2021, another AtomEnergoMash plant in Petrozavodsk (PetrozavodskMash) set to manufacturing primary coolant pipes for Kudankulam Unit 5. The internal surface of the pipes will have an anti-corrosion layer applied by electroslag overlaying. The pipes are 850 mm in diameter and have a total length of 146 meters. They connect systems and equipment that belong to the plant's primary loop, such as the reactor, steam generators and primary coolant pumps.
In late July, the plant started cladding of steam header bodies for Unit 5 by weld overlay. The steam header is a component of steam generators. It is a thick-­walled cylinder of a variable diameter and thickness, more than five meters high and over one meter in diameter. The weight of the steam header exceeds 16 tons. PetrozavodskMash plans to ship a set of eight steam header bodies for Unit 5 of the Kudankulam NPP.
AtomEnergoMash (AEM) is Rosatom's power engineering division and one of Russia's largest power machinery producers providing comprehensive solutions in design, manufacture and supply of machinery and equipment for nuclear, thermal, petroleum, shipbuilding and steel-­making industries. Its production facilities are located in Russia, the Czech Republic, Hungary and other countries.
AtomStroyExport (ASE) is Rosatom's engineering division and a global leader constructing most of the nuclear power plants abroad and having the world's largest portfolio of nuclear construction contracts. The division is active in Europe, Middle East, North Africa, and Asia Pacific.