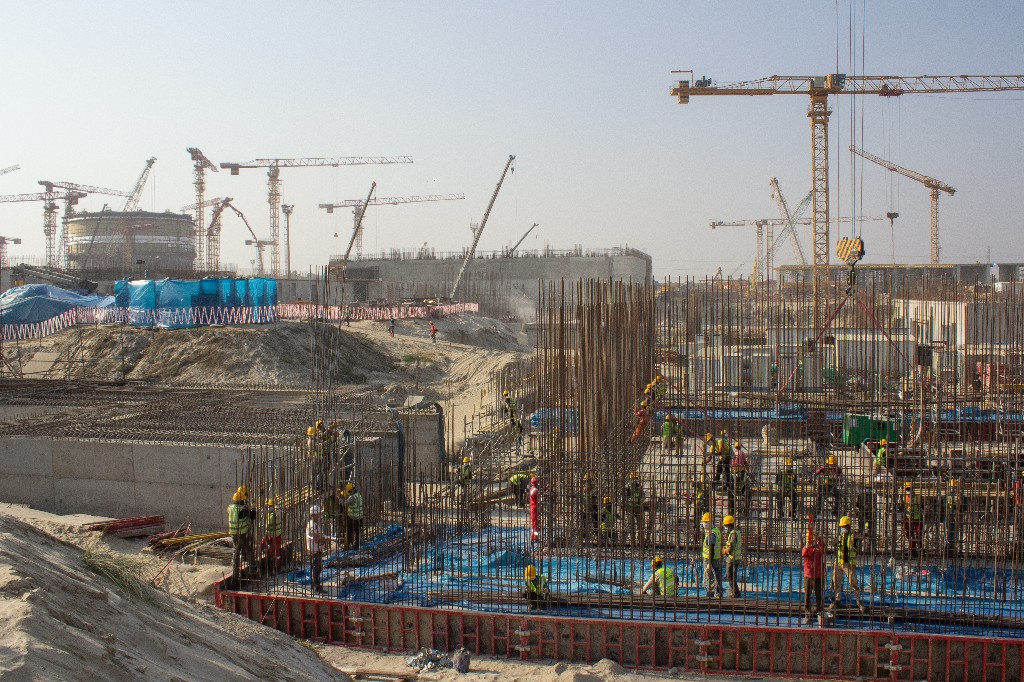 The focus of this issue is on Bangladesh. Construction works, production and delivery of equipment, and staff training are all going full tilt to ensure timely commissioning and safe operation of the country's first nuclear power plant, Rooppur. Here is our review of major events, which happened in 2021.
Rooppur is the first nuclear power plant and, if viewed broadly, the first nuclear project in Bangladesh. This makes the project even more important for the economy, education, science and quality of life in the country.
Framework agreement on the nuclear power plant was signed in November 2011 followed by the general construction contract for a two-unit nuclear power plant with VVER-1200 reactors in December 2015. The agreement set out obligations and liability of the parties, deadlines, construction sequence, and other terms and conditions related to the plant construction. In November 2017, the national regulator issued a construction license for the nuclear plant. That same year, first concrete was poured for the foundation of Unit 1. Construction of Unit 2 started officially in July 2018.
Novovoronezh II NPP served as a reference model for Rooppur. The reference units belong to Generation III+, which meets the highest safety standards.
In August, the installation of steel structures for the internal containment dome was completed at the reactor building of Unit 1. The total weight of the structures is 230 tons. At Unit 2, tier 4 of the internal containment shell was concreted up to the level of 38.5 m in June ahead of the schedule. Currently, tier 5 is being concreted to reach the height of 44.1 m.
Equipment delivered to the site in 2021 is intended primarily for Rooppur Unit 2. All the essential machinery and equipment for Unit 1 were delivered earlier. This March, ZiO-Podolsk (part of Rosatom's power engineering division AtomEnergoMash) shipped a moisture separator reheater and a high-pressure preheater. Moisture separator reheaters are designed to dry and superheat wet steam. High-pressure preheaters heat the water fed into the steam generator. At the end of the month, ZiO-Podolsk manufactured a separation tank for the moisture separator reheater. It is designed to collect moisture from the separator.
In March 2021, PetrozavodskMash (another subsidiary of AtomEnergoMash) manufactured twelve high pressure wedge gate valves for the turbine islands of Units 1 and 2. The valves shut off water supply to ensure safe operation of a letdown system and a turbine lubricating system. In June, the company assembled the first primary coolant pump. These pumps ensure coolant circulation in the primary loop and operate under the pressure of about 160 MPa and temperature of 300°C. Each VVER-1200 reactor has four primary coolant pumps.
Safety at the construction site during the pandemic is not just compliance with mandatory rules and requirements, but also vaccination. The Rooppur construction site received vaccines for 1,000 employees. On the very first day, 800 workers registered for vaccination. "ASE takes a responsible attitude towards the health of its employees. This is an integral part of our safety culture. It is the first international project in which Rosatom has offered employees to get a Covid-19 vaccine," said Alexei Deriy, ASE Vice President and Director of the Rooppur construction project.
Another important task for Rosatom in Bangladesh is to train both construction workers and operating staff for the future nuclear power plant. In late May, the plant opened a stationary training center for construction and installation workers. Before that, professional training courses had been held in a mobile center.
In the new center, Bangladeshi workers can change their career path by getting a new profession or improving their qualification. It is properly equipped to hold practical training classes on general construction, electrical and arc welding operations, installation of equipment, pipes, air ducts and ventilation systems. More than 7 000 people are expected to graduate from the training center within a calendar year.
In July, a group of officers from the Bangladesh Army led by Brigadier General Abdullah Al Yusuf completed a training program at the Global Nuclear Safety and Security Institute of Rosatom's Technical Academy. The two-week program was dedicated to the protection and safeguarding of nuclear facilities. The officers learned how to protect nuclear facilities and studied relevant international regulations. Along with theoretical classes, the officers were trained in using means of physical protection in a special training area and laboratories.
"The Rooppur NPP is now under construction, and we need to learn all the information ranging from design to commissioning of physical means of protection for nuclear power plants. The program offered by Rosatom Technical Academy focuses on what we will have to do in the coming year. Developing practical skills is very important. We are determined to learn as much as possible and apply our knowledge in our further activities," Abdullah Al Yusuf said.
Also in July, 15 students from Bangladesh graduated from the National Nuclear Research University (MEPhI) with a bachelor's degree. Moinul Islam Titas, Deputy Minister of Science and Technology of Bangladesh, noted that young people would fulfill the dream of the country's founding father Sheikh Mujibur Rahman, who wanted Bangladesh to become a strong and developed country.
AtomStroyExport (ASE) is Rosatom's engineering division and a global leader constructing most of the nuclear power plants abroad and having the world's largest portfolio of nuclear construction contracts. The division is active in Europe, Middle East, North Africa, and Asia Pacific.
AtomEnergoMash (AEM) is Rosatom's power engineering division and one of Russia's largest power machinery producers providing comprehensive solutions in design, manufacture and supply of machinery and equipment for nuclear, thermal, petroleum, shipbuilding and steel-making industries. Its production facilities are located in Russia, the Czech Republic, Hungary and other countries.