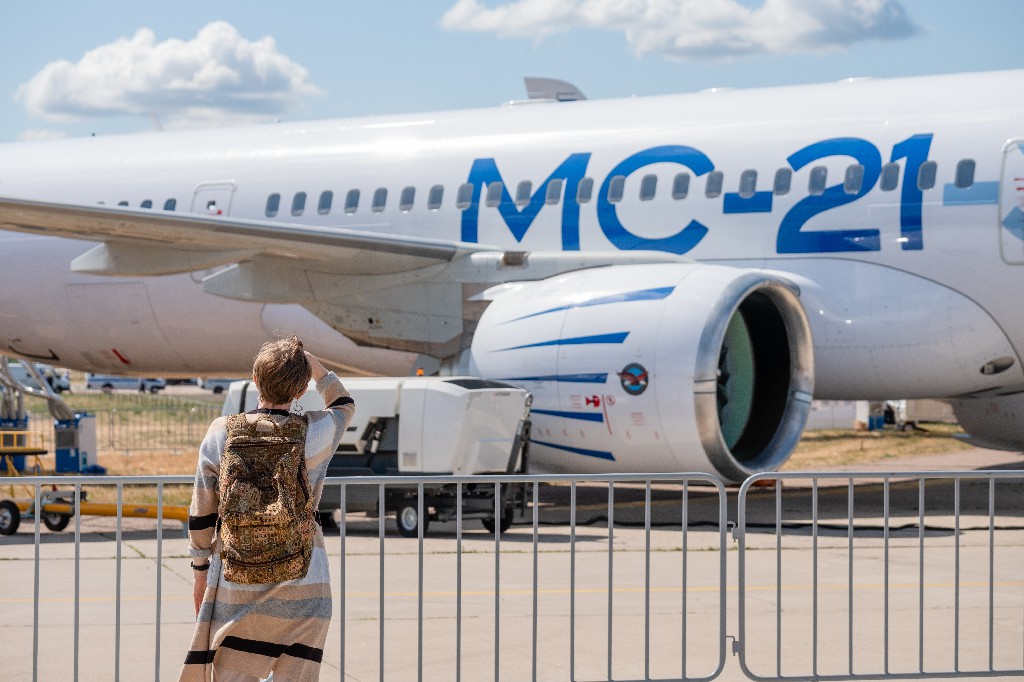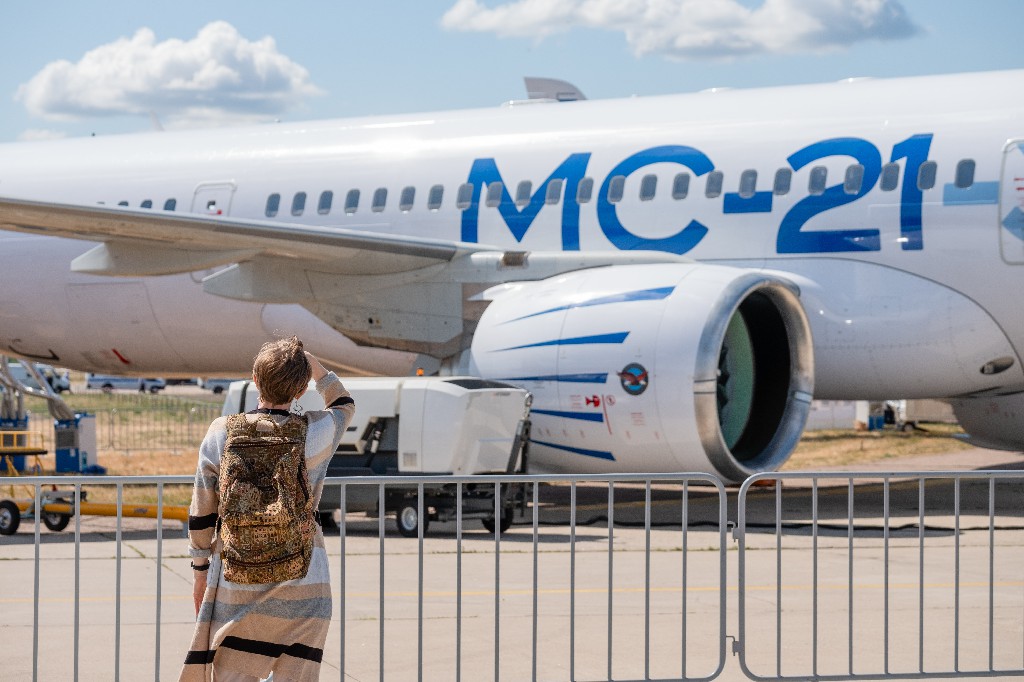 Rosatom's composite materials division UMATEX is entering the aviation procurement market. Its recent major achievement is participation in the development of Russia's latest medium-range MC-21-300 airliner. The next step is a partnership with Ural Works of Civil Aviation to manufacture aircraft components.
Presentation of МС-21-300, a narrow-body Russian-designed airliner, was a staple of the international air show MAKS 2021. A distinctive feature of the aircraft is a large number of composite parts, including wings, tail, mechanical parts, etc., making up 30% of its total weight. Composite materials are lightweight, durable and non-corrosive. To compare, the specific weight of carbon fiber is only 1.5 grams per cubic centimeter, while aluminum alloy weighs 2.8 g/cu cm, and titanium alloy 4.5 g/cu cm. Due to the lightweight and durability of composite materials, the aircraft needs less fuel and is generally more cost-efficient throughout the service life.
МС-21-300 composite wings with a high aspect ratio use a new generation of supercritical airfoils to improve aerodynamic performance of the aircraft at a cruise height. In 2018, after foreign vendors dropped out of the project, the Russian government launched an import substitution program. Wing panels of the aircraft are produced using a binder tape made of carbon fiber manufactured at Alabuga-Volokno (part of UMATEX). Center wings are also made of Rosatom carbon fiber.
Parts and components for МС-21-300, which is assembled at Irkut Corporation, are not the only example of UMATEX partnerships with aircraft makers. UMATEX and Ural Works of Civil Aviation (UWCA) signed a joint venture agreement at MAKS 2021. The joint venture will produce composite parts for small aircrafts, in which UWCA specializes. For instance, its product portfolio includes a proprietary training aircraft UTS-800 made of composite materials. The parties also discuss possible plans to make products for the nuclear industry. International markets and other applications are also under consideration.
Currently, the parties are selecting s site for the new plant, which is scheduled for commissioning in 2022. UMATEX and UWCA will also establish a competency center for composite materials, with artificial intelligence used for research and staff training.
The new production facility will enable Rosatom to supply materials, parts and components for aircraft.
Apart from the aviation industry, Rosatom composites find their way into other transportation industries, such as maritime transport. For example, UMATEX composite materials are used in the production of Grifon passenger catamarans. The Russian company also supplies its products to Italian shipbuilding companies, Azimut and San Lorenzo, which build Pacifico Adventure 99 catamarans and premium yachts.
UMATEX also makes body kits for the sport bikes of the Kawasaki Puccetti Racing Team. These parts are made of Airforce carbon fiber fabric that has a texture creating a 3D effect on the body kit. For the first time this year, a racer from Kawasaki Puccetti Racing will take part in the British Superbike Championship (BSB) on a bike with a composite body kit.