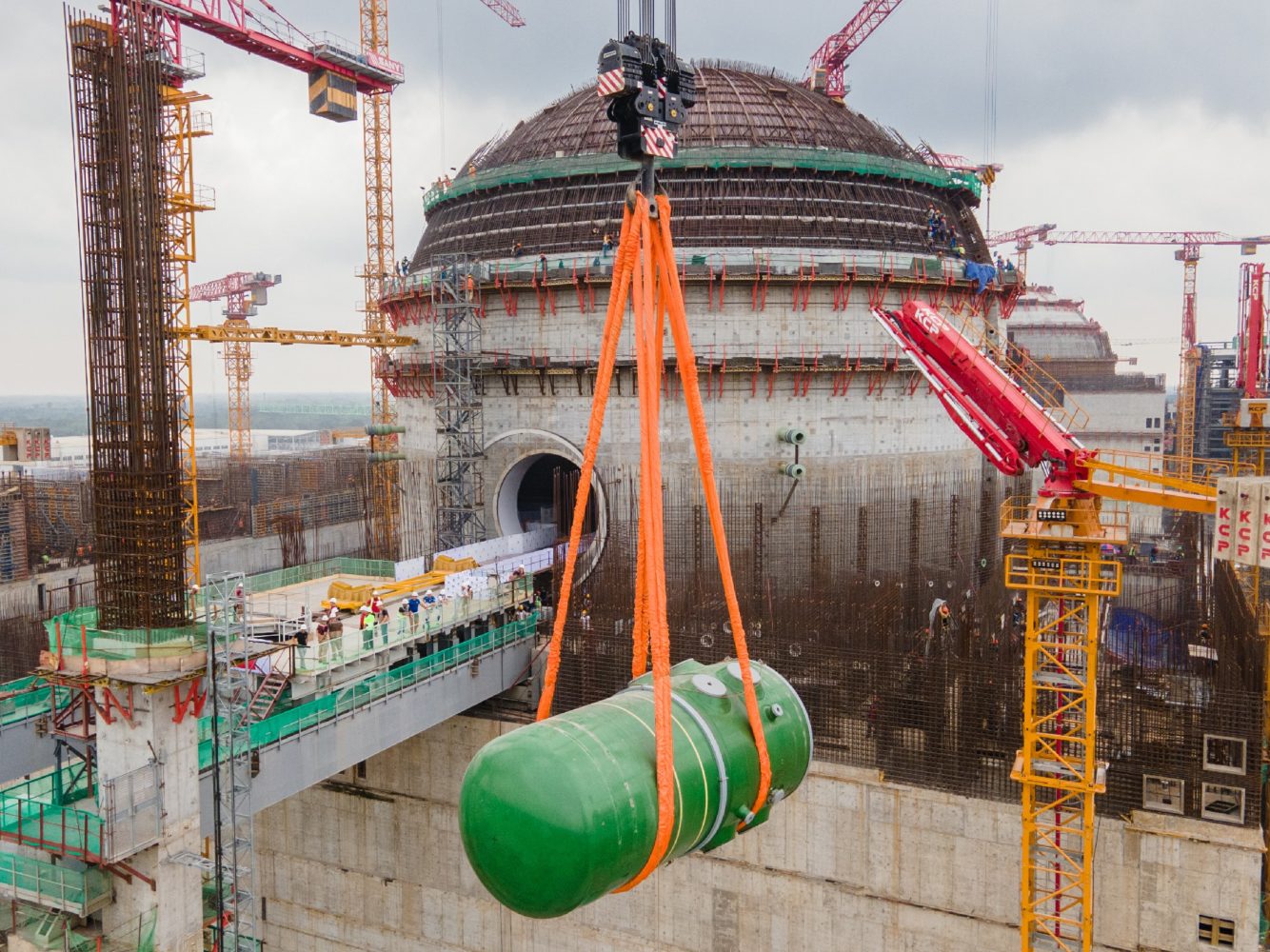 A reactor pressure vessel was installed at Rooppur Unit 2 in the second half of October. Bangladesh Prime Minister Sheikh Hasina Wazed and Rosatom Director General Alexey Likhachev visited the site to witness this landmark event and give a go-ahead to the final stage of the RPV installation.
The 333.6‑ton VVER‑1200 reactor pressure vessel was lifted onto a special flatcar to be transported by rail into the containment and then placed on a ring-shaped support structure in the reactor pit with a polar crane.
"The Rooppur Nuclear Power Plant will secure a better life for our compatriots. I would like to thank Russia once again for its help in building the plant. We have paid much attention to construction safety and reliability," Sheikh Hasina Wazed said.
Alexey Likhachev stressed the significance of RPV installation at Unit 2. "A year ago we witnessed how the first reactor pressure vessel was put in place, and the same operation has been completed today at the second power unit. We see that construction of Bangladesh's first nuclear power plant is going at a good pace despite the pandemic-­related obstacles. I am sincerely thankful to the entire team for their well-coordinated work. I express my gratitude for extensive support of the project by the authorities of the People's Republic of Bangladesh. We work together every day to bring closer the launch of the nuclear power plant much awaited by the people of Bangladesh," Rosatom's Director General pointed out.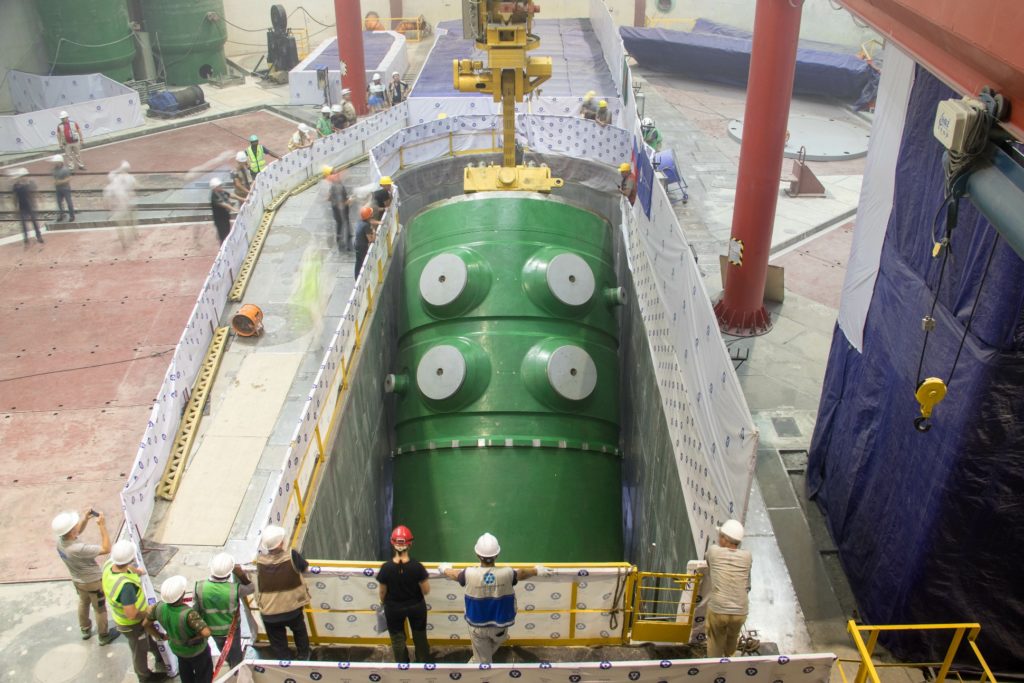 He added that Rosatom made every effort to begin nuclear fuel deliveries next year, BSS news agency reports. Alexey Likhachev noted that Rosatom helped Bangladesh with staff training for its nuclear power plant. According to him, 300 people have completed training courses in Russia.
Bangladesh Minister of Science and Technology Yafes Osman also visited the construction site. Dhaka Tribune daily quotes him as saying that the first reactor unit is 70 % complete. Rooppur Project Director Shawkat Akbar says the first unit will be launched in a test mode in October 2023 and be ready to enter into commercial operation in 2024.
Alexey Likhachev also took part in an opening ceremony for the Staff Training Center. Having no counterpart in terms of equipment installed, the center is designed to train different categories of operational and maintenance personnel.
The first two groups have already begun their studies in the center. A basic course in primary circuit water chemical analysis and treatment for lab assistants is taught by instructors from the Novovoronezh branch of Rosatom's Technical Academy. The entire curriculum, including theory, practice and internship at the Rooppur NPP, will require 17 weeks of study. Russian experts have also developed a curriculum and training programs Bangladesh might need in the future to train employees on its own. It is planned to train 50 groups of Bengalis in total. The Staff Training Center is headed by Golam Shahinur, one of the first students who completed a course of studies in Rosatom's Technical Academy in 2018–2019.
Assembly of steam generators is also nearing completion at Rooppur Unit 2. Each 13.8m-long piece weighing 324.7 tons is lifted onto a flatcar, moved into the reactor central hall and installed into place with a polar crane.
The steam generator is a heat exchanger designed to produce steam fed into the turbine that converts heat energy into electric power. Steam generators are key components of the plant's primary coolant circuit.
"Installation of steam generators is one of the milestones in the construction of a power reactor. This operation was preceded by much construction work in the reactor building," said Alexei Deriy, ASE Vice President and Director of the Rooppur construction project. He said the workers would next proceed with the installation of primary coolant pipes that connect equipment of the primary coolant circuit.
Apart from carrying out construction works on the site, Rosatom is an active contributor to social initiatives in Ishwardi Upazila. In mid-­October, Rosatom launched a two-week program for Ishwardi schoolchildren to celebrate the Global Handwashing Day. This day highlights the importance of hygiene for children.
In particular, Manik Nagar Girls High School hosted the Handwashing is Your Superpower event attended by 535 children from five Ishwardi schools on October 15. Children were explained that simple handwashing with soap can prevent many diseases. Doctors showed children how to wash hands properly, and they happily washed their hands afterwards with soap. Then the children were given visual guides with simple and clear examples of keeping personal hygiene. Low-income families from Ishwardi Upazila received personal hygiene products free of charge.