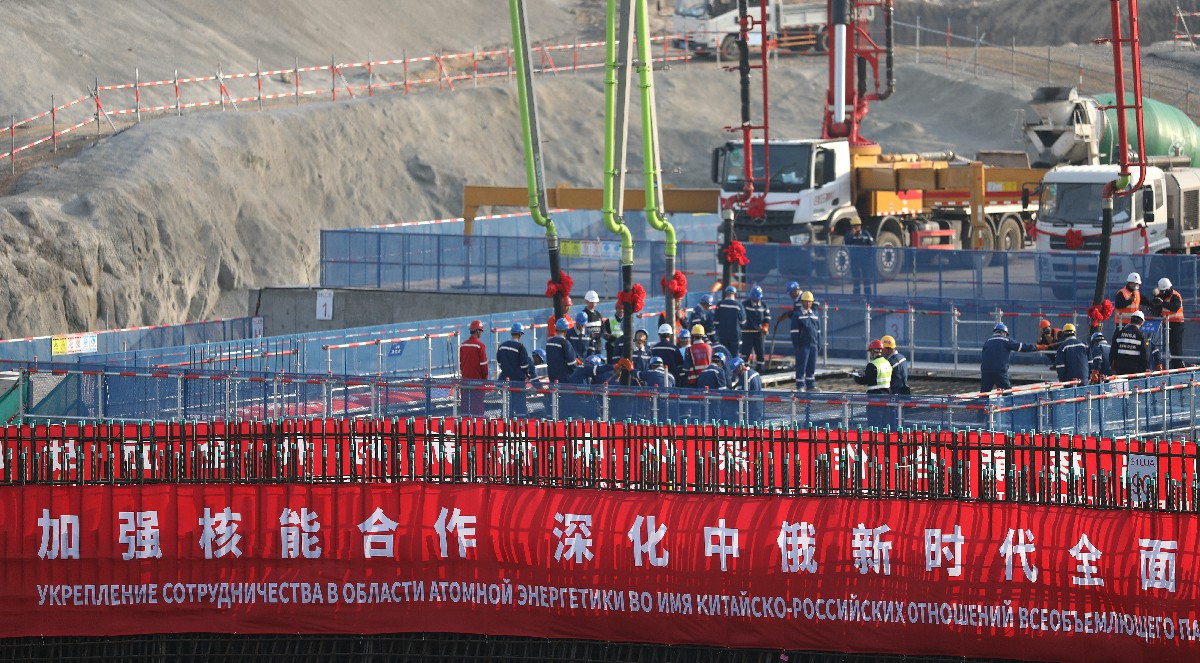 The year 2022 was quite a challenge, both for Rosatom and for the entire world. Despite the difficulties, the Russian nuclear corporation kept building nuclear power plants and other nuclear facilities, supplying nuclear fuel and equipment for mega science projects, developing the Northern Sea Route, constructing wind farms, and generating electricity. Here is our revision of last year's key events that have gone down in the history of the Russian and global nuclear industry.
Construction sites abroad
In 2022, first concrete was poured four times — ​for Xudabao 4 in China, Akkuyu 4 in Turkey, and El Dabaa Units 1 and 2 in Egypt. In addition, Rosatom obtained a construction license for Hungary's Paks II in August. In the same month, a pre-clinical cyclotron facility and a multi-­purpose irradiation center were put into pilot operation at the nuclear research and technology center constructed by Rosatom in Bolivia.
Finland's Fennovoima Oy broke a construction contract for the Hanhikivi NPP and refused to accept the work done by the EPC contractor RAOS Project Oy (part of Rosatom). The Dispute Review Board, an independent expert body, ruled the termination by Fennovoima was wrongful and RAOS Project Oy had the right to seek damages for the breach of contract by Fennovoima Oy.
Construction sites in Russia
In Russia, Rosatom is building large and small nuclear power plants, and a research reactor. Construction works continue at Kursk II, which will feature two new power units with VVER-TOI reactors. The reactor pressure vessel was installed at Unit 1; construction of Russia's highest cooling tower was finished in the autumn of 2022. Earthworks began at the Leningrad and Smolensk nuclear power plants to prepare for the construction of another two units.
In China, hulls were laid down for two arctic floating power units with RITM‑200 reactors for Baimsky GOK (a mining and processing facility at one of Russia's largest gold deposits). A total of four units with two RITM‑200 reactors each will be built to supply electricity to the mineral deposit.
The Republic of Sakha (Yakutia) commissioned the development of an onshore small nuclear power plant with a RITM‑200 reactor. A positive opinion on the project was obtained following an environmental impact assessment. Rosatom plans that an installation permit for the facility will be issued in early 2023.
The work continues to build a power unit with a BREST-OD‑300 reactor. This unparalleled lead-cooled reactor will run on nitride fuel. In September, a support plate for the equalization of foundation loads was delivered to the site by the Northern Sea Route. Comprehensive equipment tests are underway at the nuclear fuel fabrication/re-fabrication facility.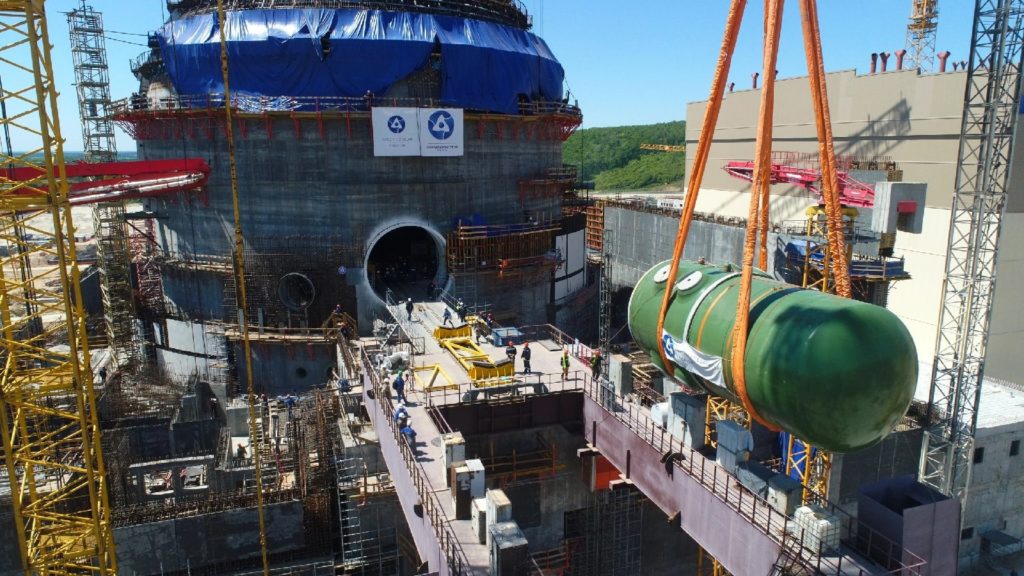 A multi-­purpose fast-neutron research reactor MBIR is also under construction. In December, the reactor was placed into an auxiliary positioning mechanism. MBIR will be the heart of a new international research center for in-pile and post-irradiation studies, technology validation, heating and power production.
In 2022, the Russian nuclear power plants generated 223.371 billion kWh of electricity. This made it possible to save over 109 million tons of CO2‑equivalent emissions.
NSR development
On November 22, 2022, the third Project 22220 icebreaker Ural hoisted the flag, while the fourth icebreaker of the same design, Yakutia, was put afloat. In December, Ural set off for its first convoy. Also in 2022, a new division — ​Northern Sea Route Chief Directorate — ​was established to take responsibility for issuing navigation permits, informing of ice conditions, and providing route guidance. Year-round navigation on the Northern Sea Route will begin in 2024. In 2022, cargo traffic on the NSR reached more than 34 million tons, down from nearly 35 million tons in the previous year but up from the estimate of 32 million tons.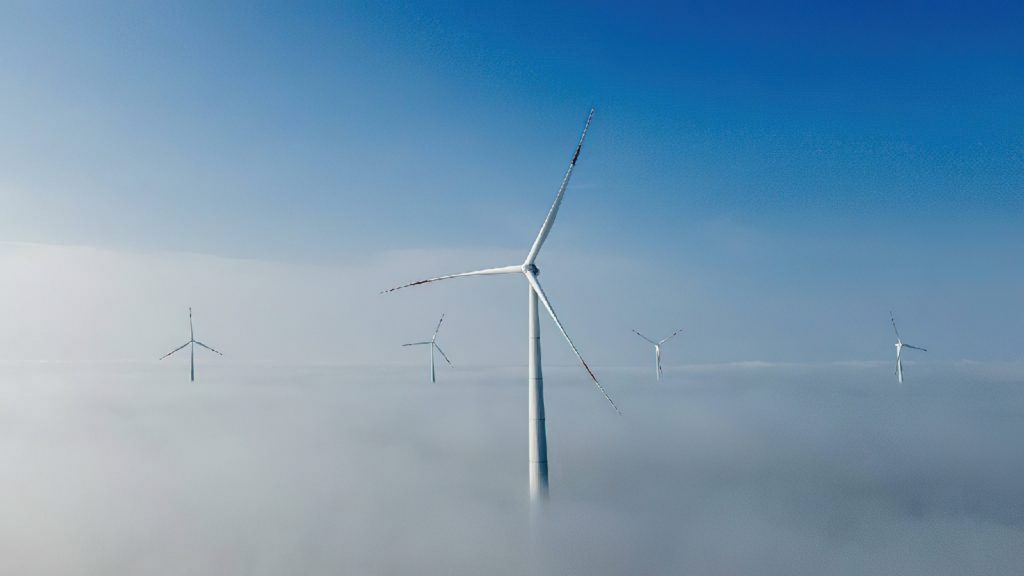 Wind power
Rosatom completed construction and installation works at the 60 MW Berestovskaya Wind Farm. It is already connected to the power grid and planned to be put in operation in January 2023. Kuzminskaya and Trunovskaya Wind Farms are under construction (all the three are situated in the Stavropol Krai). Rosatom has obtained construction permits for another two wind farms (160 and 95 MW) in the same region. Total capacity of Rosatom's wind power plants will reach 1.7 GW by 2027. In July 2022, Rosatom signed a cooperation agreement with Vietnam's An Xuan Energy to carry out joint wind energy projects.
Science
Rosatom's Nuclear Energy Technology and Research Development in the Russian Federation program was extended from 2024 till 2030. The program provides for the construction of a tokamak on the basis of high-temperature superconductors and a molten-salt research reactor.
Rosatom continues to take part in international projects. In early November, a PF1 poloidal field coil manufactured with input from Rosatom for the ITER international nuclear fusion project was shipped to France. The coil will be used in the magnetic plasma confinement system.
The Joint Institute for Nuclear Research (JINR, an international organization) and Rosatom signed a contract for the development and production of a superconducting cyclotron MSC‑230 for the nuclotron-­based ion collider facility (NICA) in the JINR High Energy Physics Laboratory.