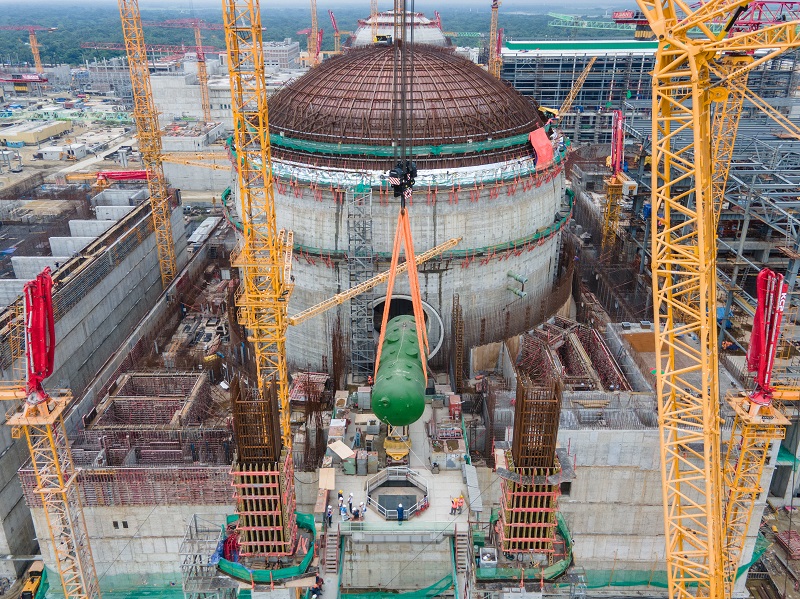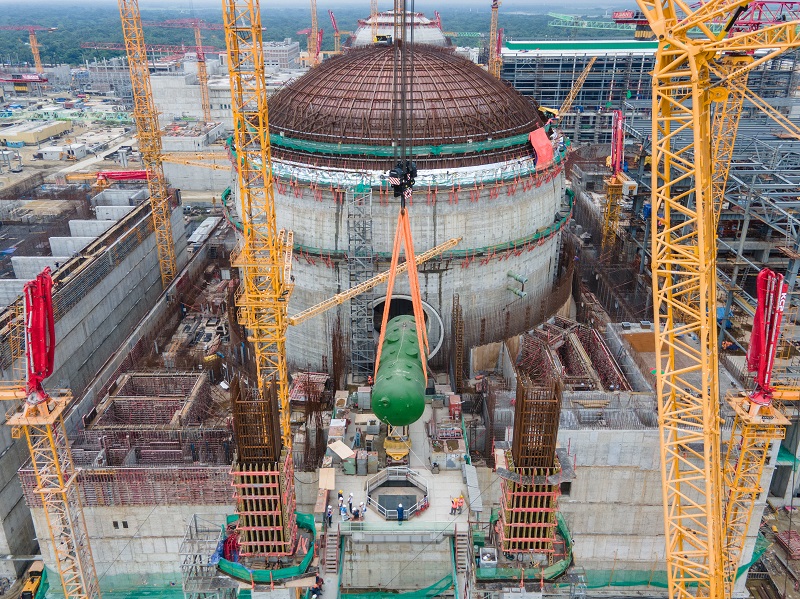 Hundreds and thousands of just-in-time operations and complex supply chains are what no nuclear construction project can go without. Here is an update on the latest events at the Rooppur construction site.
In late September, installation of traveling cranes was completed in the turbine building of Unit 2. Two cranes with a lifting capacity of 50 and 180 tons weigh 130 and 210 tons, respectively were installed. Their most heavyweight and large-­sized components were emplaced using a Liebherr 11350 crane with a capacity of 1,350 tons.
"The installation of traveling cranes is a challenging process that includes over a hundred of technical operations. When this process is completed, we will be able to proceed with the installation of turbine island equipment or, more specifically, main and auxiliary turbine systems," says Alexei Deriy, ASE Vice President and Director of the Rooppur construction project.
The cranes will be used for erection and installation operations during the construction phase, and for maintenance and repairs during the operation of the nuclear power plant.
Also in late September, plant systems were energized for the first time as auxiliary electrical equipment was launched to supply electricity to the plant in operation. Power supply is already needed to carry out pre-commissioning operations at Unit 1.
Russian companies manufacture and ship equipment for the nuclear island of the plant. In September, the Petrozavodsk branch of AEM Technologies (part of Rosatom's power engineering division AtomEnergoMash) shipped the first batch of five tanks of the passive core flooding system (PCFS).
PCFS is an essential safety system of any advanced nuclear power plant. It is designed to remove afterheat in a loss-of-coolant accident in the primary loop. When in operation, PCFS is filled with an aqueous boric acid solution. If pressure in the primary loop decreases below a pre-set level, the solution is injected automatically into the reactor core and cools it down.
The power unit is equipped with 8 PCFS tanks. Having a capacity of 120 cubic meters, each 10.5‑meter-high tank is made of thick stainless steel sheets and weighs 78 tons.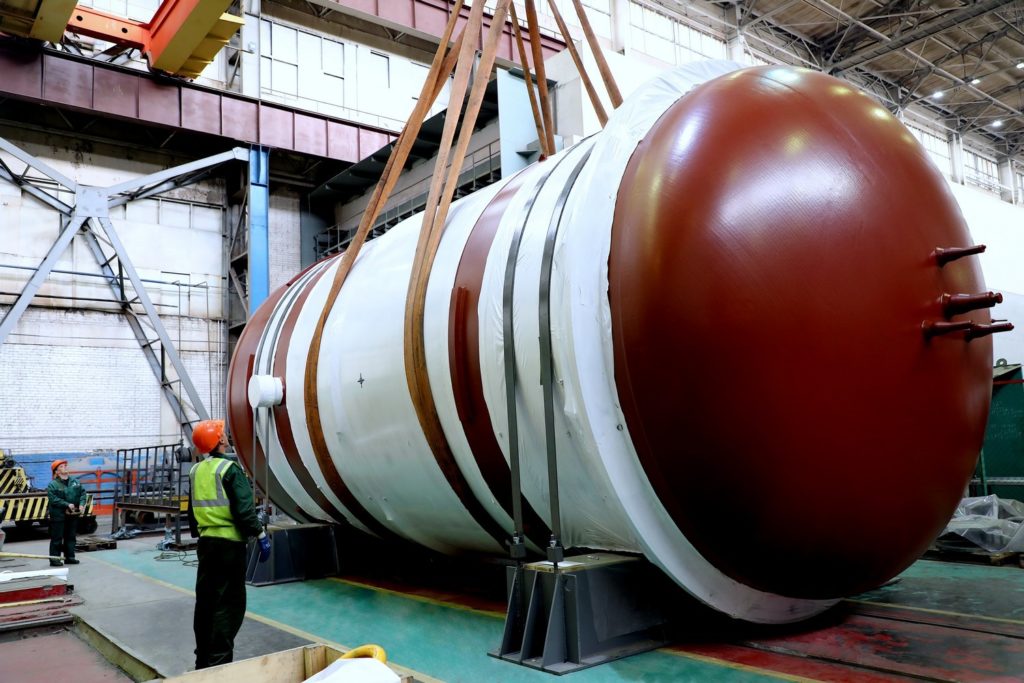 The five PCFS tanks produced will be delivered from Petrozavodsk to the Port of Saint Petersburg via Lakes Onega and Ladoga through a system of canals and loaded onto a sea-going vessel.
In early September, the Port of Mongla received a ship carrying a cargo of important equipment for the Rooppur NPP.
"This is the third ship that has delivered cargoes for the Rooppur project from Russia to Mongla since February. The weight of 280 cargo units that arrived on September 5 is 1,421 tons," says Abul Hashem Shamim from a local office of Makh Shipping.
The Port of Mongla is a link sea port that handles cargoes for most of the national projects. "Port capacity is increasing thanks to, among other things, recently completed dredging operations along the offshore bar," Chairman of Mongla Port Authority, Rear Admiral Mohammad Musa pointed out.
Facts & Figures

–  Over 21,600 employees are busy working on the Rooppur construction site.

–  About 4,300 of them have come from abroad, and the rest are local residents.