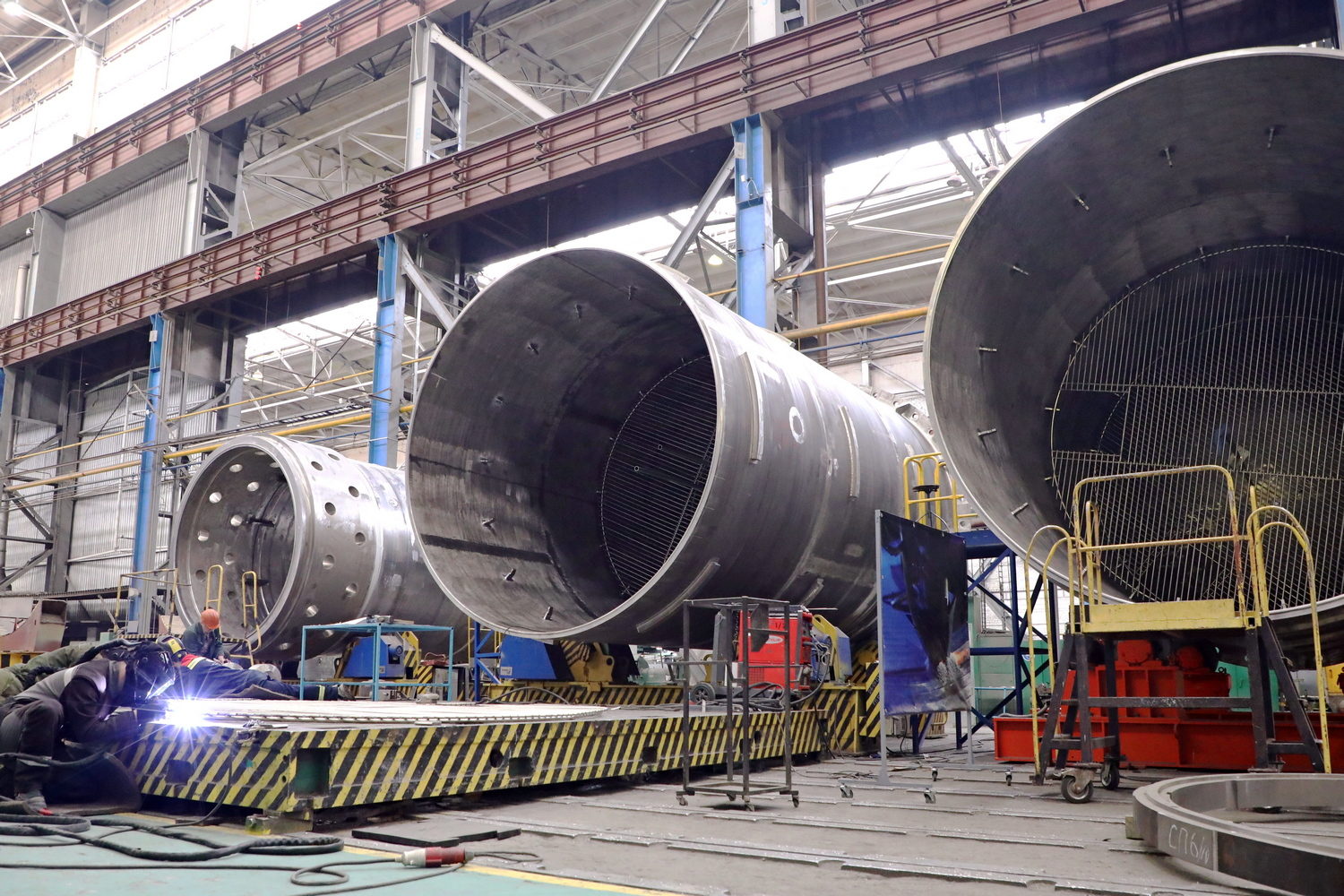 Important news keep coming from Bangladesh's first nuclear power plant Rooppur as construction operations are progressing ahead of schedule and employees receive additional training to increase safety and efficiency of the on-site works.
In late April, the first equipment installation and steel erection team from EnergoSpetsMontazh (ESM, part of Rosatom) took a training course in confined space safety at the Rooppur construction site.
This mandatory course precedes the installation of tanks and condensers in the auxiliary buildings at Units 1 and 2 and in the turbine island of Unit 1.
Apart from the theoretical knowledge that helps assess risks, lay out working procedures and plans and analyze technical documents, the team members acquired necessary practical skills. For example, they mastered self-rescue techniques, gained experience in using personal and collective protective equipment and developed proficiency in rescuing and evacuating other employees.
"Our company is working on a number of extremely challenging tasks at the Rooppur construction site, installing a variety of thermal and mechanical equipment. Extra training on those quite specific operations will improve employee safety and working efficiency," says ESM CEO Mikhail Pinchuk.
The safety training course has been completed by only one ESM installation team yet. With the number of confined space operations growing, staff training will be continued.
The Rooppur project is a perfect example of how quality and efficiency of construction works can be combined. Production processes at Rosatom are organized in accordance with the proprietary Rosatom Production System (RPS).
RPS relies on lean management and continuous improvement principles. It focuses on identifying all types of 'waste' (losses in the lean terminology) in the production and administration processes while individual PSR initiatives aim to increase productivity, reduce costs and improve quality. All Rosatom employees are required to know and practice PSR tools.
Thanks to the PSR initiatives, key concreting operations for the auxiliary building at Rooppur were completed eight months ahead of the deadline. The building houses instrumentation and control systems for the Unit 1 reactor and is part of the nuclear island. Logistics processes were streamlined and on-site workers were timely supplied with all the necessary resources, including materials and tools. Every month they laid an average of 1,600 cu m of concrete (instead of 1,000 cu m as per plan).
"The speed of work achieved by employees of NIKIMT-Atomstroy [part of Rosatom's engineering division ASE — ​RN] and compliance with the strictest quality requirements demonstrate that the construction workers at Rooppur have the highest qualification and much potential. Their professionalism makes us confident that construction of Bangladesh's first nuclear power plant will be completed on time despite a number of objective and subjective challenges caused by the pandemic and international tensions," Alexei Deriy, ASE Vice President and Director of the Rooppur construction project, says.
Shorter concreting times reduced overall construction costs mostly by saving on the variable portion of overhead expenses. The highly qualified employees who were occupied with concreting works are already engaged in other construction operations.
Russian companies continue to manufacture all the necessary equipment for the nuclear power plant. The Petrozavodsk-­based production facility of AEM Technologies (part of Rosatom's power engineering division AtomEnergoMash) proceeded with installing internal components into the tanks of the passive core flooding system (PCFS). Each reactor is fitted out with eight PCFS tanks. The 120 cu m tanks are made of stainless steel, each consisting of three shell rings and two bottoms. Inside the tank, there are maintenance ladders, decks and other internals.
PCFS belongs to Stage 2 passive safety systems of a nuclear power plant. It is designed to remove afterheat in a loss-of-coolant accident in the primary loop. When the nuclear plant is in operation, the tanks contain an aqueous boric acid solution warmed up to 60 °C. When pressure in the primary loop decreases below a pre-set level, the solution is injected automatically into the reactor core and cools it down.
AtomEnergoMash (AEM) is Rosatom's power engineering division and one of Russia's largest power machinery producers providing comprehensive solutions in design, manufacture and supply of machinery and equipment for nuclear, thermal, petroleum, shipbuilding and steel-­making industries. Its production facilities are located in Russia, the Czech Republic, Hungary and other countries.

AtomStroyExport (ASE) is Rosatom's engineering division and a global leader constructing most of the nuclear power plants abroad and having the world's largest portfolio of nuclear construction contracts. The division is active in Europe, Middle East, North Africa, and Asia Pacific.