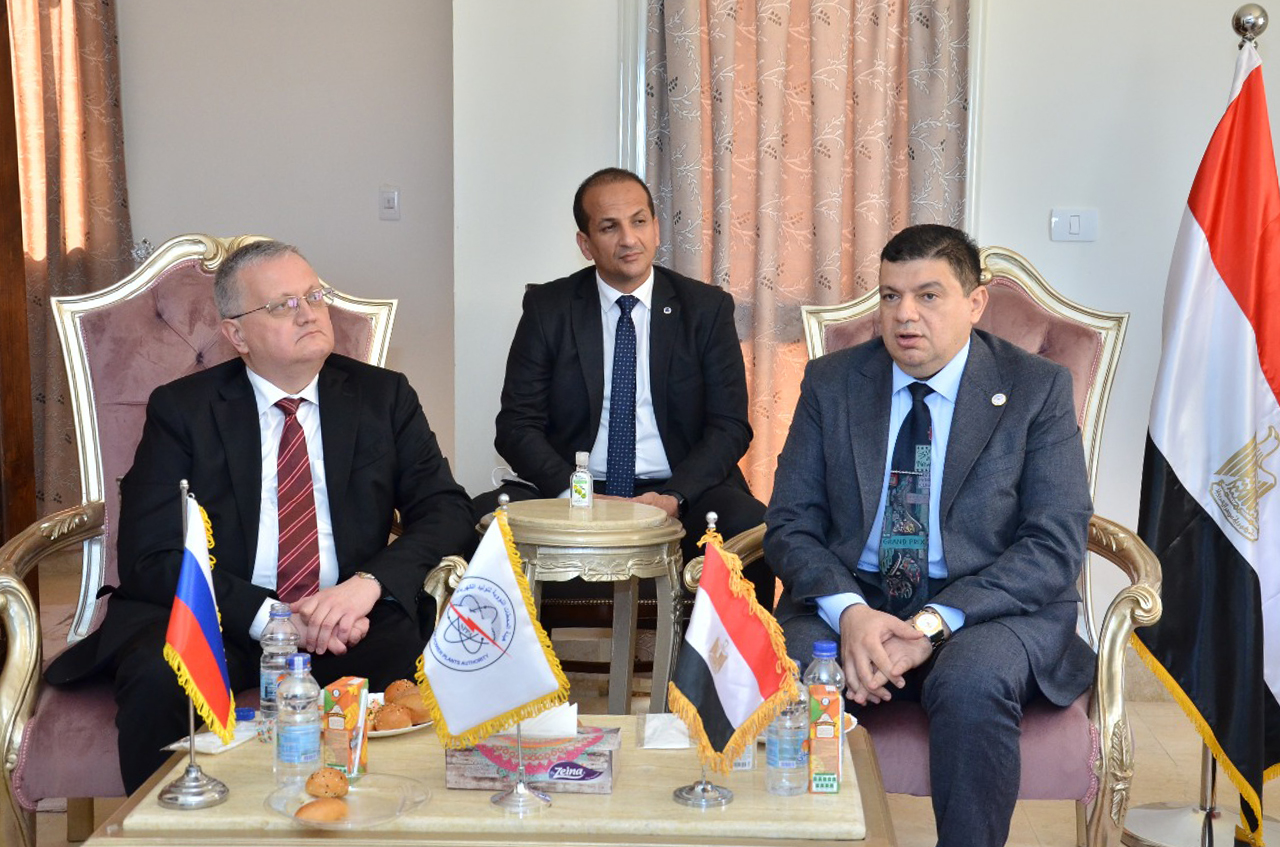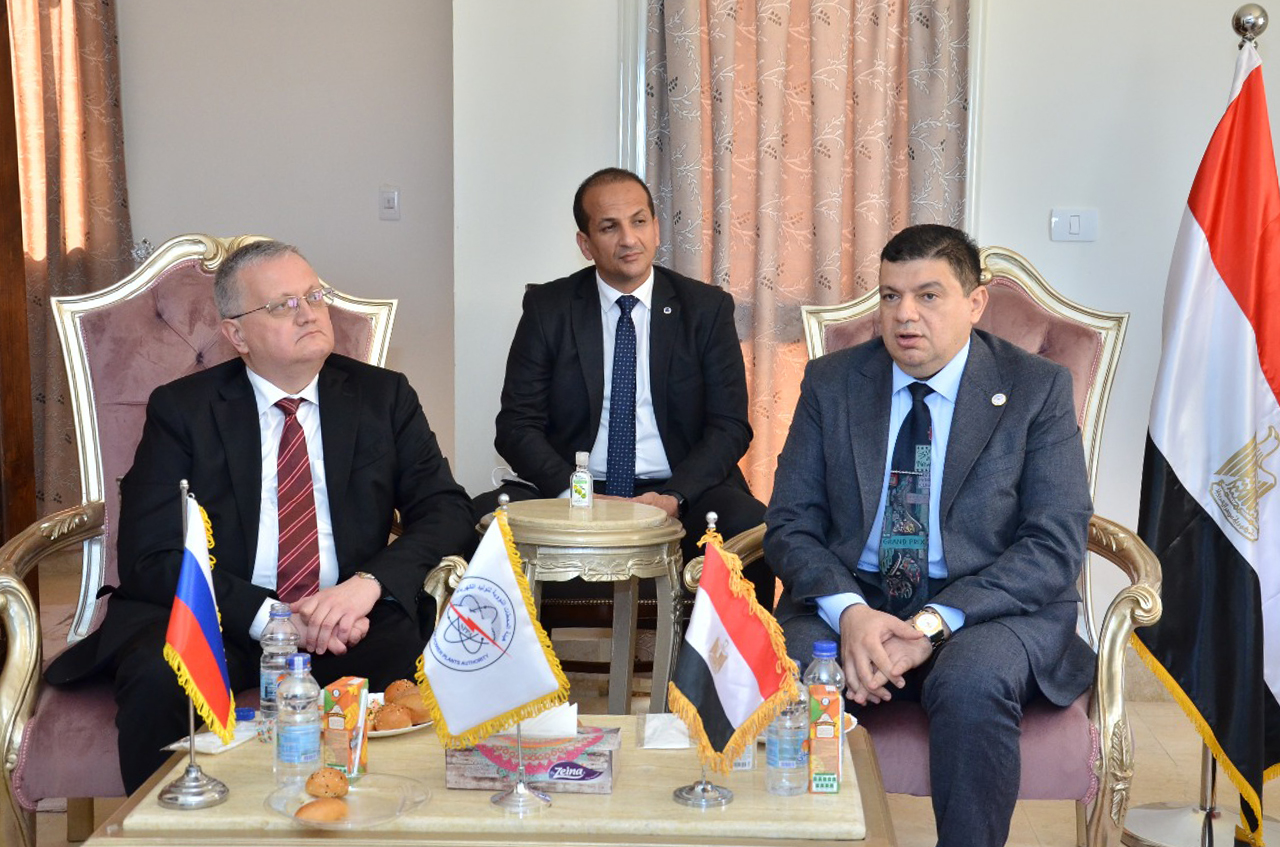 In March, Russia's Ambassador to Egypt Georgy Borisenko made a visit to the construction site of El-Dabaa NPP together with the Chairman of the Board of Directors of Egypt's Nuclear Power Plants Authority (NPPA) Dr. Amged El-Wakeel and supervisors of the El-Dabaa NPP construction project from Rosatom and NPPA.
The delegation inspected the construction site of future power units and stopped by a meteorological tower and an information stand, where they were updated on the state of the project's implementation and on upcoming construction plans. Afterwards, the delegation surveyed the nuclear power plant's seaport site, which is currently under construction and will be used to transport heavy equipment to the station. There, they attended an award ceremony for Russia's Ambassador to Egypt.
"The El-Dabaa NPP project is the largest joint project between Moscow and Cairo. It not only reinforces our traditional relations, but also brings them to a new level. This project is comparable to that of the Aswan Dam Hydroelectric Project, which was done by our countries during the Soviet period. I am confident that the El-Dabaa NPP project will too be a successful demonstration of the highest professionalism of Russian and Egyptian specialists and will make a significant contribution to Egypt's social and economic development, providing the country with clean and affordable energy for decades to come," Georgy Borisenko said.
Dr. Amged El-Wakeel called the construction of El-Dabaa NPP one of the most ambitious projects currently being implemented in Egypt. "In light of the station's importance for the country's future economic development and for its energy sovereignty, it was crucial for us to choose a reliable partner with a proven track record, and we are glad to have found such a partner in Russia, our long-time ally and friend. We are convinced that advanced Russian technologies, coupled with the Egyptian sense of diligence, will be the key to the success of this grandiose project," Dr. Amged El-Wakeel stressed.
The visit ended with a tour of the NPP's residential area. As part of this tour, the delegation saw a temporary gym, a standard residential apartment, school and kindergarten buildings, and a local sports complex.
Cooperation between Russia and Egypt goes far beyond the El-Dabaa construction project. For example, Russian and Egyptian engineers have long been working together on research reactors. In March, the Novosibirsk Chemical Concentrates Plant (NCCP, a subsidiary of TVEL) and the Egyptian Atomic Energy Authority (EAEA) signed contract documents to ship another batch of components for low-enriched nuclear fuel to Egypt in 2021.
Shipments are made under a long-term framework contract concluded by NCCP and EAEA in 2020 and providing for the supply of nuclear fuel components for Egypt's second experimental training research reactor (ETRR-2). The components to be supplied include low-enriched uranium and parts made of aluminum alloys and aluminum powder. The first shipments under the contract were delivered in 2020. The Russian party met its obligations in full despite the restrictions caused by the coronavirus pandemic.
"Our Egyptian customer is fully satisfied with the performance of the contract. In 2020, some of the products were delivered ahead of schedule at the customer's request," noted Alexei Zhiganin, NCCP CEO.
The Argentinian-designed ETRR-2 installed in Egypt's Nuclear Research Center in Inshas is used to carry out research in particle physics and material science and fabricate radioisotopes.
Photo: Russia's Ambassador to Egypt Georgy Borisenko made a visit to the construction site of El-Dabaa NPP
For reference
Rosatom's fuel company TVEL is one of the world's largest nuclear fuel manufacturers. It is the sole supplier of nuclear fuel to all Russian nuclear power plants, marine and research reactors. TVEL also supplies fuel to nuclear plants in 15 countries, thus fueling every sixth power reactor in the world.
TVEL is a holding company for a group of businesses specializing in R&D, production of gas centrifuge machines, uranium enrichment, and fabrication of nuclear fuel.