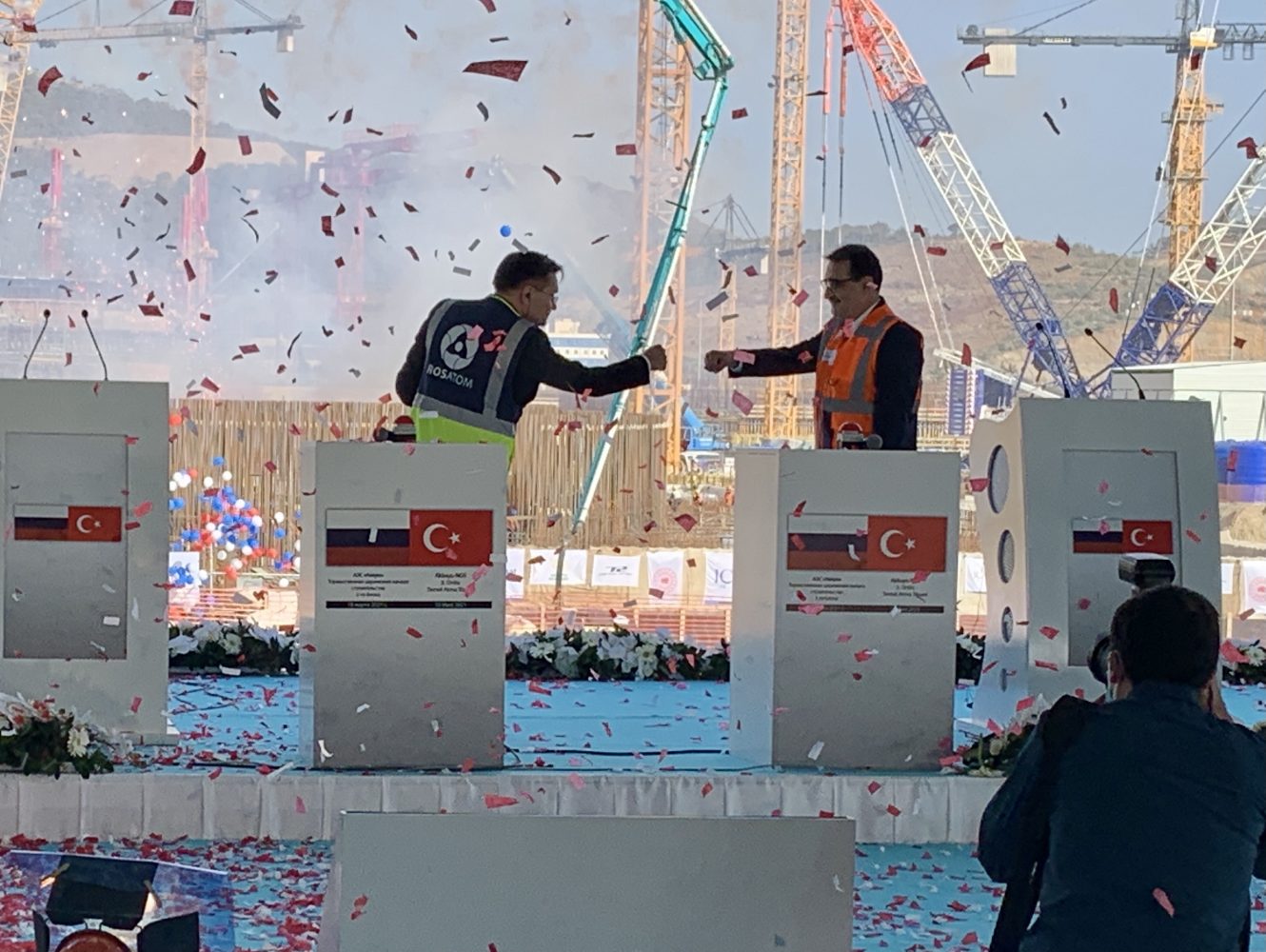 March was a month of good news for the Akkuyu project. The Russian bank Sovcombank provided two sustainability-linked loans to finance construction of the Akkuyu plant. It was the first time ever a nuclear plant had obtained sustainable finance directly. On March 10, first concrete was poured at Unit 3.
Sovcombank provided two loans, USD 200 million and USD 100 million, to AKKUYU NUCLEAR to finance and/or refinance construction and installation costs and costs of equipment for the nuclear power plant. The two loans will be disbursed simultaneously for a period of seven years. The loans are sustainability-linked, which means the actual interest rate will depend on whether the borrower (AKKUYU NUCLEAR) will meet its sustainable development commitments.
AKKUYU NUCLEAR has committed itself to complying with the emission and discharge limits and monitoring the condition of aquatic and terrestrial plants and animals. The company will provide the bank with annual sustainability reports. If AKKUYU NUCLEAR meets its sustainability commitments in full, the interest rate is reduced by the agreed percentage until the next audit.
"We can say with confidence that sustainable finance is economically feasible and advantageous," Ilia Rebrov, Deputy Director General for Economics and Finance at Rosatom, commented on the event.
"We work together with our Turkish partners to make Akkuyu a landmark nuclear project in sustainable development," said Anton Dedusenko, Deputy Chairman of the Board and Managing Director for Sustainable Development and Shareholder Relations at AKKUYU NUCLEAR.
The first concrete pouring at Akkuyu Unit 3 began with the go-ahead given by the presidents of Russia and Turkey. Rosatom's Director General Alexey Likhachev noted that the Akkuyu NPP was an unprecedented project. "First, Akkuyu is the world's largest nuclear project with four VVER-based large-capacity power units, with three of them constructed at a time. Second, it is the world's only nuclear facility built to the BOO (Build – Own – Operate) model. And third, Akkuyu is the world's only nuclear construction project managed by a woman, Anastasia Zoteeva," he explained.
Fatih Dönmez, Minister of Energy and Natural Resources of Turkey, reminded the audience of how important the nuclear power plant was for the country. He said, "The plant will cover 10% of Turkey's energy needs. It is also a major contribution to environmental protection. The nuclear station is a reliable source of green energy. It is a driver of industrial and economic growth and employment in the region."
On November 13, 2020, AKKUYU NUCLEAR obtained a construction license for Unit 3 from the Turkish Nuclear Regulatory Authority (NDK). Since then, the site has been prepared for concreting – the construction pit excavated and dewatered, concrete pad and waterproofing laid, rebar and embedments installed. The basemat will require laying nearly 17,000 cubic meters of ready-mix concrete. The foundation slab was protected against precipitation with a temporary cover. The concrete laying process is supervised by representatives of four organizations – the concrete batching plant, AKKUYU NUCLEAR, Russian-Turkish company Titan 2 IC Içtaş Inşaat (the main contractor for the Akkuyu NPP construction), and French company Assystem acting as an independent auditor.
Construction work or preparations are now underway at all four units of the plant. At Unit 1, workers have installed a core catcher and a dry containment shell and continue to concrete internal containment walls and external walls of the containment building. Sections for Tier 3 of the internal containment are pre-assembled and prepared for installation. Ahead is installation of the reactor pressure vessel.
At Unit 2, concreting of the annular floor has been completed, the core catcher has been installed in its permanent position. Workers have installed Tier 1 of the containment and are erecting ring walls of the reactor building. The next milestone to be reached in 2021 is to install an RPV structural support in place.
Application documents for a construction license for Unit 4 were submitted to NDK in May 2020 for consideration. The site of Unit 4 is being prepared for groundwork and pit excavation.
The first unit of Akkuyu is scheduled for commissioning in 2023.
For reference
The Akkuyu Nuclear Power Plant is constructed on Turkey's southern coast in the Mersin Province. The plant will have four power units with VVER-1200 reactors and a total capacity of 4,800 MW. The project is governed by the Russian-Turkish Agreement on Cooperation in Akkuyu NPP Construction and Operation. AKKUYU NUCLEAR was established in Ankara in December 2010.
One more credit
In April, Akkuyu Nuclear received another stable loan. A subsidiary of Rosatom and bank Otkritie signed an agreement on the provision of a non-revolving credit line for a period of 7 years with a limit of USD 500 million.