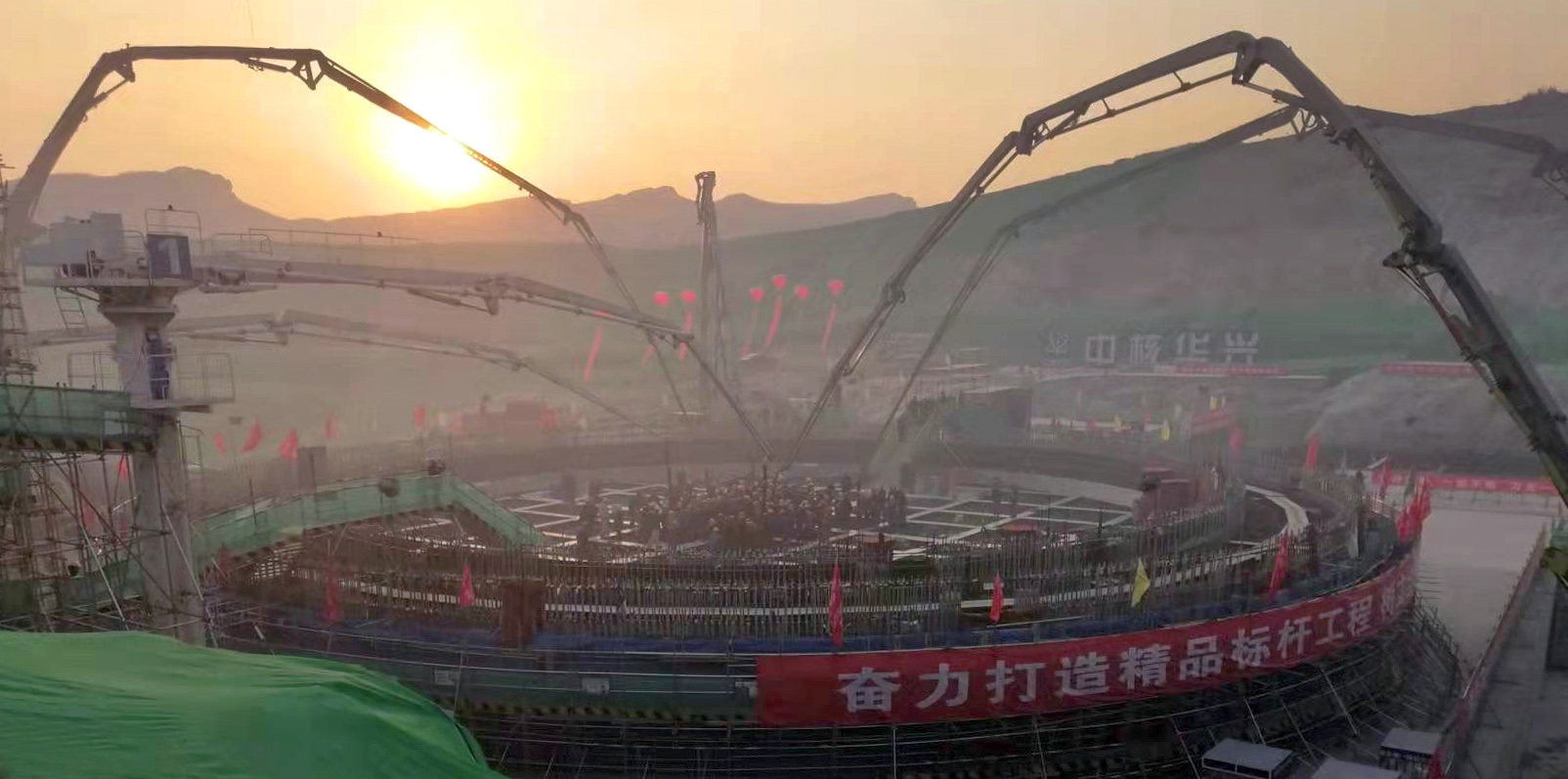 On February 25, first concrete was poured for Tianwan NPP Unit 8 constructed with the participation of Rosatom. In China, the Russian nuclear corporation builds four reactors, two at Tianwan and two at Xudabao. We will take this opportunity to cover the latest news from the joint projects in China.
Three out of four reactors are already under construction while preparations are ongoing to build the fourth reactor, Xudabao Unit 4. General contracts for the construction of two reactors at Tianwan and two at Xudabao were signed in March 2019 and June 2019, respectively. Tianwan Unit 7 is expected to be put in operation in 2026, followed by Tianwan Unit 8 and Xudabao Unit 3 in 2027 and Xudabao Unit 4 in 2028. All four reactors will be built to the Russian Generation III+ VVER‑1200 design.
"We set up a design supervision team at the Tianwan site. The team will review documents and supervise what the Chinese customer and its subcontractors do," says Valery Kedrov, Director for VVER-based NPP Projects in China at AtomEnergoProekt (part of AtomStroyExport). As set out in the general contracts, Rosatom produces a design of the nuclear islands and supplies key equipment and machinery for two units at Tianwan. At Xudabao, the Russian nuclear corporation will deliver the same scope of work and also provide design supervision, installation and commissioning services.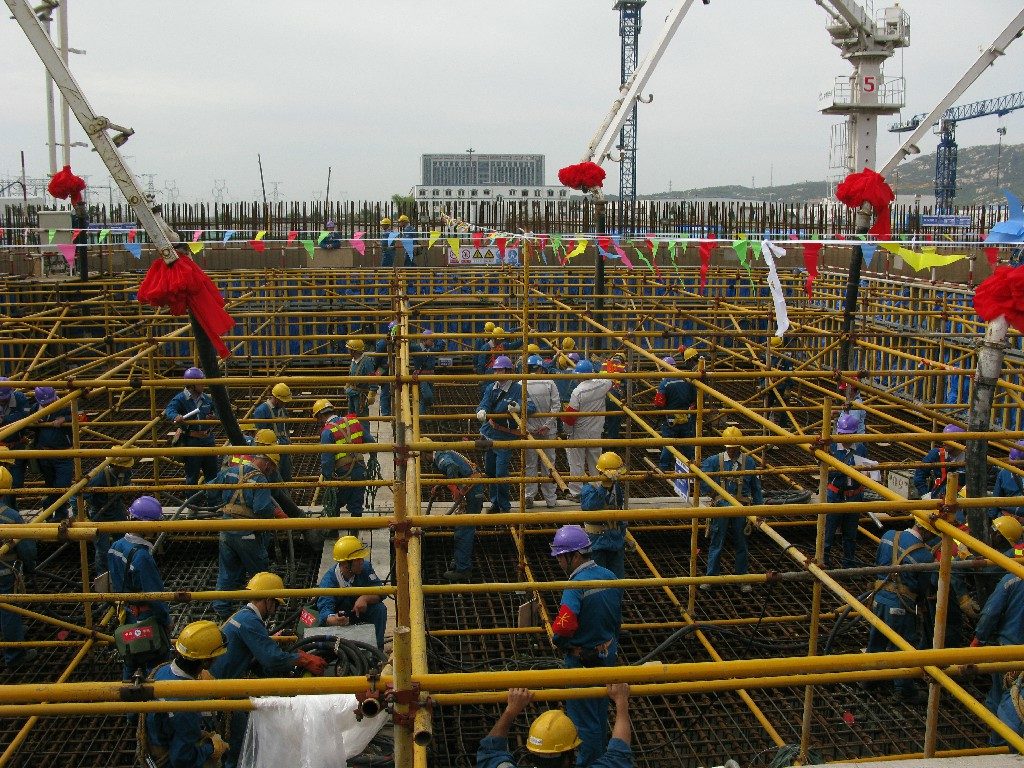 "Russia and China have been working together on the construction of nuclear power plants for many decades. We know and value each other as effective partners, good friends and allies in major strategic projects," says Alexey Bannik, Vice President for Chinese projects at AtomStroyExport.
Construction, production of equipment and installation works are running full tilt. In January 2022, the work started at Tianwan Unit 7 and Xudabao Unit 3 to install core catchers. Their tanks, each weighing 156 tons each, are already in place. The total weight of a core catcher exceeds 800 tons.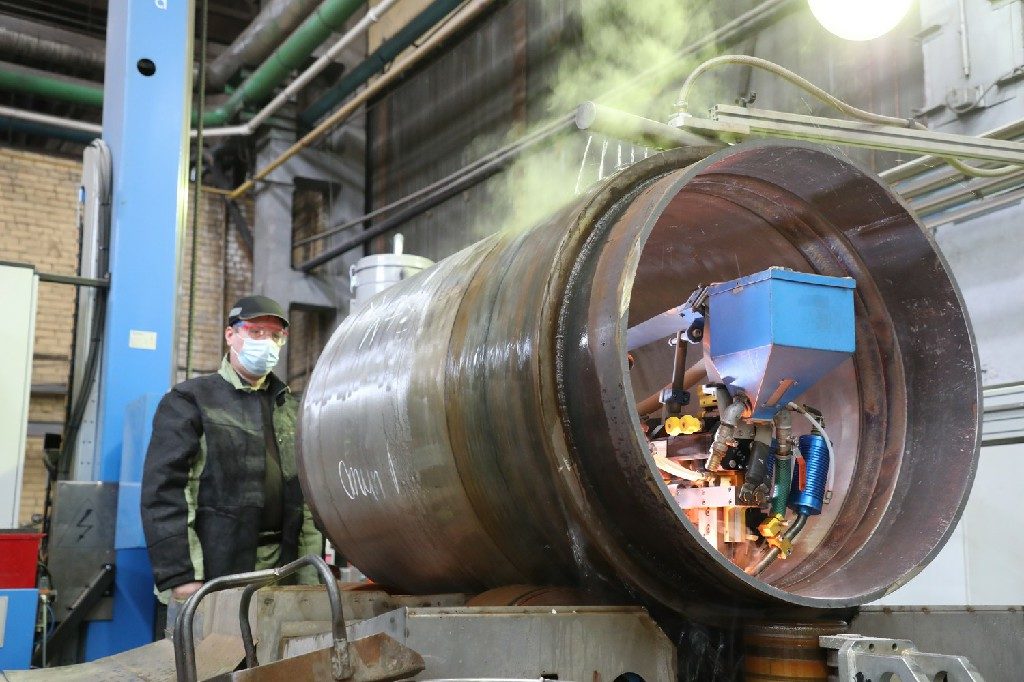 Designed by Russian engineers, it is one of the reactor's passive safety systems that prevents radioactive materials from being released into the environment in case of a core meltdown by retaining liquid and solid fragments of the corium and reactor structures. The first ever core catcher was installed at Tianwan NPP Unit 1.
In early January 2022, AtomEnergoMash (Rosatom's power engineering division) began to manufacture pipe sections for the primary coolant loop to be installed at Tianwan Unit 8. Having a total length of 146 meters, the pipes connect systems and equipment that belong to the plant's primary loop, such as the reactor, steam generators and primary coolant pumps. The pipe sections have been tested, machined and plated from inside to prevent corrosion. Primary coolant pipes for Xudabao Unit 3 and Tianwan Unit 7 have already been plated. The next step is to make pipe assemblies.
Last year, AtomEnergoMash began to assemble primary coolant pumps for Tianwan Unit 7. These pumps ensure coolant circulation in the primary circuit at the pressure of about 160 atm and temperature of 300 °C. Each reactor unit is equipped with four primary coolant pumps.
Representatives of the customer, Jiangsu Nuclear Power Corporation (JNPC), visited the plant when the assembly process started. At present, the work is continuing. Assembly of the reactor pressure vessel for Tianwan Unit 7 is also on track.
Construction of VVER-based nuclear power units is far from being the only area of cooperation between Russia and China. Rosatom also takes part in the development of CFR‑600, a 600 MW pool-type sodium-­cooled fast neutron reactor. Rosatom's power engineering division will supply heat exchanging units (16 evaporators and as many superheaters) for the steam generators of CFR‑600. TVEL (Rosatom's nuclear fuel division) will also supply fuel for the first load of CFR‑600 and reloads during the next seven years. Deliveries are scheduled to begin in 2023.
Last summer, representatives of China National Nuclear Corporation (CNNC), the CFR‑600 project owner, visited ZiO Podolsk (part of AtomEnergoMash), which manufactures equipment for CFR‑600. They were demonstrated production processes and quality management systems.
Construction of CFR‑600 started in December 2017. It is expected to be launched in 2024. This is the second fast neutron project in which China and Russia cooperate. The first one was CEFR, a 20 MW fast neutron reactor built in 2010 at the Nuclear Power Institute of China with the participation of Rosatom.
Research is another area of cooperation between the countries. Rosatom's Research Institute of Atomic Reactors (RIAR) will conduct in-pile tests and post-irradiation analysis of graphite samples for China's Fangda Carbon New Material Co.
Nuclear researchers also collaborate in the social sphere. For instance, Russian and Chinese women working in the nuclear industry took part in a video conference organized during the 3rd Eurasian Women's Forum that was held in Saint Petersburg in October 2021. Among them were female employees of the Jiangsu Nuclear Power Corporation and TVEL's subsidiary Elemash. They spoke about the challenges faced by the women who choose nuclear career, what motivates them to continue their work and what practices exist in the companies to engage women into research and engineering.
AtomStroyExport (ASE) is Rosatom's engineering division, which is a global leader constructing most of the nuclear power plants abroad and having the world's largest portfolio of nuclear construction contracts. The division is active in Europe, Middle East, North Africa, and Asia Pacific.
AtomEnergoMash (AEM) is Rosatom's power engineering division and one of Russia's largest power machinery producers providing comprehensive solutions in design, manufacture and supply of machinery and equipment for nuclear, thermal, petroleum, shipbuilding and steel-making industries. Its production facilities are located in Russia, the Czech Republic, Hungary and other countries.