The same month last year, we wrote that the energy market was very close to the situation the world faced 50 years before during the 1973 oil crisis when nuclear energy began to be perceived as protection against energy market shocks. Our forecast has proved right.
Comparing historical settings
Half a century ago, the global economy was going through a high-inflation economic boom driven by extensive consumption of energy resources, primarily oil. Oil rigs in the US were working at full capacity while the country imported oil.
In the second half of 2021, the global economy was also growing at pace, having posted a 5.9 % growth, 0.3 percentage points above the June forecast, according to the IMF. Demand for natural gas was growing, and so were gas prices. Balancing around USD 200 per 1,000 cubic meters in January 2021, the price of gas at the Dutch TTF hub surged to USD 1,389 in October 2021 and closed the year at USD 781 per 1,000 cubic meters.
In 1973, a military crisis drove oil prices high up. After it was made public that the US supported Israel in the Yom Kippur War, the OPEC countries, Egypt and Syria imposed an embargo on oil imports to the US and its allies. The price of oil grew 600 % that year.
In 2022, after Russia was put under sanctions that complicated gas transportation and payments, the price of gas sped up growth to exceed USD 3,300 per 1,000 cubic meters. Like oil 50 years ago, natural gas is now high on the energy, economic and political agenda.
When comparing the present-day situation with the state of affairs half a century ago, we took note of the fact that nuclear energy was then considered one of the means of crisis resolution. Active construction of nuclear stations began in the USA, Japan and France. Their considerations proved right: nuclear power plants made a distinct contribution to energy security of those countries during the current energy crisis caused by supply chain disruptions. With a shortage of energy resources, such countries as Finland, Hungary, Bulgaria, the Czech Republic and Slovakia have a more reliably functioning energy systems than if they had no nuclear capacity built by Soviet and, later, Russian engineers. Even Germany, the most stalwart opponent of nuclear energy, decided to postpone the shutdown of its last three operating reactors until April 2023 (they were planned to be stopped by the end of this year) to support its power industry and somewhat cool down electricity prices by not purchasing more natural gas.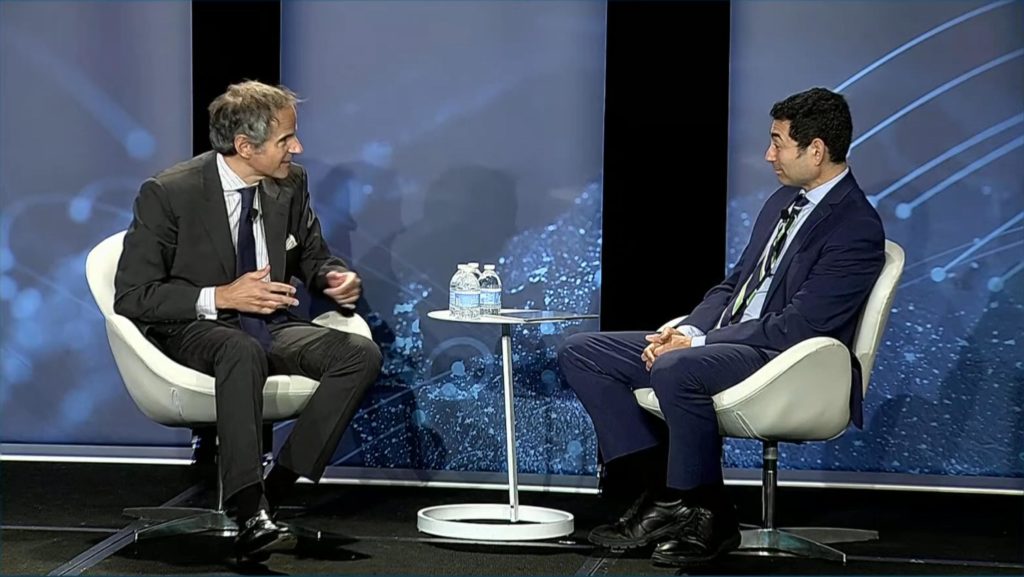 We wondered a year ago whether the energy crisis could revive interest in nuclear. Our guess was right. Speaking at the Russian Energy Week, IAEA Deputy Director General Mikhail Chudakov confirmed that the geopolitical situation and the crisis caused by sanctions and hydrocarbon supply disruptions in Europe and many other countries were key drivers behind explosive growth of interest in nuclear energy. The crisis is felt in everyday life. In Austria, where the IAEA is headquartered, gas bills has grown threefold, and electricity bills 2.6‑fold.
New interest in nuclear
The International Energy Agency (IEA) places its hopes on renewables. "Faster deployment of renewables and efficiency improvements in the European Union bring down EU natural gas and oil demand by 20 % this decade, and coal demand by 50 %, a push given additional urgency by the need to find new sources of economic and industrial advantage beyond Russian gas," the latest World Energy Outlook reads. The share of nuclear energy remains flat in all of the scenarios considered.
However, there is an opinion in the expert community that no increase in renewable generation will improve the situation. "Oil prices will remain high on a 10‑year horizon. Gas prices will be quite high until 2025. Technology potential for improving green energy efficiency flattens out because it is impossible to rely endlessly on the S curve and it is also difficult at this point to further increase efficiency of electric vehicles. This is why the existing economies are slated to experience nuclear renaissance, with nuclear energy serving as a foundation for a reliable power supply," says Alexander Malanichev, a visiting professor of the Russian Economic School.
A record high number of 50 countries made statements on the need to embark on national nuclear programs at the IAEA General Conference in September. Almost every European country supported nuclear. 32 countries are busy setting up necessary infrastructure for yet-to-be-built nuclear facilities. The IAEA stays in close contact with emerging nuclear countries, carrying out infrastructure peer reviews.
"We have seen interest in nuclear growing over the last two — ​previous and current — ​years. There will be 873 GW of installed capacity by 2050, according to our optimistic scenario," Mikhail Chudakov said on the REW Forum. At present, the total installed capacity of nuclear power plants worldwide is 382.8 GW, according to the IAEA.
Here are a few examples of interest.
Belarus is considering the possibility of increasing the number of reactors in view of a growing electricity consumption in the national economy. "I believe our cooperation with Rosatom has good prospects", Belarus Minister of Energy Mikhail Karankevich said when speaking at the Russian Energy Week.
In Egypt, major work is ongoing to build the first VVER‑1200 reactor for El Dabaa Nuclear Power Plant. First concrete for the reactor was poured this July. Late last October, the national nuclear watchdog issued a construction license for the second reactor unit.
In August 2022, right when the gas prices peaked, Slovakia's regulator ÚJD SR issued an operation and fuel loading permit for Mochovce 3. Before then, operational readiness of the reactor had been under administrative scrutiny since December 2016. With nuclear fuel loaded this September, the reactor went critical in late October.
Also in late October, Poland chose the US company Westinghouse as a technology vendor for the construction of the country's first nuclear power plant. The same very day, news came out that two Polish companies, ZE PAK and PGE (Polska Grupa Energetyczna), signed a letter of intent with Korea Hydro & Nuclear Power for the cooperation in construction of another nuclear station. Here are more details on Polish agreements.
Fictitious partner
The nuclear plant construction project will earn money and create new jobs for the American economy before anything else. US Energy Secretary Jennifer Granholm wrote about it in her Twitter: "Poland will select the US government and Westinghouse for the first part of their $40B nuclear project, creating or sustaining 100,000+ jobs for American workers."
It is questionable whether the American company is capable of delivering the project on its own. There are two reasons for doubt. First, Westinghouse does not have enough of nuclear construction competencies; second, it does not have capacity to manufacture and supply a reactor.
The company failed to build four reactors at two US nuclear stations, V. C. Summer and Vogtle, having admitted in 2017 that it had run out of budget and schedule. The problems undermined financial stability of the company, and Westinghouse went bankrupt. Construction of the two reactors at V. C. Summer was suspended. At the Vogtle Electric Generating Plant, the only nuclear station under construction in the US, Westinghouse acted as an EPC contractor, but reactors for the plant were manufactured by the Korean company Doosan.
It is not quite clear, therefore, what is really meant when Westinghouse is called a 'technology vendor'. We might assume that the American company will transfer a set of documents, consult the customer and supply certain components, for example, I&C for the Polish plant. It is not known yet who will manufacture the reactor.
The outlook of Poland's partnership with Korean companies is not certain either, but for another reason. In October, Westinghouse filed a suit with a US federal court against KHNP and KEPCO. The American company alleges that APR‑1400, a reactor exported by South Korea, employs System 80 solutions. It is a pressurized water reactor developed by Combustion Engineering that has been part of Westinghouse since 2000. The legal suit aims to oblige the two Korean companies to obtain a permit from Westinghouse for the construction of APR‑1400 reactors, which might result in a direct ban on the construction of these reactor in the Czech Republic, Poland and Saudi Arabia. The Korean companies do not agree with Westinghouse's demands.
Russia's contribution to sustainable energy
Russia has overtaken the lead in nuclear technology exports from the USA. This was mentioned by IAEA Director General in his speech at a conference in the Carnegie Foundation in the USA. "I think this is a challenge for America. It has traditionally been the leader, it lost this leadership but I heard the [US] Secretary of Energy say that we want to regain this leadership."
Statistics show Rosatom is a leading player of the nuclear technology market and possesses extensive competences in nuclear fuel, reactor and construction technologies. According to AtomEnergoProm's Annual Report 2021, Russia accounts for 15 % of uranium production, 38 % of nuclear fuel enrichment, and 17 % of nuclear fuel supplies. Rosatom also has the largest number of nuclear reactors under construction worldwide.
Of course, the market leadership is not important per se. Russia offers nations all over the globe an opportunity to make a contribution to a clean, sustainable and energy-­secured future.
Speaking on the REW Forum, Mikhail Chudakov said we should build more nuclear stations than planned to achieve the net-zero goal because other energy sources will not ensure the required pace of decarbonization and energy reliability. Hydro power plants cease to be a reliable source of electricity due to climate changes: water reservoirs shrink and dry up, and power generation decreases. Wind and solar farms feed little power into the greed, occupy immense areas and have a low utilization factor, so they cannot reliably supply industrial facilities with power. In addition, no large-­capacity batteries have been developed yet to compensate for the shortcomings of wind and solar.
Finally, nuclear contributes not only to climate but also to economic goals thanks to the stability of pricing. The share of fuel in the cost of power generated at nuclear power plants is as small as 5 % — ​unlike at fossil fuel power stations where fuel can account for up to 80 % of the total cost. For this reason, changes in the nuclear fuel price have little effect on the price of electricity supplied by nuclear stations. Moreover, long fuel cycles and the possibility of purchasing nuclear fuel for a few years in advance protect the buyers from short-term price fluctuations caused by political or economic instability. That means that energy self-sufficiency and, as a result, political independence will be secured for at least 60 years (if we are talking about Russian-­designed reactors). In this sense, Rosatom exports energy security and political independence rather than nuclear generation technology.
It is a great challenge, though, to build the planned nuclear capacity. Nations need to invest USD 3 trillion in the next 30 years, or six times more than invested in the previous 30 years (USD 0.5 trillion). The number of reactors going online every year should also grow 3 to 4 times. "This goal is achievable if there is a political will and public support," Mikhail Chudakov is confident. The question is what political will there will be.