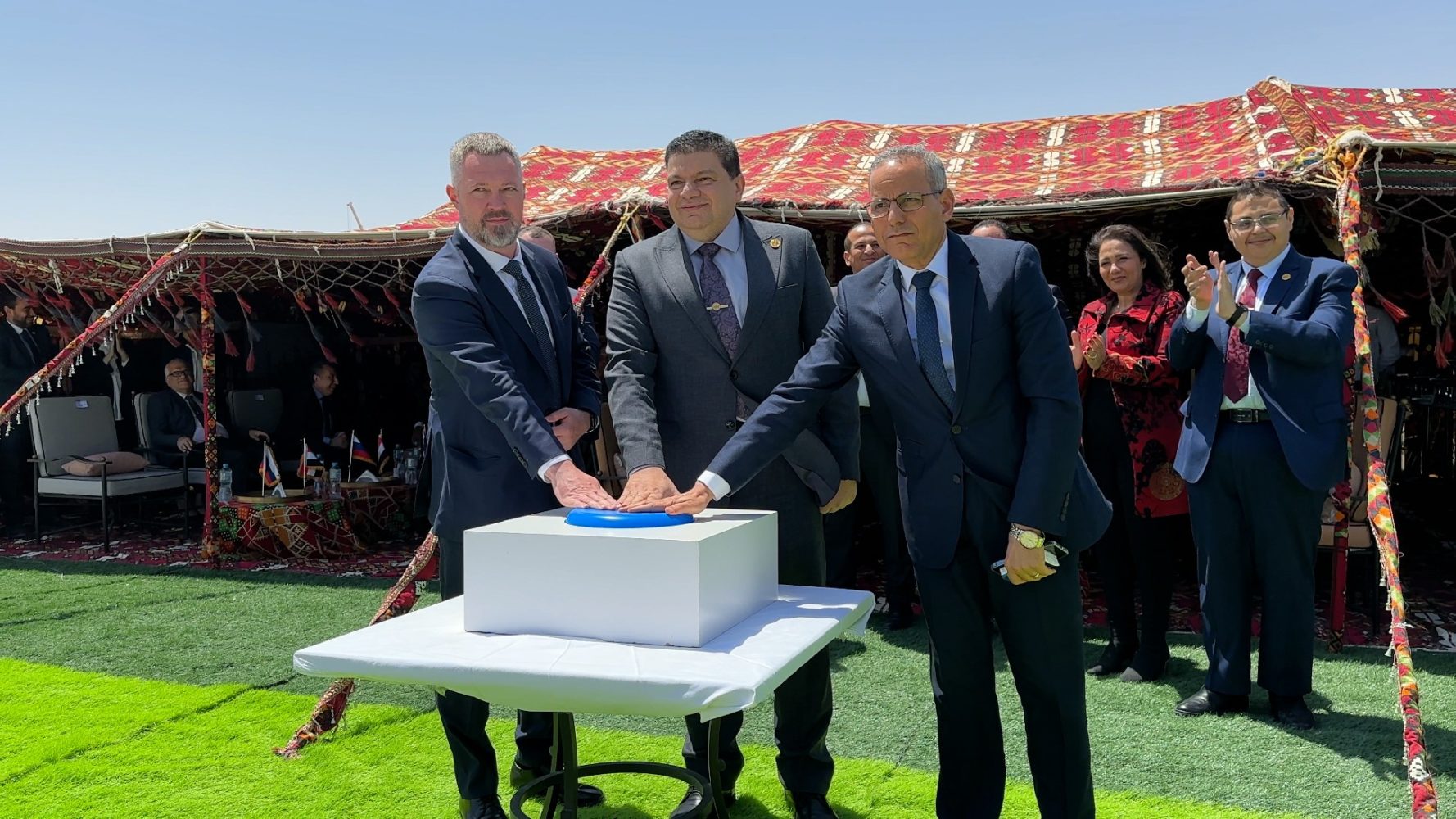 El Dabaa Unit 3 passed another milestone as first concrete was poured for its reactor island basemat on May 3.
The third unit of Egypt's El Dabaa Nuclear Power Plant entered the main construction stage. Speaking at the first concrete pouring ceremony, Chairman of Egypt's Nuclear Power Plants Authority (NPPA) Amged El-­Wakeel noted the progress in the construction of El-­Dabaa NPP. He recalled that the project had passed several key milestones in the previous year, including the first concrete poured for Units 1 and 2, and a core catcher for Unit 1 delivered from Russia. "The project is progressing to the schedule agreed, and everyone present at today's meeting has witnessed the first concrete pouring for Unit 3 and seen the dedicated work of the teams striving to achieve our common goal. We are confident there will be outstanding achievements to successfully deliver Egypt's first nuclear power project," Amged El-­Wakeel said.

Alexander Korchagin, Senior Vice-­President for NPP Construction Projects at AtomStroyExport (ASE, part of Rosatom), noted that the El-­Dabaa project was gaining momentum.
"Building reactor units to VVER‑1200 design is a tried and tested process for ASE. We have streamlined and fine-tuned all equipment production paths and built a close-knit construction team. However, the El Dabaa project has its own specifics, and I thank our Egyptian colleagues for their collaboration with our teams. Working together, we will succeed in delivering this ambitious project," Alexander Korchagin said.
In late March 2023, the Egyptian Nuclear and Radiological Regulatory Authority (ENRRA) issued a construction permit for El-­Dabaa Unit 3, giving a green light to concrete pouring.
Egyptian companies are involved in the construction of El Dabaa. According to preliminary plans, the share of local contractors will reach 35 % at the construction of Unit 4. It is expected that there will be around 30,000 Egyptian workers employed on the site at the peak of construction of all four reactors.
All the core systems and equipment components for El-­Dabaa are manufactured in Russia and delivered to Egypt by sea.
El-­Dabaa NPP is built under an ЕРС (Engineering, Procurement and Construction) contract. This type of contracts in the construction industry implies that the contractor is in charge of the entire scope of work, from engineering design to construction and commissioning.
When all four reactors of El-­Dabaa are put in operation, its installed capacity will be 4,800 MW. El Dabaa NPP will supply over 20 million of Egyptians (19 % of Egypt's total population) with electricity and the share of low-carbon energy sources in the country will reach 22 %, while CO2 emissions will decrease by 7 % from the current level.
AtomStroyExport (ASE) is Rosatom's engineering division and a global leader constructing most of the nuclear power plants abroad and having the world's largest portfolio of nuclear construction contracts. The division is active in Europe, Middle East, North Africa, and Asia Pacific.