Rosatom seeks to expand its cooperation with Turkey beyond the construction of nuclear power reactors into other areas of nuclear technology application. This was announced by Anton Dedusenko, Deputy Chairman of the Board at Akkuyu Nuclear, speaking at the Nuclear Power Plants 5th Expo and 9th Summit NPPES 2023 held in Istanbul in late June. Rosatom was the main partner of this annual event.
NPPES is Turkey's largest business forum for nuclear technology and industry. The exhibition showcased companies from Turkey, Russia, China, South Korea, India, the UK, France, Germany, Italy and other countries, with about 1,300 delegates and guests having taken part in the summit.
Welcoming the participants, Anastasia Zoteeva, CEO and Chairman of the Board at Akkuyu Nuclear, noted that the Akkuyu NPP project companies participated in NPPES events every year. "We continue apace to engage Turkish companies from various sectors in the project and expand the scope of business proposals offered by Rosatom, which has been a leader in many of nuclear technology applications for decades," Anastasia Zoteeva stressed.
Rosatom and Akkuyu Nuclear in partnership with Russian-Turkish company Titan 2 IC Içtaş Inşaat, the main contractor for the Akkuyu NPP construction project, organized a regular seminar for potential suppliers on the margins of the summit. Representatives of the companies spoke about Rosatom's procurement system and local content in the Turkish project, and presented specific cases of engaging Turkish companies.
Anton Dedusenko, Deputy Chairman of the Board at Akkuyu Nuclear, emphasized that Rosatom was always open to discussing new areas of cooperation. "Our proposals are indeed not limited to the construction of large nuclear power plants. We are ready to offer our potential partners products and solutions spanning across a wide range of nuclear technology applications, from water treatment to research reactors and nuclear medicine," Anton Dedusenko noted.
At this year's NPPES, Rosatom for the first time presented a multi-dimensional offer comprising nuclear and non-nuclear products for the Turkish market.
"While delivering the Akkuyu NPP project, we have built effective partnerships with Turkish businesses over recent years, so it is but logical to expand them into other areas of nuclear technology application. These areas lie outside of the nuclear power industry and include water desalination and purification solutions, industrial and agricultural applications of radiation technology, and construction of nuclear science and technology centers. Our doors are open for Turkish partners in these and many other areas," said Alexander Voronkov, Vice President for Middle East and North Africa at Rosatom.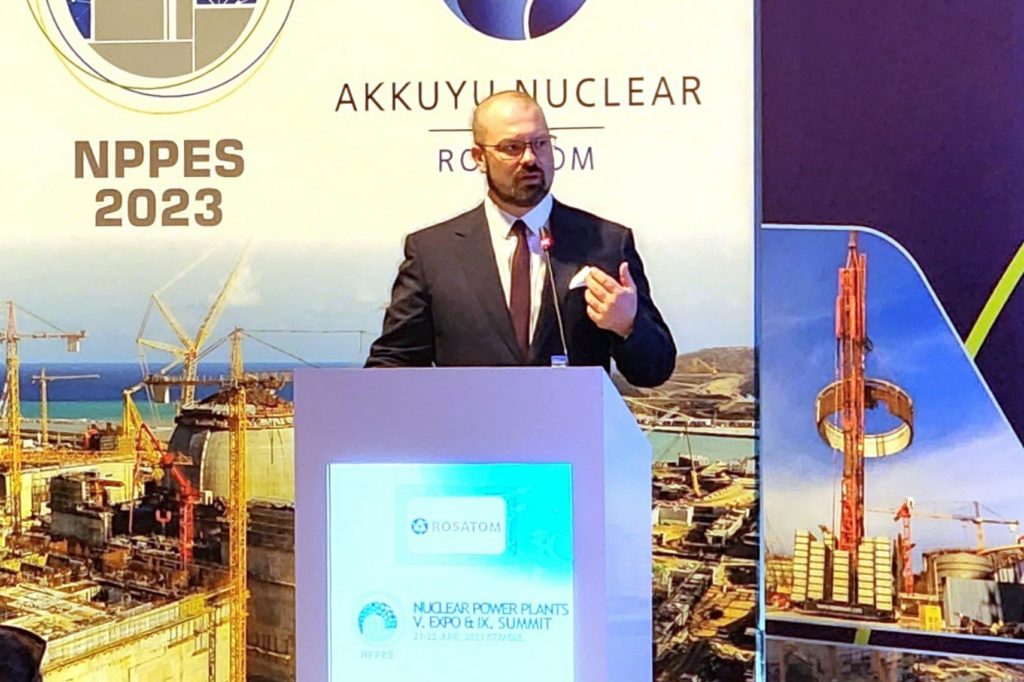 Denis Sezyomin, Director for Construction and Production Organization at Akkuyu Nuclear, spoke about the progress in implementing the Akkuyu NPP local content program. "Over the past year, we signed over USD 1 billion worth of contracts with the Turkish suppliers of equipment, materials and services, with the total value of contracts with Turkish companies reaching USD 4.3 billion," the speaker emphasized.
Construction runs in parallel at all the four units of the Akkuyu Nuclear Power Plant. In late June, the fifth tier of the inner containment was installed at Unit 2. As an essential component of the nuclear plant's safety system, the inner containment ensures protection and tightness of the reactor compartment.
It consists of a steel cladding and a special concrete mix made right on the Akkuyu site. First, twelve metal sections were welded together to form a ring-shaped structure weighing 129 tons. Then, the world's most powerful crawler crane lifted the structure to place it at the design height in the reactor building.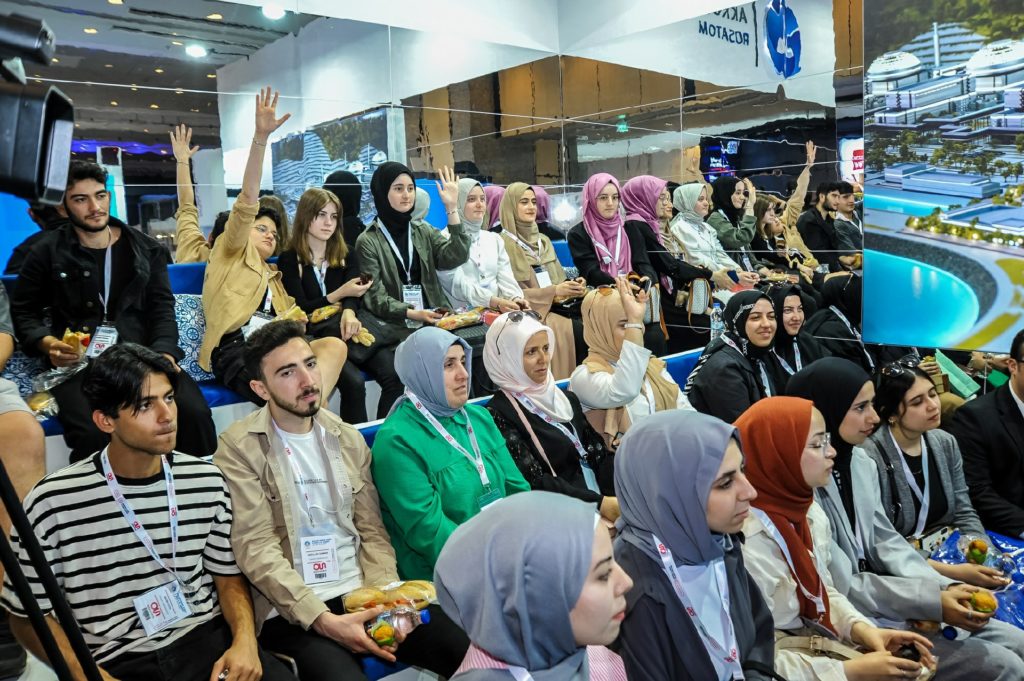 "The fifth tier connects the cylindrical and dome parts of the inner containment. Our many years of construction experience help saving time in the assembly and installation of containment modules. The installation of the fifth tier took us as little as two hours. The height of Unit 2 has now increased by 6.5 meters and reached 43.1 meters," noted Sergey Butskikh, First Deputy CEO at Akkuyu Nuclear and Director of the under-construction Akkuyu NPP.
Meanwhile, construction of external and internal walls of the reactor building is continuing, and so is the installation of embedded parts for the transportation, personnel and reserve airlocks.
Russian companies ship all the required equipment for the nuclear plant strictly on schedule. In late June, Rusatom Automated Control Systems (RASU, part of Rosatom) sent a large shipment of equipment for the unit-level instrumentation and control (I&C) subsystems to be installed at Akkuyu Unit 1.
The shipment comprising 95 cabinets of operational I&C and engineered safety feature actuation system equipment was delivered to the construction site in the Mersin province. The equipment was transported 4,000 kilometers by 20‑ton capacity trucks.
In early June, OKB Gidropress (part of Rosatom's power engineering division AtomEnergoMash) shipped 174 expanded graphite gaskets for the Akkuyu NPP. They will be installed in pressurizers at Unit 3.
Apart from building the nuclear power plant, Rosatom is engaged in training its operating personnel. It was announced in June that a new group of students would be admitted to Russian universities to study nuclear technology. The group includes 53 bachelor graduates from Turkish universities.
"296 young engineers have graduated from Russian universities and are gaining an interesting professional experience at the world's largest nuclear construction site. Another 300 Turkish students will be trained in the coming years to join the Akkuyu NPP project team. Along with theoretical classes, the training program provides for hands-on internships at operating nuclear power plants in Russia," Anastasia Zoteeva said.