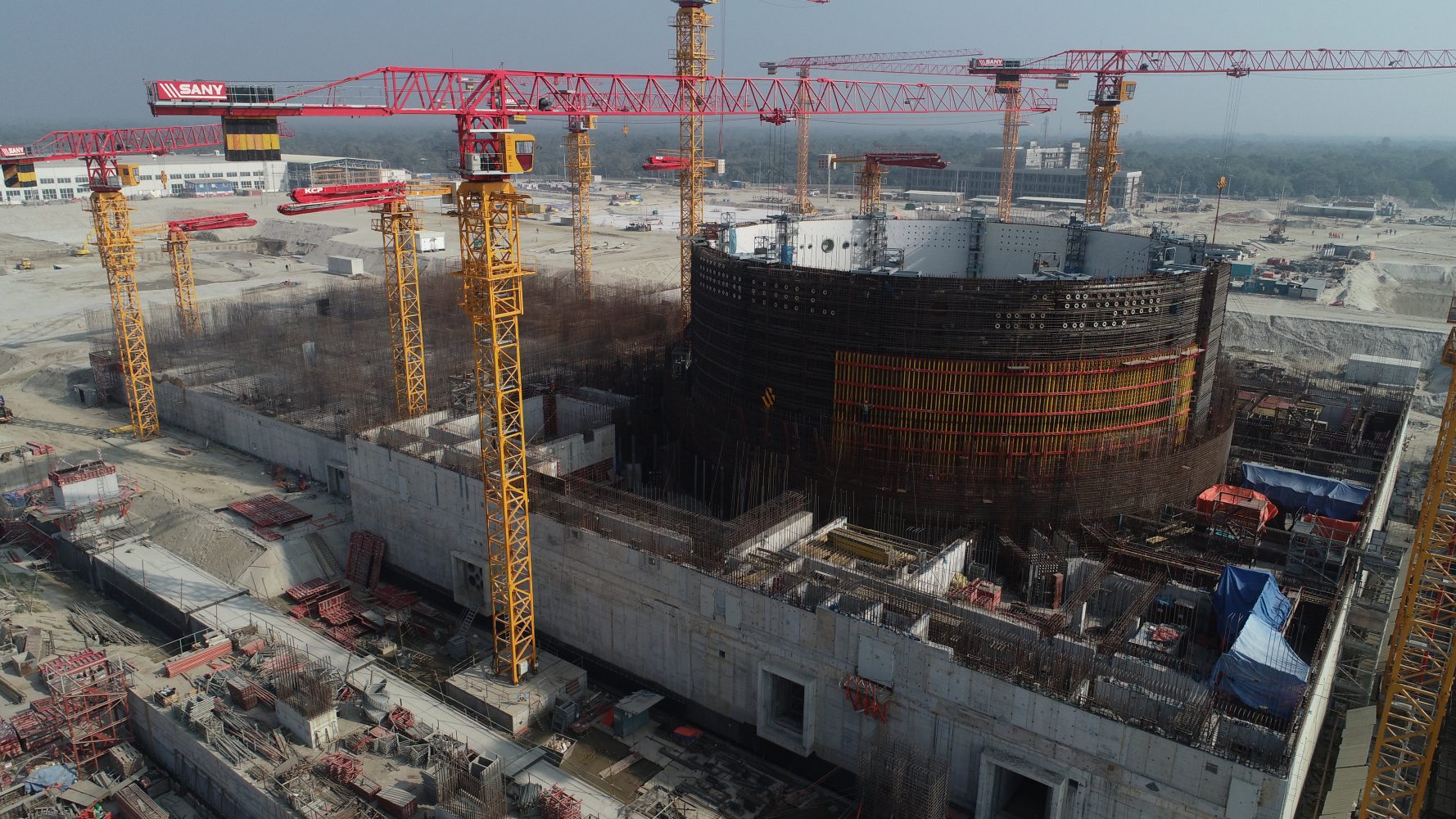 The return of 178 Russian workers from Bangladesh to Russia due to the coronavirus pandemic will not delay completion of the Rooppur construction project. Rosatom said, "There are over 4,000 people currently working on the site, so the temporary relocation of 178 employees will not influence the process of building the Rooppur NPP. The project is going on exactly as planned".
Most of the returned are employees of Rosatom's engineering division headquartered in Nizhny Novgorod, Russia. The plane also brought back subcontracted employees who take part in the construction of Rooppur nuclear power plant. The employees returning to Russia felt well and will spend the next two weeks in quarantine.
Rosatom's Director General Alexey Likhachev stressed that every worker would be given an opportunity to return to Russia, if needed. After the situation improves, they will be able to continue doing their jobs at construction sites abroad.
Meanwhile, work at the Rooppur nuclear power plant continues with all the necessary measures taken to prevent the spread of coronavirus infection. Rosatom and Bangladesh keep working together, Likhachev said in mid-March during his visit to Bangladesh. At a meeting with Prime Minister Sheikh Hasina, they discussed bilateral cooperation in peaceful uses of nuclear power. The parties were satisfied with the progress of the Rooppur NPP project. Alexey Likhachev also had a meeting with Abul Kalam Abdul Momen, Bangladesh Foreign Minister, who thanked Russia for its support of nuclear staff training programs, including education of safety and maintenance engineers for the Rooppur nuclear power plant. He also mentioned that Russia had contributed much to the social and economic development of Bangladesh and made it graduate from the ranks of the least developed countries. The parties reaffirmed their commitment to promoting bilateral economic relations and working jointly in electricity generation, and exploration of energy resources.
During the visit, Alexey Likhachev signed a package of documents providing for the expansion of cooperation in nuclear energy. In particular, Bangladesh will have an opportunity to hire Rosatom as a provider of operation, maintenance and repair services for Rooppur Units 1 and 2 and as a supplier of equipment, replacement parts and materials, as well as to train plant operators during Rooppur's service life. In addition, Rosatom's nuclear fuel division and the Bangladesh Atomic Energy Commission (BAEC) signed addenda to the contract for the supply of nuclear fuel for the Rooppur nuclear power plant for its entire service life.
The delegation headed by Alexey Likhachev also visited the Rooppur NPP construction site. They inspected on-site facilities under construction and Russian workers' compound Green City.
"The construction is gaining momentum. I am pleased to see that our employees have a decent place to live and spend their spare time and are provided with access to health care within a specially built compound," Alexey Likhachev following the visit.
For reference
Featuring two Russian-designed VVER 1200 reactors with a total capacity of 2,400 MW, the Rooppur Nuclear Power Plant is constructed 160 km away from Bangladesh's capital Dhaka under the general construction contract signed on December 25, 2015. Atomstroyexport (Rosatom's engineering division) acts as a general contractor for the Rooppur NPP. The first nuclear power plant in Bangladesh will have two VVER 1200 reactors and is based on the same design that is used for Units 1 and 2 of Novovoronezh II in Russia. VVER 1200 is an evolution of Generation III reactors and is fully compliant with international safety standards. The 'first concrete' ceremony at Unit 1 was officially held in November 2017. Construction of Unit 2 began in July 2018.