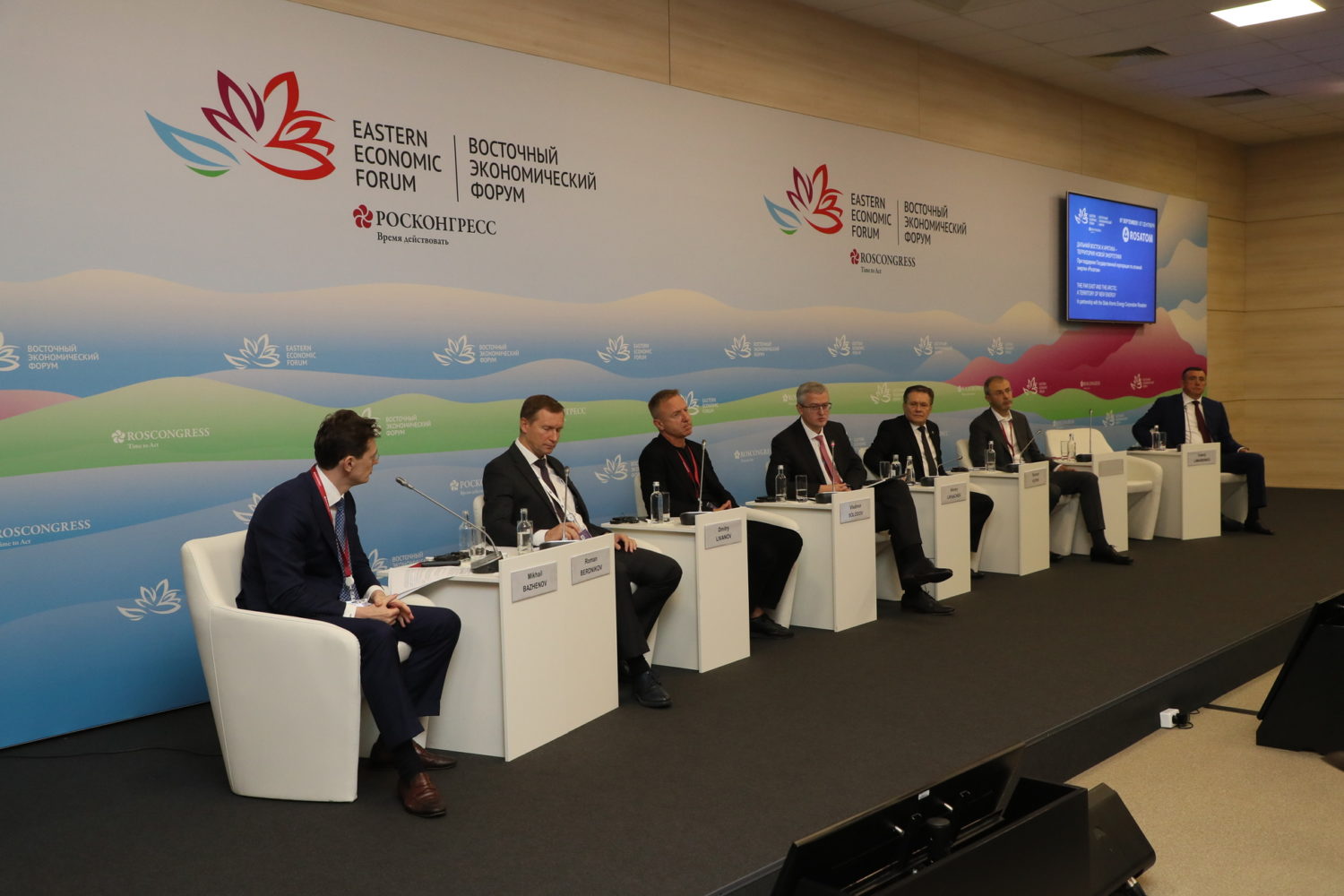 Committed to developing its business in the Russian Far East, Rosatom was one of the most active participants in the Eastern Economic Forum 2022. Rosatom companies signed a number of agreements, strengthened existing partnerships and mapped new cooperation pathways at the forum. These efforts aim to expand business opportunities for Rosatom and, more generally, secure the Russian presence in the global energy markets.
Northern Sea Route
Operation of the longest Russian sea lane, the Northern Sea Route, rests on three pillars: cargo, vessels, and traffic safety.
NSR is used to deliver cargoes to major Arctic mining sites producing gas and oil and, since recently, copper and gold. It is also used to transport fossil fuels and minerals (except copper until Baimsky GOK mine is put into operation) to consumers. Since early this year, eastbound routes have grown in importance for Russia.
Also earlier this year, the authority to issue sailing permits for the Northern Sea Route was delegated from the NSR Administration (a department with the Russian Ministry of Transport) to a newly established Northern Sea Route Chief Directorate (NSR CD, part of Rosatom). The Russian Merchant Shipping Code was amended to empower the NSR CD to issue, suspend and revoke sailing permits. This might be necessary if it turns out that ice is forming or weather is worsening in the area for which a vessel is heading. Information about ice and weather conditions is collected and processed at the Maritime Operations Headquarters, another department of the NSR CD. Rosatom's goal is to make the NSR CD a one-stop shop for customers traveling on the route. In order to facilitate the exchange of information and documents and provision of services, Rosatom is working to create an integrated digital service platform that will collect, process and share essential information for the operation of NSR. This will include ice and weather conditions, upcoming voyages, escorting icebreakers, ship convoys, and others.
The Eastern Economic Forum hosted the first meeting of the NSR Navigation Council that brings together NSR stakeholders. "Economic feasibility, comfort, and safety of traffic on the NSR are invariable values that can be fostered together only," Director General of Rosatom Alexey Likhachev explained the Council's goal.
Chairman of the Board of Directors at Sovcomflot Sergey Frank, who was elected head of the Council, stressed that the primary task for the coming years was to make navigation on the NSR year-round and safe. "The beginning of year-round LNG shipments eastwards will once and for all turn the NSR into an international transport corridor," Deputy Chairman of the Management Board at NOVATEK Evgeniy Ambrosov reaffirmed.
New icebreakers are needed to ensure year-round, regular navigation on the NSR. Rosatom is working to achieve this goal as the third Project 22220 icebreaker, Ural, is about to join Russian nuclear fleet operator Atomflot and another two, Yakutia and Chukotka, are being constructed. The first Project 10510 (Leader) icebreaker, Rossiya, is also under construction. At present, Atomflot operates six nuclear-­powered icebreakers.
Around 80 more ice-class vessels will have to be built by 2035 to ensure proper operation of the NSR. Since the existing Russian shipyards are fully booked, more shipbuilding sites are needed. Rosatom and United Shipbuilding Corporation are considering available options to improve the situation, including construction of a shipyard on the island of Kotlin in the Gulf of Finland to build large-­capacity vessels.
New energy
Rosatom companies signed five agreements focusing on the development of hydrogen economy at the Eastern Economic Forum. Rusatom Overseas, which is part of the Russian nuclear corporation, made a partnership with China Energy Engineering Corporation (CEEC). The Chinese corporation has a long track record of developing energy solutions, including hydrogen projects. It became known this August that CEEC proceeded with the construction of one of the world's largest green hydrogen factories in Lanzhou, Gansu Province, worth USD 2 billion.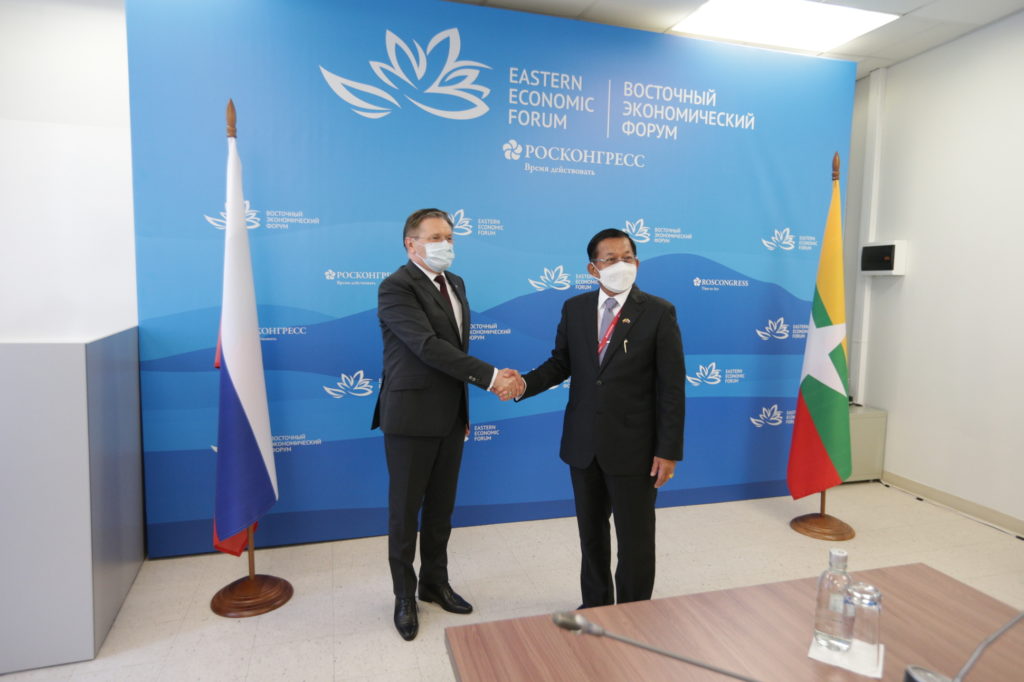 The Sakhalin hydrogen project is expected to be launched in 2025 to produce 30,000 tons of hydrogen per annum. Its capacity will grow to 100,000 tons per annum by 2030. Hydrogen will be liquefied and transported from Sakhalin to China in tanks. "CEEC is interested in the full-on participation in our project as a developer, technology vendor and consumer. Taking into account recent changes in the partnership structure, it is essential for us to define a new configuration of the project," President of Rusatom Overseas Evgeny Pakermanov explained in an interview for the Strana Rosatom newspaper. He did not rule out that hydrogen would be supplied to Japan, South Korea, and Vietnam.
Shipyard made of composites

The government of Sakhalin and Umatex (Rosatom's subsidiary dealing with advanced materials and technology) signed an agreement at EEF 2022 to construct a shipyard of composite materials at the existing port infrastructure in Korsakov. The shipyard will build smaller ships, primarily fishing vessels.

Other documents signed at EEF

– Rusatom Overseas and the Khrunichev State Research and Production Space Center signed a cooperation agreement that provides, among other things, for the supply of rocket fuel hydrogen to the Vostochny Cosmodrome.

– Rusatom Overseas and the Moscow Institute of Physics and Technology agreed to join efforts in the development and deployment of equipment and engineering solutions in the field of hydrogen technology.

– Rusatom Overseas, GAZ Group and Russia Moscow Compressed Natural Gas partnered to study the prospects of hydrogen transport projects in Russia.

– Rusatom Overseas and VEB Infrastructure signed an agreement on cooperation in hydrogen projects.

– Rosatom, the Ministry of Science and Technology and the Ministry of Electric Power of Myanmar signed an agreement on cooperation in peaceful uses of nuclear power for 2022–2023. The agreement provides for the possibility of constructing an SMR in Myanmar, staff training and building positive public attitudes to nuclear energy.

– The Ministry for the Development of the Russian Far East, Ministry of Natural Resources and Environment, Government of Sakha (Yakutia), and Rosatom agreed to develop a regional mining cluster powered by an SMR. The cluster will comprise Kyuchus, Deputatskoye and Tiretyakh deposits, infrastructure, utilities, public amenities, and power transmission lines.

– Rusatom Additive Technologies and the Far Eastern Federal University (FEFU) signed an agreement to establish the first shared access additive center at FEFU.