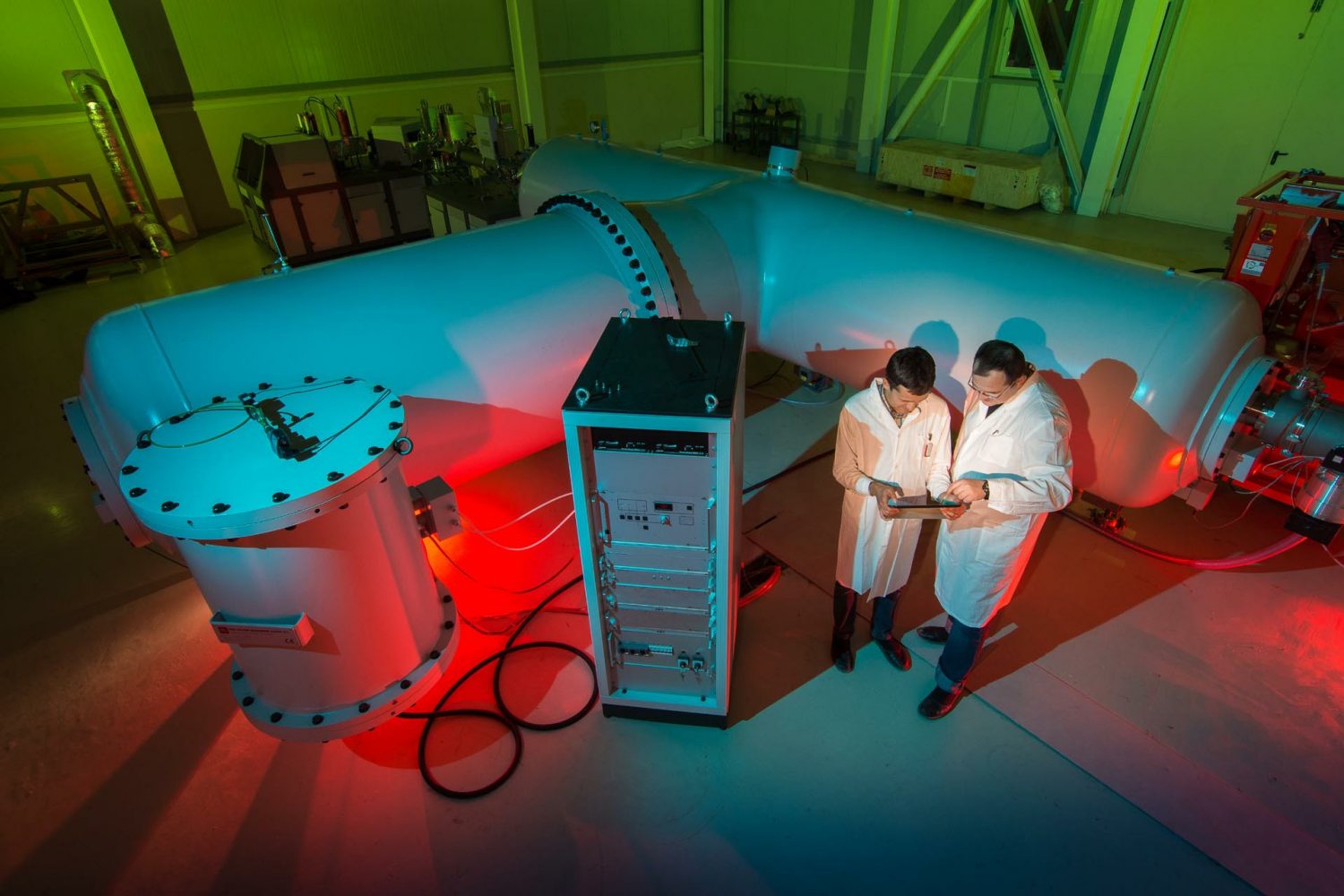 Reaching far beyond power generation, nuclear technology encompasses nuclear medicine that helps diagnose and treat complex cancers. MRI and CT techniques, which were used extensively over the past year and a half to accurately diagnose coronavirus, also belong to nuclear technology. Rosatom develops its competencies in nuclear medicine by taking part in the construction of hospitals and building sterilization centers, preparing to manufacture medical equipment and, of course, fabricating isotopes.
Fighting serious diseases
Nuclear technology comprises X-rays, computed tomography (CT) scans and mammography, as well as procedures using radiotracers, such as positron emission tomography (PET) or single-­photon emission computed tomography (SPECT), along with non-ionizing radiation techniques like ultrasound and magnetic resonance imaging (MRI).
These techniques use radionuclides and their physical properties for diagnosis, staging of disease, therapy and monitoring the response of a disease process. It is also used in the basic sciences, such as biology, in drug development and in pre-clinical medicine. Most often nuclear techniques are engaged to diagnose cancer, which is the second most often cause of death after cardiovascular diseases. In 2020 alone, almost 10 million people died of cancer, according to the WHO.
But cancer can and should be treated. This March, the Lancet Oncology Commission on Medical Imaging and Nuclear Medicine published a report saying that the development of imaging techniques will prevent 3.2 % of 76 million cancer deaths that might occur in 2020–2030, according to computer modeling data. "Scaling up access to nuclear medicine and medical imaging services would avert nearly 2.5 million cancer deaths worldwide by 2030 and yield global lifetime productivity gains of USD 1.41 trillion — ​a net return of over USD 200 per USD 1 invested," the report says. The survey is based on the IAEA data for 211 countries.
This figure can be much higher if the problem is approached holistically, with improvements achieved not only in diagnostics, but also in treatment and patient care. Then it will be possible to save 12.5 % of cancer patients, or 9.55 million lives.
What does 'scaling up access' mean in practice? The simplest thing is to purchase new equipment and construct dedicated nuclear medicine centers. Specifically, the report says, "At least five countries in Africa do not have a single CT unit, and one CT scanner serves on average 25,000 people in high-income but 1.7 million people in low-income countries." Clearly, these figures do not indicate the patient capacity of medical equipment but their availability: the higher the figure, the less available is diagnostic imaging.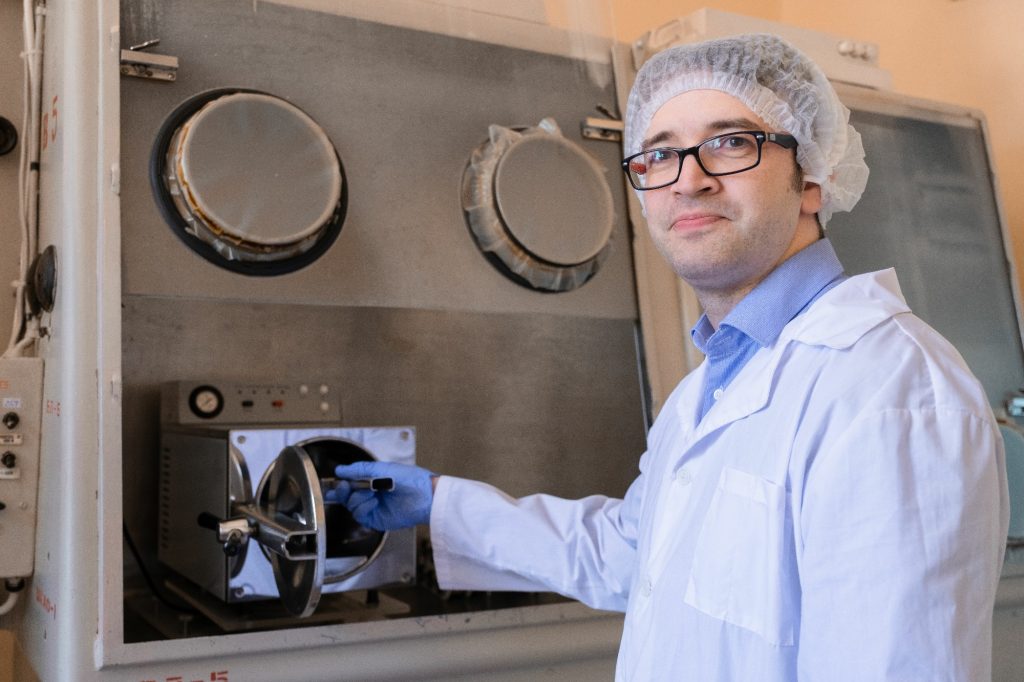 "Medical imaging is essential to cancer care, but unequal access to these life-saving technologies remains staggering," IAEA Director General Rafael Mariano Grossi said in a comment to the Commission's report.
Supported by IAEA
The IAEA has adopted a holistic and multi-­faceted approach to promoting the use of nuclear technology in medicine all over the world.
In late July 2021, speaking at a webinar organized by the Transport Facilitation Working Group, IAEA Director General Rafael Mariano Grossi suggested, among other things, that every IAEA member state should identify a national focal point on denials of shipment of radioactive materials. Their efforts in coordinating delivery routes will make the transport of radioactive materials smoother and faster. But now, according to Serge Gorlin, Head of Industry Cooperation at the World Nuclear Association, such materials are often shipped via indirect and complex routes, resulting in increased costs and more complicated paperwork. All in all, more than 20 million shipments of radioactive materials take place annually by land, sea and air.
In May 2021, the IAEA and the City Cancer Challenge Foundation (C/Can) signed an agreement to expand collaboration. Its purpose is to improve access to equitable and quality radiation medicine for cancer patients in low- and middle-­income cities. The IAEA will provide C/Can with expert support to drive greater impact in the application of radiation medicine as part of cancer care. Among others, the parties will focus on needs assessments, data collection and resource mobilization.
In October 2020, the IAEA and the French Society of Nuclear Medicine signed Practical Arrangements for 2020-2023 providing for the collaboration in the areas of nuclear medicine, molecular imaging, and allied disciplines.
Besides, the IAEA website has a large section dedicated to radiation medicine and containing general and detailed recommendations on medical procedures.
Nuclear medicine across countries
Every large economy pushes the development of nuclear medicine. In June 2021, China published its medium- to long-term plan for the fabrication of medical isotopes, covering a period from 2021 untill 2035. "As the economy and well-being improves, people's expectations of health care grow higher, and so does demand for medical isotopes. Demand for the most frequently used medical isotopes is estimated to grow 5 % to 30 % per annum, while the total demand will increase more than ten-fold by 2030," Jianhua Zhang, Vice Chairman of China Atomic Energy Authority (CAEA), explains the logic behind the plan (quoted from atominfo.com).
Over 9 million patients in the European Union use nuclear medicine, including 1.5 million patients on radiotherapy against cancer. Nuclear Medicine Europe and Foratom joined their efforts to solve problems in nuclear medicine. Antonis Kalemis, President of Nuclear Medicine Europe and a business manager for molecular imaging at Siemens Healthineers, pointed out key problems faced by the European Union, including absence of a uniform approach to nuclear medicine and transportation of radioactive materials in the EU Member States, insufficient compensations, and generally a negative attitude towards nuclear technology. He also mentioned potential solutions to those problems: to include nuclear medicine in the Next Generation Recovery Plan and Industrial Strategy, approve the Strategic Agenda for Medical Industrial and Research Applications (SAMIRA), increase the procurement of medical equipment, particularly for remote regions, monitor prices for medical services, and split compensations for different products and services in nuclear medicine.
The size of the global nuclear medicine market is USD 24 billion. As estimated by Rusatom Healthcare (part of Rosatom), it will reach USD 43 billion by 2030. The isotope market stands currently at USD 6 billion, but Rusatom Healthcare analysts believe it can grow more than two-fold, to USD 12.6 billion, with the nuclear medicine segment to drive most of the growth.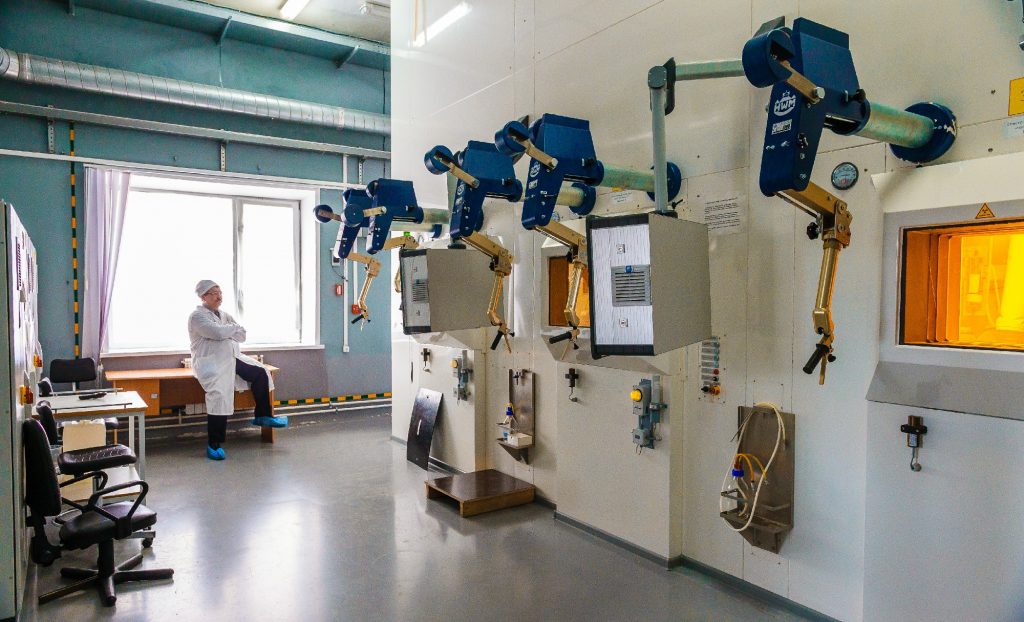 Radiation diagnostics in this segment will account for about USD 3.6 billion, including USD 1.7 billion attributed to technetium‑99m. The radiation therapy segment will grow faster, though, because a therapeutic dose costs two to three orders of magnitude more than a diagnostic dose, according to Rusatom Healthcare estimates. It means that each radiation therapy course will generate 100 to 1,000 times more revenue per patient than a diagnostic procedure.
The USA is an indisputable leader in nuclear medicine with a 40 % share of the global market, followed by Japan and Germany with Russia having less than a 5% share.
Rosatom efforts
As Russia's only and one of the world's largest producers of medical isotopes, Rosatom is extensively engaged in nuclear medicine and develops its competencies in this area.
Rusatom Healthcare is Rosatom's subsidiary dealing with nuclear medicine. Established in 2017, the company is a parent to 15 businesses engaged in nuclear medicine, fabrication and distribution of radioactive isotopes, production of irradiation and sterilization equipment, and offering comprehensive 'turnkey' medical solutions. The mission of Rusatom Healthcare is to make life-saving medical equipment and pharmaceuticals accessible to a wider public in Russia and abroad.
For example, one of Rusatom Healthcare subsidiaries is Isotope supplying medical isotopes to 50 countries.
Rusatom Healthcare has also initiated construction of a GMP-compliant radiopharmaceutical factory at Karpov Institute of Physical Chemistry (Obninsk, Russia). The factory will be the first in Russia to produce target-­specific radiopharmaceuticals from lutetium‑177, actinium‑225 and radium‑223. Lutetium‑177 can arrest the growth of malignant tumors and even reduce metastases when other treatments do not help. Radiopharmaceuticals containing radium‑223 are also used to treat bone metastases because chemical properties of this isotope are similar to that of calcium. The new factory is scheduled for operation as soon as 2024.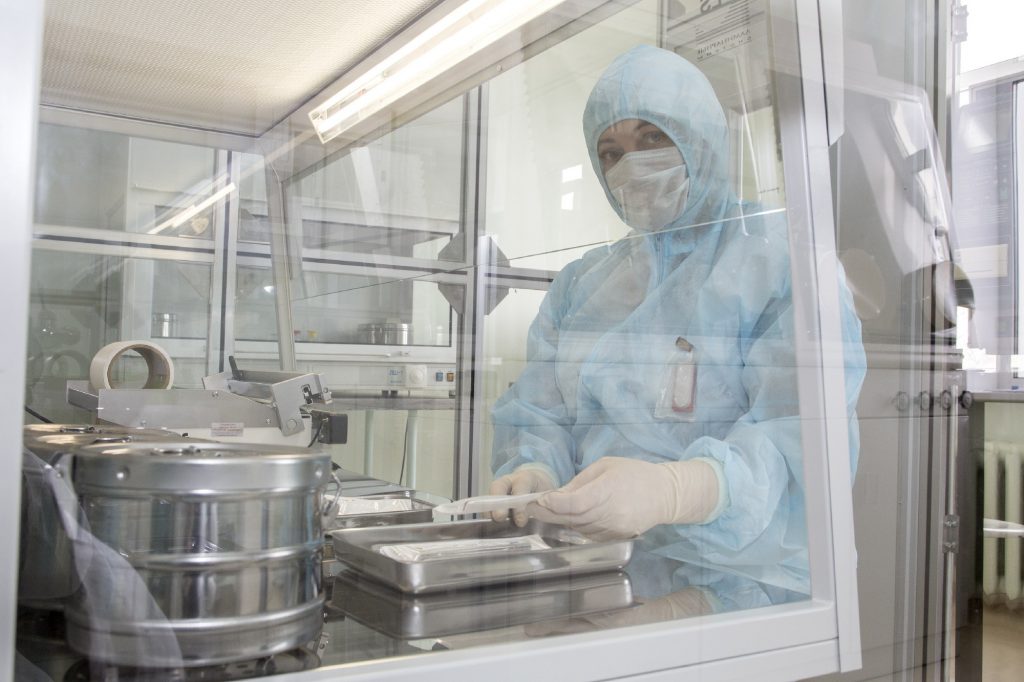 Ionizing sterilization is another business line of Rusatom Healthcare. In 2016, Rusatom Healthcare opened a sterilization center, Sterion, in the Moscow Region. It sterilized face masks during the pandemic. Mayak, a gamma radiation center in Chelyabinsk, will be commissioned in late 2021; a similar facility in Obninsk will be put in operation next year. One more sterilization center will be opened in Kazan. Rusatom Healthcare offers turn-key solutions for the construction of multi-­purpose irradiation centers and supply of sterilization stations comprising an electron accelerator and a gamma-ray unit.
In the medical equipment segment, Rusatom Healthcare sets up local production of equipment in partnerships with leading companies and develops Russian models from scratch.
Among other things, Rusatom Healthcare is building a plant in Russia to manufacture high-energy linear accelerators with the technology developed by Elekta. The plant will produce 15 linear accelerator per year. If demand grows, the plant has capacity to increase its output.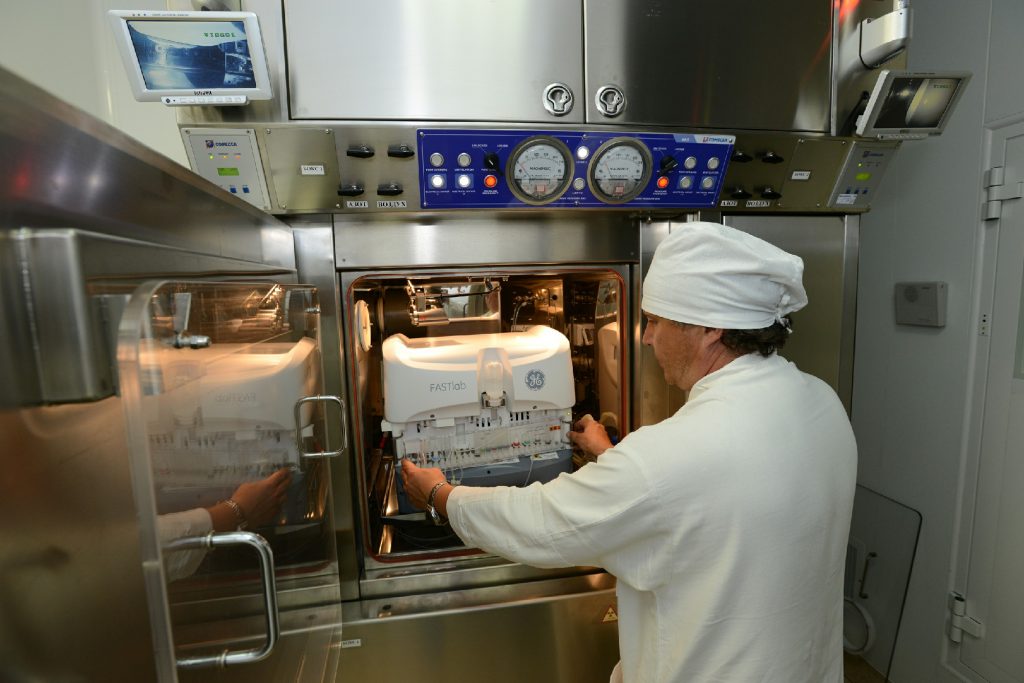 In partnership with GE, Rusatom Healthcare will produce three most popular models of MRI scanners, Signa Creator, Signa Explorer and Signa Voyager. The production is planned to be launched in mid‑2022.
In 2022, Rusatom Healthcare will start producing its own gamma cameras, which are best in use in radionuclide diagnostics and control of radiotherapy procedures using the entire range of radiopharmaceuticals.
Also in 2022, serial manufacturing of the ONYX radiotherapy complexes based on 6 MeV low-energy electron accelerators will commence. These devices are designed to treat neoplasms of various nosologies and dispositions using external beam radiation therapy, both independently and in combination with surgical and chemotherapeutic methods of treatment.
The manufacturing of brand-new Brachium devices for high-dose brachytherapy is scheduled for 2022. The high-tech brachytherapy complexes allow performing high-precision therapy procedures on tumor tissues and reducing exposure of the patient's healthy tissues, as well as reducing the overall radiation exposure.
Finally, Rusatom Healthcare is engaged in constructing a chain of its radiation medicine centers that will provide diagnostic and treatment services. The company plans to finish construction of medical centers in Ufa, Lipetsk, Irkutsk and Obninsk by 2022 and start providing medical services to Russian and foreign patients. Several mobile medical stations will be established in a number of Russian regions. The company is confident they can improve availability of medical services in remote regions.
Rosatom also takes part in a number of other radiation medicine projects. For instance, as you know from another article in this issue, the Russian nuclear corporation is building a nuclear research and technology center in Bolivia. In Thailand, Rosatom is involved in the construction of a cyclotron and radiochemical facility at the Thailand Institute of Nuclear Technology. The MSS‑30/15 facility is designed to fabricate gallium‑67, thallium‑201, copper‑64 and zirconium‑89 used in PET and SPECT diagnostics of oncologies and cardiovascular diseases.