Kazakhstan needs a domestic nuclear industry, top-rank officials and numerous experts say. Let us see what steps Kazakhstan takes towards this goal and how the country collaborates with Russia in the nuclear field.
In mid-­January, President of Kazakhstan Kassym-­Jomart Tokayev spoke at the opening ceremony for the Abu Dhabi Sustainability Week. His speech was devoted to eco-projects and efforts made to achieve the UN Sustainable Development Goals. The president highlighted the global nature of those challenges. Kazakhstan is an active contributor to the process as the first country in Central Asia to have adopted a long-term net zero strategy, President Tokayev pointed out.
At present, Kazakhstan receives nearly 70 % of electricity from coal-fired power plants, but its energy mix will change in the near future. "Basically, we plan to commission 6.5 GW of renewable power capacity in Kazakhstan by 2035," the president noted.
According to Kassym-Jomart Tokayev, nuclear energy will not be the least of renewable energy sources. "Our country is the world's top producer of natural uranium. We produce nuclear fuel components domestically and have every opportunity to further promote the safe use of nuclear energy. In our opinion, this is a promising playground for trade and investment on the regional and global levels," Kassym-­Jomart Tokayev said.
Long-standing partners
Kazakhstan top-rank officials have more than once announced plans to build the country's first nuclear power plant in the Almaty region. The energy mix forecast for Kazakhstan provides that 2.4 GW of nuclear capacity will be commissioned by 2035.
The government would select a nuclear technology vendor in 2023, Minister of Energy Bolat Akchulakov said in January. According to him, Rosatom is on the list of potential suppliers. The others are KHNP (South Korea), CNNC (China), and EDF (France). As estimated by the Samruk-­Kazyna National Welfare Fund, Rosatom boasts a number of technological advantages.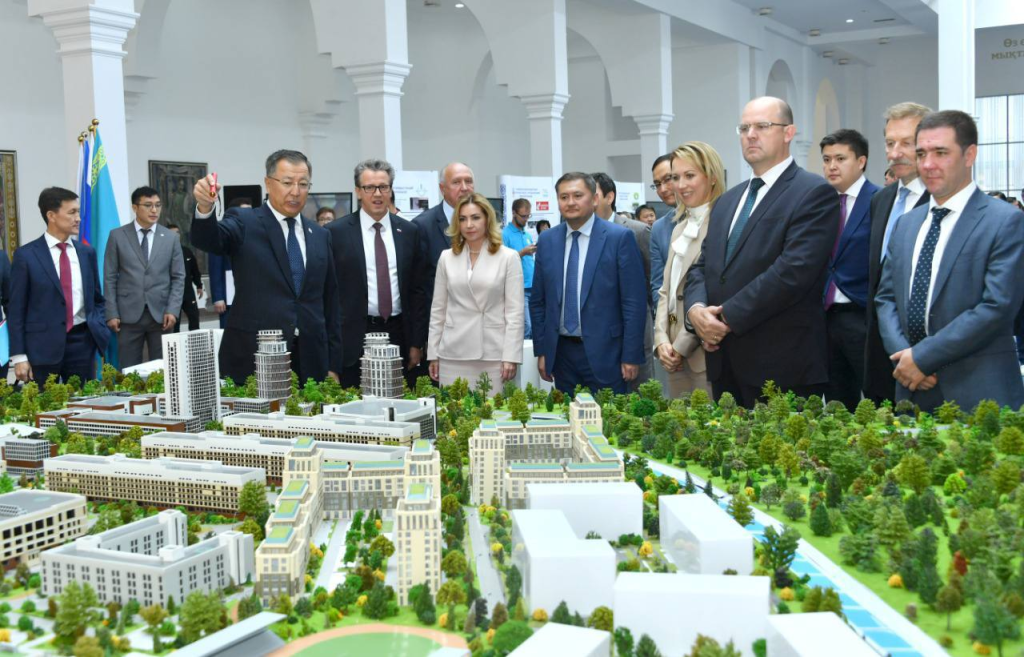 Besides, Russia and Kazakhstan have a long history of collaborating in the nuclear sector that dates back to the Soviet times: Kazakhstan played a special role in the development of the Soviet nuclear industry. All that started with prospecting for uranium ores in the 1940s. By the early 1960s, the uranium deposits in Kazakhstan supplied ore to uranium processing facilities all over the Soviet Union; some of the processing facilities were located in Kazakhstan. In 1957, the Physics and Technical Institute of the Kazakhstan Academy of Sciences established the Institute of Nuclear Physics. In 1972, a fast neutron reactor BN‑350, the first one in the USSR, was put in operation in Shevchenko (now Aktau), a city in northern Kazakhstan (shut down in 1999).
All three research reactors operating now in Kazakhstan were built in the Soviet times. One of the world's oldest research reactors IGR was commissioned in 1961. It is located in the National Nuclear Center (Kurchatov, East Kazakhstan Region). Another research reactor, IVG.1M, is located in the same center. It is used, among other things, to test fuel assemblies, study potential emergencies and develop preventive measures. This water-­cooled reactor was built in 1990 by upgrading IVG.1 high-temperature gas-cooled reactor design. As part of Kazakhstan's non-proliferation commitments, it is being converted from high-enriched to low-enriched uranium fuel. Last year, engineers from Rosatom's Luch Production Association developed and produced innovative fuel assemblies for IVG.1M to improve its performance.
In 1967, one more research reactor, VVR-K, was commissioned in the town of Alatau near Almaty. It now serves to conduct fundamental research in nuclear physics and material studies, carry out in-pile tests, fabricate radioactive isotopes for nuclear medicine and industry, and so on. Several years ago, VVR-K was also converted to low-enriched fuel after a comprehensive overhaul and upgrade program carried out by Rosatom companies. For this upgrade project, Dollezhal Research and Development Institute of Power Engineering developed a new technology, Novosibirsk Chemical Concentrates Plant produced nuclear fuel, and SNIIP-SistemAtom engineered a new control and protection system for the upgraded reactor.
Currently, the nuclear cooperation between Russia and Kazakhstan stretches across several areas: uranium extraction (Rosatom and Kazatomprom have stakes in local uranium mining companies), uranium enrichment, fuel supplies for research reactors, disposal of spent reactor fuel and radioactive waste, nuclear research technology, petrochemistry, and decommissioning of hazardous nuclear facilities located in Kazakhstan.
Last year, the National Research Nuclear University (MEPhI), one of Rosatom's core universities, set up a branch in Almaty in association with Al-­Farabi Kazakh National University. Students can major in Nuclear Energy and Technologies or Information Technologies.
Kazakhstan puts much effort in training highly qualified resources for the national nuclear sector. In late January, Kazakhstan and Hungary signed a memorandum of understanding in the management of human resources for peaceful uses of nuclear energy. The memorandum provides for the development of curricula and educational programs in operation and maintenance of nuclear power plants, nuclear and radiation safety, reactor physics, nuclear technology management, nuclear industry, etc. As our readers remember, Rosatom builds two VVER‑1200 reactors at Paks II NPP in Hungary. As set out in the contract, the Russian nuclear corporation also provides training services to the Hungarian staff. The employees to be working at Paks II will have to complete tens of training courses. They take theoretical courses and practice their skills on a full-scale control room simulator and at the reference nuclear power plant. Twelve groups of employees are planned to finish their education by 2025.