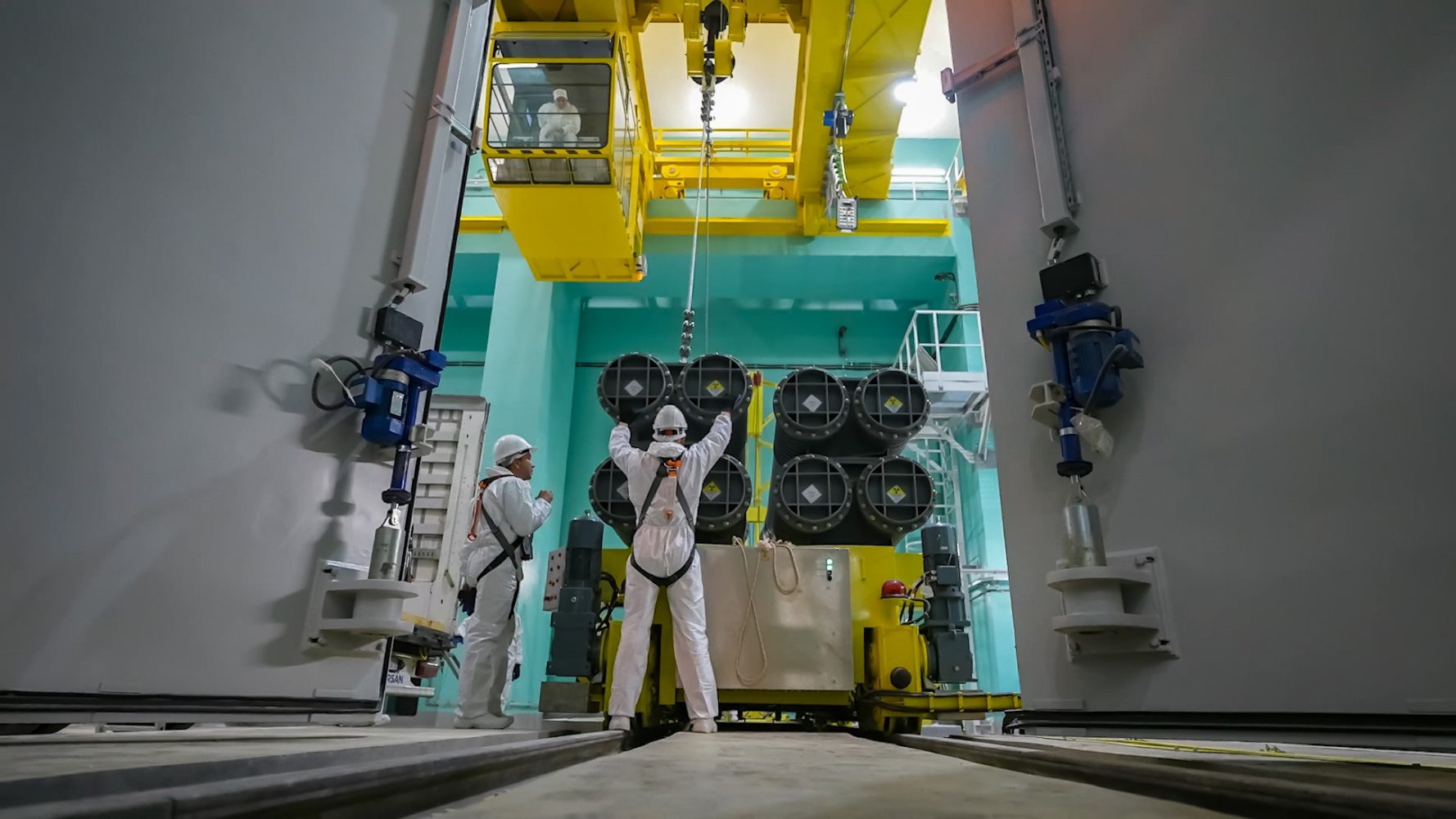 The first delivery of nuclear fuel for Akkuyu Unit 1 arrived at the construction site. Since then, the power plant has been considered a nuclear facility, and Turkey has become a nuclear nation. The fuel delivery ceremony was attended by IAEA Director General Rafael Grossi, Rosatom Director General Alexey Likhachev, and Turkey's Minister of Energy and Natural Resources Fatih Dönmez. Russian President Vladimir Putin and Turkish President Recep Tayyip Erdogan watched the event via video link.
"This is a very exciting moment for everyone. If compared with a human life, it is like the first breath of a child. There is still much ahead: the child will be given a name, learn to walk and talk. But the first breath has been taken and the world has been told: there is another nuclear facility on the Earth," Alexey Likhachev said.
Fatih Dönmez received from Rosatom's chief a certificate confirming that the fuel had been delivered in full compliance with the applicable safety standards and regulations. The ceremony ended with a symbolic move: Gülnar District residents — ​a senior person, a schoolchild, and a young nuclear engineer — ​raised 'peaceful atoms' flag over the Akkuyu NPP as a token of Turkey joining the countries that use nuclear energy for civilian purposes.
"It is fitting that Turkey joins the club of industrially, technologically advanced countries possessing nuclear energy precisely in 2023 when the Republic of Turkey celebrates its 100th anniversary," Vladimir Putin commented.
Addressing the audience, Rafael Grossi said: "Nuclear energy gives good, but also responsibilities. That is why IAEA has been associated from the beginning with the project by providing assistance to follow safety standards required. We are doing this today with the spirit of hope, the spirit of success. In another 100 years' time Akkuyu NPP will still be producing clean energy. You can always count on IAEA in every step in this way from now."
The delivery of nuclear fuel is an indication that the reactor is in its final construction phase. According to Alexey Likhachev, general construction works at Unit 1 will be completed later this year. They will be followed by commissioning operations scheduled to begin in November. The reactor systems will be tested first separately and then as a whole. The next steps are preparing the reactor for going critical and fuel loading. "The entire process takes many months, but in any case we plan to bring the reactor to criticality next year and continue with gradual power ascension so that it can sustainably generate power by 2025 as provided for in the intergovernmental agreement signed between Russia and the Republic of Turkey," Alexey Likhachev said during the media scrum.
The project is progressing on schedule and even ahead of it despite an immense number of 'black swan' events that occurred in recent years. These were the pandemic, international sanctions, and the disastrous earthquake in Turkey. Coordinated efforts of the united Russian-­Turkish team and personal involvement of the presidents of the two countries are the factors that help continue the construction project, Alexey Likhachev noted.
"The significance of this moment extends beyond Turkey. With the global nuclear community committed to delivering new nuclear power plants at the speed and the scale required, the Akkuyu power plant is a powerful symbol of this shared commitment. And clearly the completion of this first unit in about 5 years is a testament to international collaboration and demonstrates that we as an industry can build nuclear reactors efficiently," WNA Director General Sama Bilbao y León stressed in her greeting speech.
After the Akkuyu NPP is put in operation, its four reactors will annually generate 35 billion kWh of carbon-free power. This will be enough to meet nearly 10 % of national electricity needs. With Akkuyu, Turkey will make a step forward to achieve the net-zero goal and strengthen its energy security.
The Akkuyu NPP is the first but likely not the only joint nuclear project of Moscow and Ankara as Turkey plans to build more large nuclear power plants, including one in Sinop. "We are aware of the Turkish Government's plans. We endorse them and are ready to begin official negotiations. We have definitive proposals on the technical concept, degree of local content, project economics, and management approaches," Alexey Likhachev said. The Russian nuclear corporation is also ready to discuss small NPP projects, he added.
Akkuyu is Turkey's first nuclear power plant that will feature four Generation III+ VVER-type reactors. Pursuant to the intergovernmental agreement, Rosatom holds a 100 % stake in the project and may sell up to 49 % to either one or several investors. The Akkuyu NPP is the first-ever nuclear power project carried out with the Build-­Own-­Operate model.