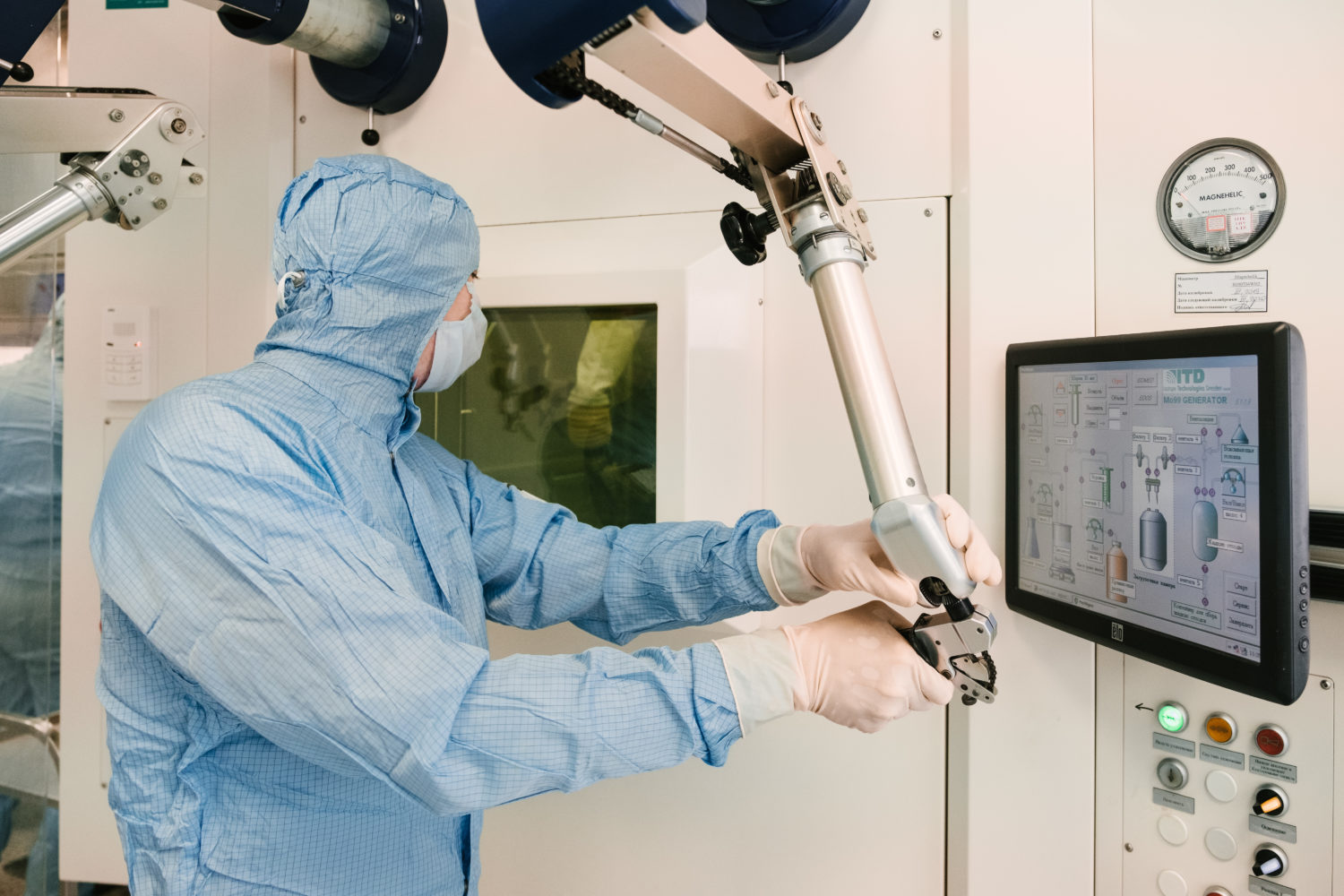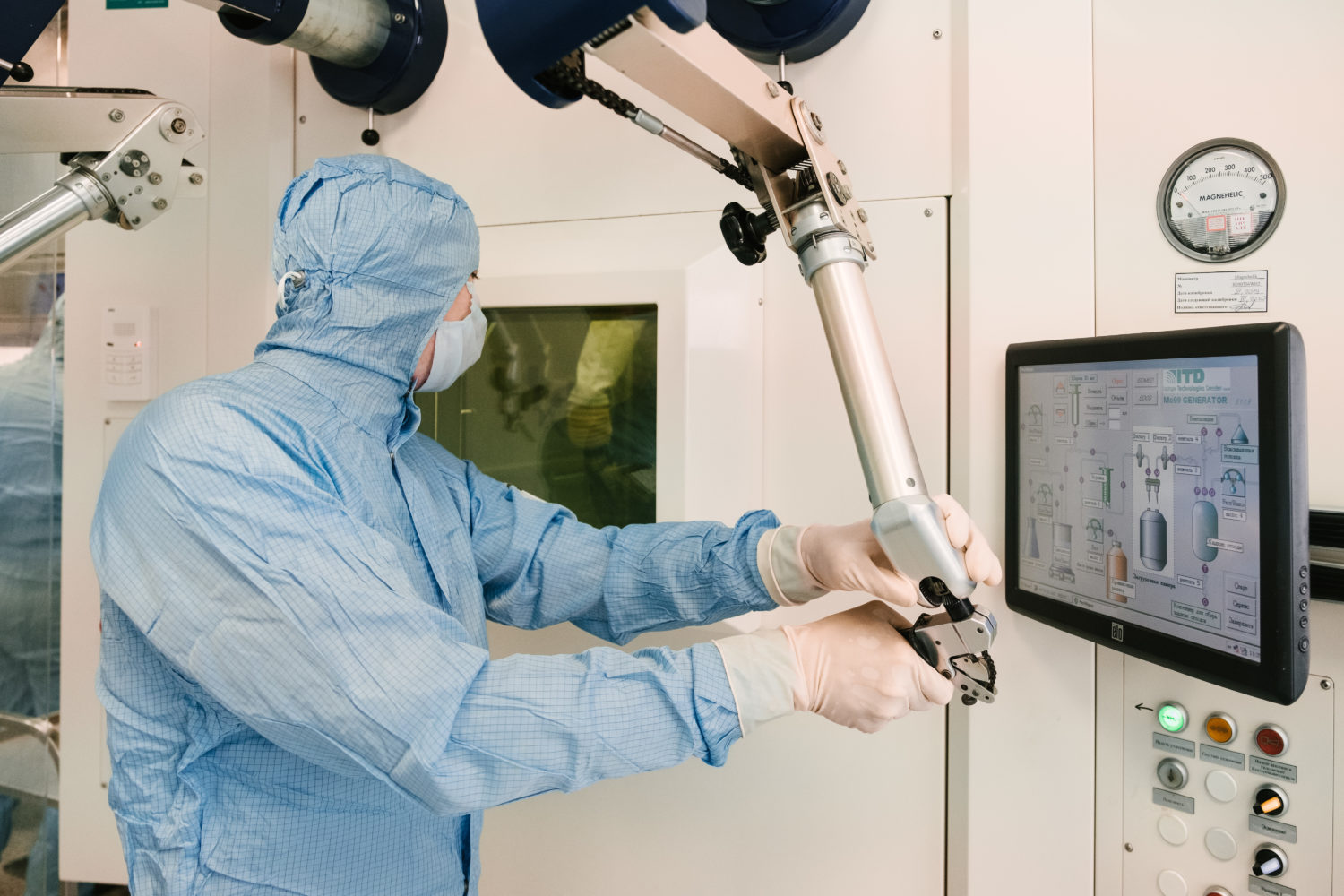 Nuclear medicine is in the spotlight of Rosatom's attention as a life-saving non-power application of nuclear technology. This business dimension within Rosatom is supervised by Rusatom Healthcare and is divided into three segments — ​isotopes and radiopharmaceuticals, medical equipment, and nuclear medicine and radionuclide therapy centers. The company sees a growing demand in each of the three segments and expects to begin or increase product exports.
Isotopes and radiopharmaceuticals
Rosatom is a Top‑5 global producer of isotope products. At least 30 % of the isotope producing reactors worldwide are situated in Russia. Five Rosatom companies — ​Karpov Institute of Physical Chemistry (NIFHI), Institute of Reactor Materials, Research Institute of Atomic Reactors (RIAR), Mayak, and RosEnergoAtom — ​are directly involved in the production of isotopes. Rusatom Healthcare's subsidiary Izotop serves as an integrator responsible for the promotion, marketing, sales and shipments of isotope products.
Izotop supplies dozens of isotopes for different purposes, ranging from conventional radiopharmaceuticals, such as molybdenum‑99/technetium‑99m, iodine‑131 and samarium‑153, to innovative products. Rosatom was one of the first companies in the world to enter into commercial production of ytterbium‑176 and lutetium‑176 (starting materials for lutetium‑177), having developed and adopted several fabrication processes for Lu‑177. It is considered the most effective radioisotope for targeted radionuclide therapy of inoperable tumors and metastatic lesions. Over 95 % of starting materials for Lu‑177 is produced in Russia, and Rosatom alone accounts for at least 30 % of the fabricated isotope.
Neither Rosatom nor its customers have terminated any of the signed contracts. Rosatom has retained its customer base in more than 50 countries and expanded geographic coverage by adding Oman, Saudi Arabia and Uruguay to the list.
While continuing to supply its customers with the well-known products, Rosatom plans to expand its market offer. For this purpose, Rusatom Healthcare intends to produce isotopes with cyclotrons and build a GMP-compliant isotope production facility.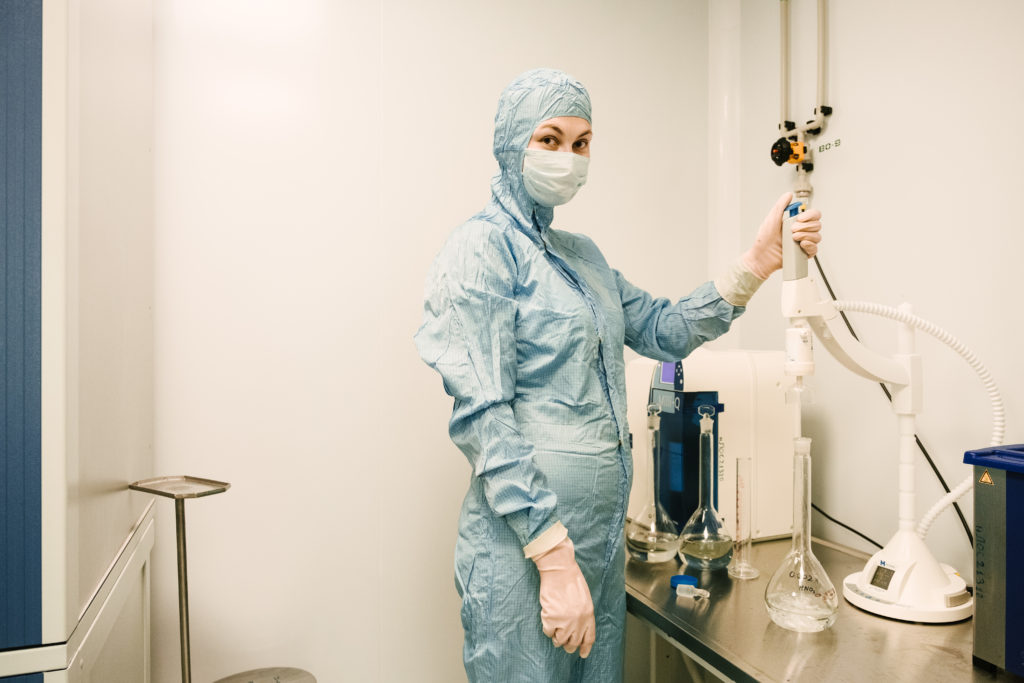 It will be based at the premises of NIFHI in Obninsk, Russia. Construction documents for the facility have been signed off by the regulator, so the plan for the current year is to begin construction works and complete the erection of protective fencing, underground works, concrete bedding, water and thermal insulation, foundation, and underground utilities. Commercial operation is expected to start as soon as 2025. Costs of the project are estimated at RUB 9 billion; production capacity will stand at 89,000 Ci per annum. It is assumed that the isotope production facility will fabricate a wide range of radiopharmaceuticals, including those most commonly used (containing iodine‑131, samarium‑153 and molybdenum‑99), in compliance with the GMP standards. It will also present a number of promising radiopharmaceuticals containing lutetium‑177, actinium‑225 and radium‑223. With sales from the new plant, Rosatom intends to increase its share in the radiopharmaceuticals market.
For now, Russia accounts for less than 5 % of the market while the US holds 40–50 %, the EU 20–25 %, and Japan 10 %. As production at the new facility begins, Russia's share is expected to increase to 10–30 % depending on the product type and a level of competition in certain products. "Our plan is to meet 100 % demand in the domestic market for radiopharmaceuticals, increase deliveries to our customers in the Middle East and Asia and, when it becomes relevant in geopolitical terms, begin deliveries to Europe and the USA," CEO of Rusatom Healthcare Igor Obrubov shared his plans.
Another goal of Rusatom Healthcare in the radiopharmaceuticals segment is to scale up cyclotron-­based production of radioisotopes. Radionuclides produced with cyclotrons differ from those produced in nuclear reactors. Reactors account for about 80 % of the total output, while cyclotrons produce the remaining 20 %, which are mostly ultra short-­lived isotopes, such as fluorine‑18, carbon‑11 and iodine‑123. At Rosatom, the centers of cyclotron-­based production are V. Khlopin Radium Institute and the Center for High-­Technology Diagnostics. The latter obtained a permit for the production of fludeoxyglucose in March 2022. Cyclotron-­produced radiopharmaceuticals are essential for highly-­accurate diagnostics, which serves as a basis for target therapy.
Short life of cyclotron-­produced isotopes is a major limitation to their use. For example, fluorine‑18 used in positron emission tomography has a half-life of 109 minutes. That means it should be used right where it is produced. In case of carbon‑11 with a half-life of 20 minutes and oxygen‑15 (2 minutes), time limitations are even stricter.
Having analyzed all the factors, market depth included, Rusatom Healthcare came to a decision to establish medical centers that will provide diagnostic and therapeutic services with the use of radiopharmaceuticals.
Medical centers
Rusatom Healthcare has made agreements with two existing oncology clinics in the Russian cities of Lipetsk and Ufa to establish radionuclide therapy centers that meet all safety standards, right down to the installation of a dedicated sewerage system. Plans were finalized, and the company proceeded with construction. The centers are expected to open their doors in 2023–2024.
Rusatom Healthcare has plans in the future to build dedicated hospitals that will use both radiopharmaceuticals and radiation technology for diagnostics and treatment. The company is looking for customers for the construction of such hospitals in Russia and abroad. According to some estimates, one nuclear hospital is needed for every 10 million people. There is a clear shortage of nuclear hospitals in the world, so the company sees demand for them and is willing to offer help to any country showing interest in nuclear medicine. "This is where we are fully in the global healthcare trend: many medical centers — ​no matter how specialized they are — ​want to bring every case to a closure. They strive to provide the broadest range of medical services so that every patient can be diagnosed properly and then receive treatment and follow-up medical care under a single brand name," Igor Obrubov says.
Equipment for nuclear medicine
No nuclear hospital can operate without proper medical equipment. Rusatom Healthcare has entered the market with a novel device; another one is upcoming.
Late last December, Rosatom obtained a registration certificate for Brachium, a gamma unit for internal radiotherapy (brachytherapy). It has the following principle of action: a source of ionizing radiation is placed on an applicator, which is supplied together with the source, and inserted into the body as close to the tumor as possible. Thanks to the highest precision of application with increments as little as 1 mm, radiation affects mostly cancer tissues while exposure of healthy tissues remains very limited. Brachium treats tumors in the nose, pharynx, esophagus, bronchi, lungs, breast and prostate. Personnel safety was not forgotten either: a tungsten layer in the container for used radiation sources prevents exposure of the staff. The latest AI-powered software ensures individual treatment planning, accurate dose calculation, data recording, and patient condition monitoring. The first batch of Brachiums has already been sold out.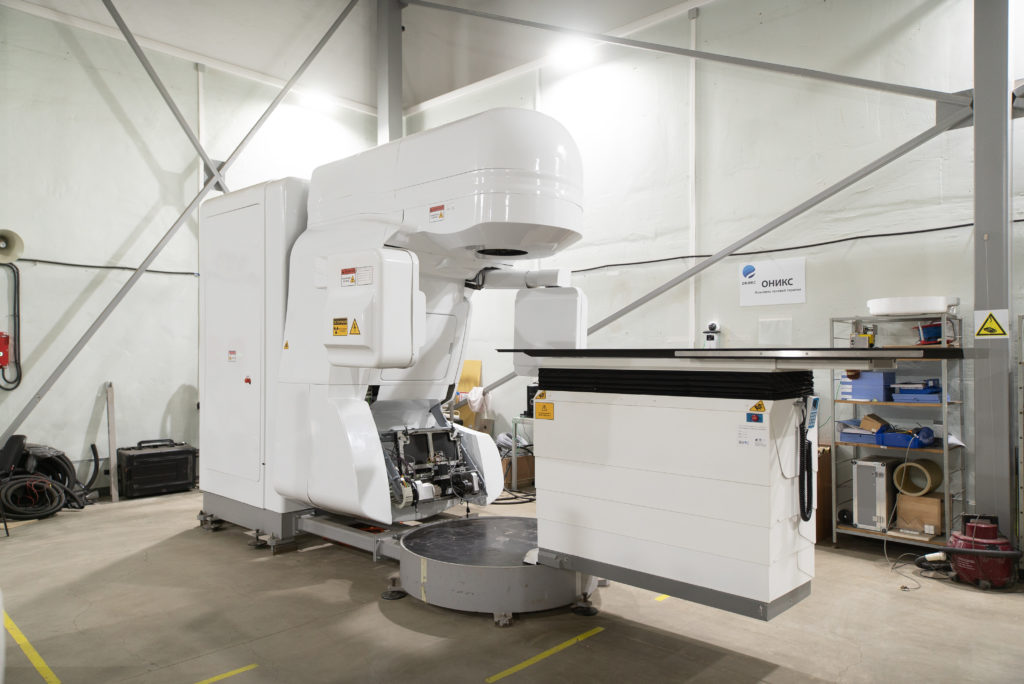 Later this year, Rusatom Healthcare expects to obtain a registration certificate for Onyx, an external beam radiation therapy unit. It has a particle accelerator with energies of 2.5 to 6 Me V. Lower energies are used for diagnostic purposes (the unit includes a CT scanner), while higher energies are used in treatment procedures. Precision is of paramount importance for external beam therapy, so Onyx is extremely adjustable — ​the doctor can easily change the position of the table and acceleration tube to target tumors as accurately as possible. If a tumor is located in the lung, then a breath synchronization system comes into play. It can stop the accelerator if the patient begins to cough or takes a too deep breath. This function is not present in every external beam therapy unit of other manufacturers. Onyx is also fitted with a collimator. It is a device consisting of 120 thin tungsten strips that have a width of 0.5–1 cm and are designed to configure the beam so as to match the tumor geometry.
What is more, the company plans to pilot a new generation of experimental toroidal linear accelerators that use irradiation techniques. Development of Russian magnetic resonance scanners is also underway. Serial production of Russian-­designed MR scanners is expected to begin as soon as 2026.
With sanctions imposed on Russia, the overarching goal is to provide Russian doctors and their patients with top-quality services. As Igor Obrubov assured, Rusatom Healthcare will fully meet domestic demand for equipment and radiopharmaceuticals and ensure national technology security in nuclear medicine even if international companies leave the Russian market. The next step is to enter export markets of "friendly" countries and, if the situation allows, other jurisdictions.
In global trend
The use of nuclear technology –radio­pharma­ceuticals and irradiation techniques — ​is a key trend in the global healthcare industry, which is also supported by the IAEA. The Agency procures equipment for developing countries (such as Paraguay or Namibia) and helps develop clinical training programs (Latin America is the most recent case) and establish international ties. For example, memorandums of understanding were signed by ten Arab countries in the IAEA headquarters, with nuclear medicine defined as one of the priority cooperation areas. The IAEA also supports its member states in the development, production and quality assurance of alpha-­emitting pharmaceuticals, particularly those containing actinium‑225.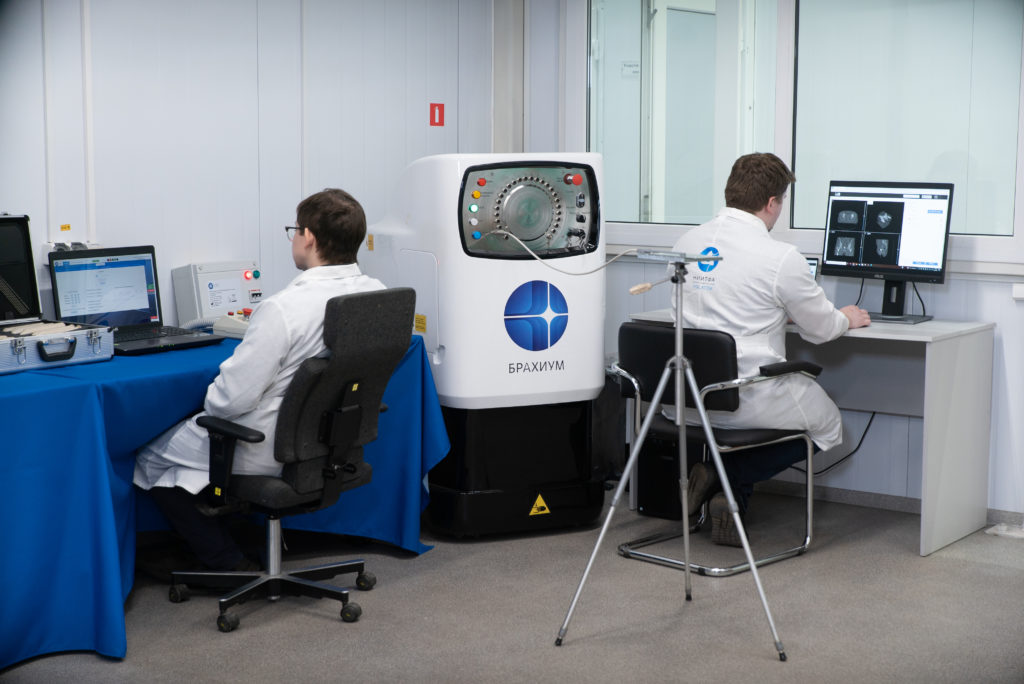 There are two reasons why nuclear technology is developing. First, radiopharmaceuticals are relatively easy-to-use in diagnostics and effective in treatment, particularly that of difficult cases. Second, cancer incidence is growing because, among other causes, the possibilities of diagnostics and treatment were limited during the COVID pandemic. Since many patients have been diagnosed too late, doctors are now facing a sharp rise in the incidence of cancer. In the first half of 2021, Russian oncologists saw a surge in patients first diagnosed with malignant tumors.
In this situation, Rosatom's activities in radiopharmaceuticals, diagnostic and therapeutic equipment and nuclear medicine centers will give many patients a chance to recover and live a full life. It is not a secret that 90 % of cancer cases can be treated successfully if diagnosed early.
Market estimates

According to WNA, over 40 million procedures involving the use of radioisotopes are performed every year worldwide. The largest consumer is the USA with a 50 % market share, followed by Europe (25 %).

The size of the medical isotope market is little more than USD 5 billion, according to Izotop's estimates. The market will double by 2030, with target therapy products leading the growth.

International market research company 360 Research Reports gives a higher estimate: the nuclear medicine market will soar from around USD 6.2 billion in 2021 to over USD 10 billion as soon as 2028, growing by an annual average of 7.4 % in 2022–2028.

Polaris Market Research is even more optimistic: the nuclear medicine market will grow 9.0 % per annum until 2028 to reach the size of over USD 12.17 billion.
According to the Russian Government Resolution dated March 5, 2022, the list of foreign countries and territories that have committed unfriendly actions against Russia, its companies and citizens include Australia, Albania, Andorra, the United Kingdom, including Jersey, Anguilla, the British Virgin Islands, Gibraltar, EU Member States, Iceland, Canada, Lichtenstein, Micronesia, Monaco, New Zealand, Norway, South Korea, San Marino, North Macedonia, Singapore, the USA, Ukraine, Montenegro, Switzerland.