In July, the International Energy Agency (IEA) released its Critical Minerals Market Review 2023 report summarizing the major market trends for the minerals essential for a range of clean energy generation and storage technologies and electric vehicles. A key player in the Russian clean energy market, Rosatom is following those trends, taking measures to ensure sustainable supplies and developing technology chains that span from exploration and mining to end products, such as energy storage systems, electric vehicles and wind turbines.
Global outlook
From 2017 to 2022, the energy sector drove a three-fold growth in demand for lithium, a 70 % jump in demand for cobalt, and a 40 % rise in demand for nickel, according to the IEA report. In 2022, for example, sales of electric vehicles grew 60 % over 2021, reaching 10 million cars. This year, a further 30 % growth to 13 million cars is expected. Although wind capacity additions declined to 75 GW in 2022, down 20 % year-on-year, they are estimated to grow 70 % this year to over 120 GW.
The rising demand stimulated prices and production growth, so the market for the minerals crucial to the new energy sectors (solar, wind, storage, and electric vehicles) doubled in five years, reaching USD 320 billion in 2022. In terms of individual minerals, the market for lithium grew 6.7 times, rare earth elements 2.5 times, nickel 3.1 times, and cobalt 1.9 times.
Lithium production rose from about 45,000 tons in 2017 to about 130,000 tons in 2022, with the share of clean energy sectors increasing from 30 % to 56 %. Nickel output climbed from about 2.1 million tons to about 3 million tons, with the clean energy share rising from 6 % to 16 % of this amount. Cobalt production rose from 100,000 tons to 170,000 tons, while the share of clean energy sectors went up from 14 % to 40 %.
While prices for many minerals have declined in 2023, some remain above their average level in the second half of the 2010s. This is most true for lithium, with its price approaching USD 70,000 per ton of lithium carbonate late last year, while the average 2016–2020 price was below USD 20,000 per ton. Its price in the second quarter of 2023 was stuck in the range of USD 40,000 to USD 50,000 per ton.
Challenged by instability, governments and companies are focusing their efforts on making supplies as reliable as possible.
"There is growing recognition that policy interventions are needed to ensure adequate and sustainable mineral supplies," the report notes. In the past few years, over 100 policies and regulations were enacted worldwide to facilitate investments in the production and supplies of minerals for the new power generation and storage technologies, and to introduce certain export and import restrictions.
Investment in these minerals was up 20 % in 2021 compared to 2020 and up 30 % in 2022 vs. 2021. "Our detailed analysis of the investment levels of 20 large mining companies with a significant presence in developing energy transition minerals shows a strong rise in capital expenditure on critical minerals, spurred by the robust momentum behind clean energy deployment," the report says. Year-on-year exploration spending also rose by 20 % with lithium accounting for most of this growth. The leaders in the segment were Australia and Canada, while Brazil and African countries also posted an increase in exploration spending.
Russia
Over the past few years, Russia has sharply intensified its efforts towards developing the electric vehicle segment and securing reliable supplies of minerals crucial to the new power generation and storage technologies. In 2020, the Russian government approved the New Materials and Substances Technology Roadmap that, among other things, focused on the supply of rare earth elements (REEs). The roadmap was updated in 2022. In 2021, the Government also adopted the Electric Mobility Development Program 2030.
Rosatom is responsible for the delivery of REE goals under the New Materials and Substances Technology Roadmap. The Russian nuclear corporation is also a key player in the Russian market of energy storage systems for both power and EV applications, and in the wind energy market. Rosatom is working consistently to develop its competencies necessary to build vertical production and technology chains in these markets.
Russia is largely self-sufficient in many of the minerals required for the new power generation and storage technologies. In particular, the Russia-­based Nornickel, a key global nickel miner, also produces cobalt, copper and platinum group metals, all of which are essential for the clean energy segment. Another Russian company, RUSAL, is a major player in the global aluminum market. Several Russian companies produce copper. The country is also rich in phosphates, which are extensively mined for fertilizer applications and can also be used in lithium iron phosphate batteries for electric vehicles.
So far, Russia does not have a domestic lithium production but the issue is being addressed. This February, Polar Lithium, a joint venture between Nornickel and Rosatom, obtained a mining license for the Kolmozerskoye lithium deposit. Production is planned to begin in 2029. Reserve estimates are expected to be finalized by the end of 2024. According to preliminary estimates, the deposit will yield 1.96 million tons of ore per year, which is equivalent to 45,000 tons of lithium carbonate and hydroxide. This will be enough to meet Russia's needs, with more left for export.
Rosatom is also establishing foreign partnerships in the lithium segment. In the last issue of Newsletter, we wrote that Rosatom's subsidiary Uranium One Group and Bolivian state-run company Yacimientos de Litio Bolivianos signed a USD 600 million framework agreement to build a 25,000‑ton lithium carbonate production facility in the Salar de Pastos Grandes.
Rosatom is also broadening its presence in the REE segment. This May, the Russian state-run corporation acquired Lovozersky GOK, Russia's sole producer of loparite concentrate, a source material for the production of titanium and compounds, tantalum, niobium and light REEs. The loparite concentrate produced by Lovozersky GOK is processed at the Solikamsk Magnesium Plant. According to the presidential decree, its shares will also be transferred to Rosatom.
Along with securing mineral supplies, Rosatom is expanding the range of components produced. For example, Rosatom's fuel division TVEL intends to set up large-­scale production of permanent rare-earth magnets in Glazov (Udmurtia). This is an important component of electric motors and generators for wind turbines. The company is expected to manufacture over 1,000 tons of neodymium-iron-boron magnets by 2028. It is possible to increase production up to 3,000 tons after 2030. "We plan to enter new segments of the rare-earth magnet market to cover the developing sectors of the Russian economy, from automotive and aerospace industries to electronic applications and high-capacity generators," Andrey Andrianov, CEO of Rusatom MetalTech (part of TVEL), said when signing the agreement with the Udmurtia Government.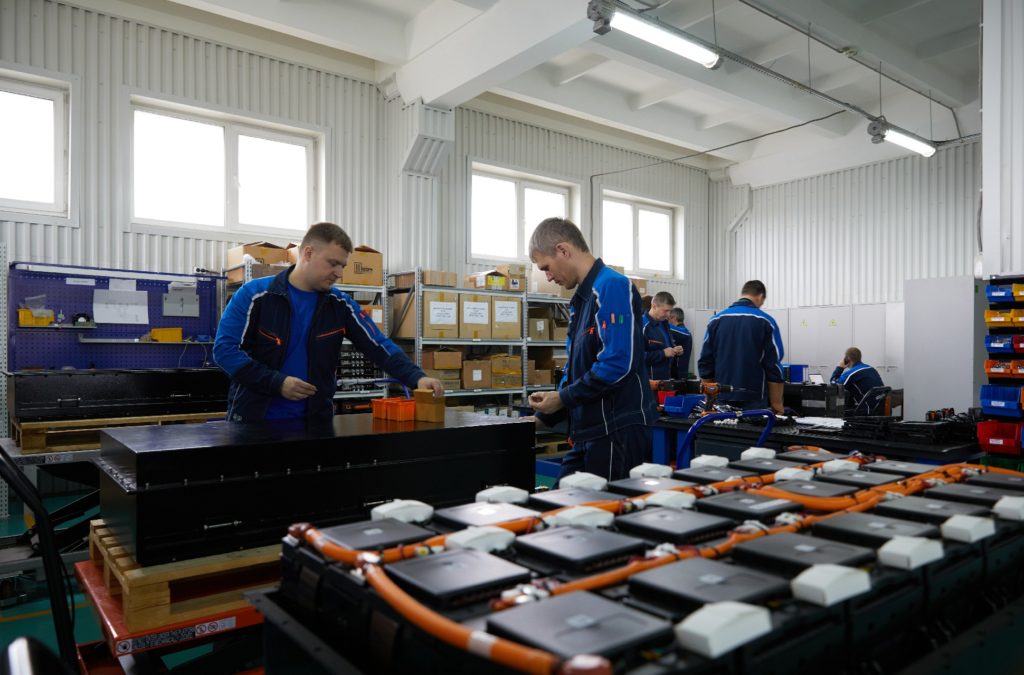 Rosatom is a leader in the construction of new wind generation capacity in Russia. So far, its wind power division NovaWind has added 940 MW of new wind capacity with a total of around 1.7 GW of new capacity to be commissioned by 2027. NovaWind manufactures parts and components for wind turbines and, in addition to magnets, plans to initiate production of turbine blades.
Rosatom is also working to establish production of storage batteries. In Kaliningrad, TVEL's subsidiary RENERA will soon proceed with building a gigafactory to manufacture battery cells with an annual capacity of 4 GWh. The project, which received official approval in June will see RENERA starting construction in the coming months with on-site preparations already completed. The gigafactory is expected to be commissioned in 2025, to be followed by similar factories in the future.
Currently, RENERA operates a battery assembly site in Moscow and supplies energy storage systems for public transport applications, such as extended-­range trolleybuses operating in Saint Petersburg.
RENERA will also supply batteries for the Russian-made electric car Atom. In addition to storage batteries, Rosatom engineers are developing a relatively inexpensive and reliable motor for this vehicle. From the very beginning, the engineers provided for the modifiability to create a wide range of motors for other EV models. Atom is expected to have a travel range of 500 kilometers and will be adapted to the cold Russian climate.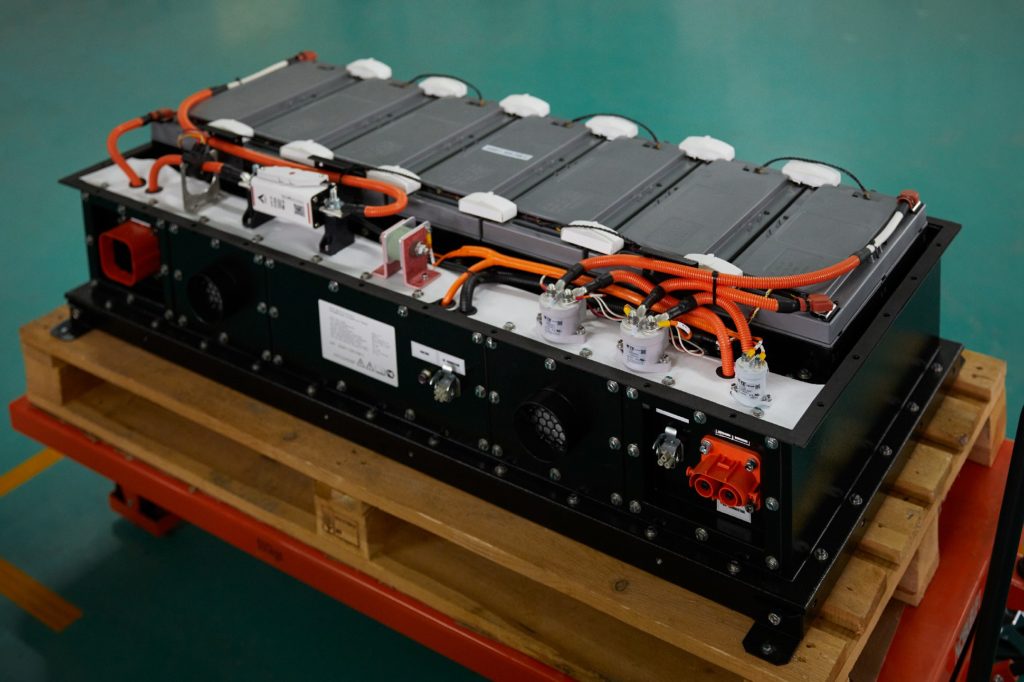 Given that electric mobility requires a well-developed charging infrastructure, Rosatom is also focusing on charging stations. Its electric power division RosEnergoAtom intends to deploy a chain of electric charging stations that will first cover cities with over a million inhabitants and major highways, such as those linking Moscow and Saint Petersburg. "Russia plans to put at least 9,400 charging stations in operation by 2024, including almost 3,000 fast charging stations that fully charge a car in 20 minutes. The delivery of Rosatom's plans will make the company a market leader and contribute to the development of domestic electric mobility infrastructure," says Dmitry Baranov, a leading expert at Finam Management.
According to him, the Russian electric mobility segment is developing steadily as electric cars are growing in numbers, the emergence of new brands, rising consumer interest, and the expansion of EV charging and servicing infrastructure. The optimistic scenario prepared by the Russian Ministry of Industry and Trade predicts electric vehicles will account for 15 % of the market by 2030.
Finally, Rosatom plans to engage in the battery recycling business. For this purpose, the Russian state-run corporation has initiated a project to build a battery recycling plant. Currently, engineering design work are underway and site survey results are reviewed by the regulator.
The brief overview above demonstrates Rosatom's involvement in many segments of the new power generation and storage technology, and the intention to build a vertical technology chain in the EV segment. By acquiring expertise and technology, Rosatom ensures Russia's technological sovereignty but also lays a solid foundation for hi-tech exports.